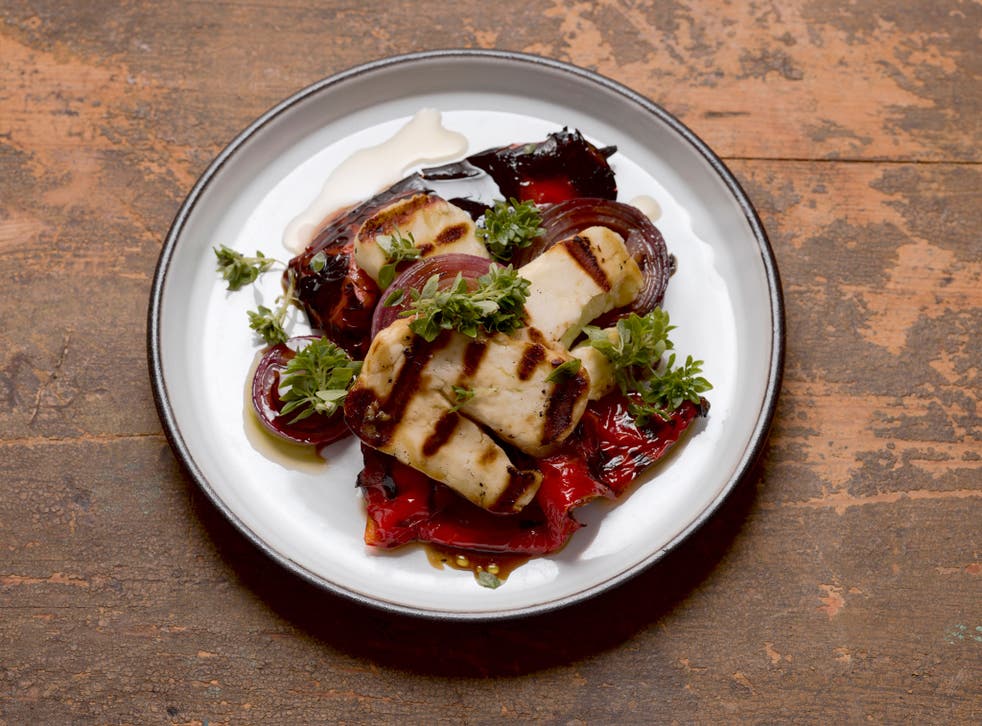 Mark Hix recipes: Our chef's portable barbecue has opened up a world of al fresco grilling
If picnics make you think of boring sandwiches and supermarket scotch eggs, pack a portable barbecue and open up a world of al fresco grilling
Picnics don't need to be dull, and nor do they need to be cold: with a barbecue and a little imagination you can knock up some pretty impressive outdoor fare. My fishing buddy Robin Hutson and I have taken our regular riverbank picnics to a new level. We started a few years back with cold pie and some cheese and pickles from the deli.
These days our anglers' is lunch is anything from Turkish meze with barbecued kebabs and quails, to grilled cuttlefish and salsa. On our last trip we prepared an Asian broth with grilled, 75-day-aged rib of beef, using the barbecue to simmer-up a fresh morel sauce to accompany it. Robin usually supplies something special from his cellar to wash it all down with before we get back on the river.
I was recently given a Fortnum & Mason portable barbecue as a Father's Day gift, and it's great for picnics – but those disposable barbecues are pretty decent too, and you can now get stands for them which make them look a bit more aesthetically appealing.
Grilled halloumi with romero peppers and red onions
Serves 4
This is a dead simple one to do at a picnic. You could even pre-grill the onions and peppers at home if you wish, or just cook them in situ. If you can't find the long red romero peppers then normal red peppers will do, just quartered.
2 blocks of halloumi, cut into 1cm thick slices
4 romero peppers
2 large red onions, peeled and cut into 1cm thick slices
Vegetable or corn oil for brushing
1-2tbsp pomegranate molasses
A few sprigs of Greek basil (bush basil), to serve
Cook the peppers and onions on the barbecue, turning them every so often for about 4-5 minutes. Be careful turning the onions so they don't fall apart; a fish slice or wide palette knife is best for this.
Once cooked arrange on a serving dish and spoon over a little of the pomegranate molasses.
Lightly brush the halloumi with oil and barbecue for 30 seconds or so on each side. Arrange the cheese on the peppers and onions, spoon a little more molasses over, and scatter the basil on top.
Veal chopped steak with green peppercorn sauce
Serves 4
Ask your butcher to include about 20-30 per cent fat in the minced veal. If veal fat isn't available then pork fat will do, and if you can't get hold of veal at all then you can substitute pork mince with the same fat ratio. You'll find fresh green peppercorns in Asian supermarkets (and some good Western ones), or you can use canned. You can make the sauce the day before and reheat on the barbecue.
500-600g coarsest-minced veal, containing 20-30 per cent fat
Sea salt and coarsely ground black pepper
A little vegetable or corn oil for brushing
For the sauce
2 large or 4 small shallots, peeled, halved and finely chopped
A couple good knobs of butter
2tsp plain flour
100ml red wine
250-300ml beef stock (a good quality cube will do)
10-15g fresh or canned green peppercorns
2tbsp double cream
Mould the minced veal into four even-sized, 2cm thick patties using a burger press, pastry cutter or just by hand, then transfer to a tray, cover with cling film and refrigerate. If you are transporting to a picnic then store them between greaseproof paper squares or cling film in a tight-fitting plastic storage container.
To make the sauce: melt the butter in a small heavy-based saucepan and gently cook the shallots for a minute, stirring as they are cooking. Stir the flour in on the heat and cook for 20 seconds or so then stir in the red wine and beef stock, adding gradually to avoid lumps forming. Bring to the boil, add the peppercorns > and simmer very gently for about 10-15 minutes (a simmer plate is good for this) until the sauce has thickened, then add the double cream and simmer for another few minutes. Season to taste and leave to cool. You can cover the surface of the sauce with cling film, or use a lid, to stop a skin forming. To transport to a picnic either take it in a small saucepan or in a disposable foil pudding basin, which can sit on the barbecue to reheat.
To serve, get your barbecue to cooking temperature, season and lightly oil the chopped steaks and cook for 3-4 minutes on each side, keeping them nice and pink. Serve with the warmed sauce.
Watercress and shallot salad
Serves 4
This is a perfect, simple accompaniment to the chopped veal above – or any grilled meats come to that.
150g or so of watercress, washed and dried and with any thick stalks removed
2-3 shallots, peeled, halved and thinly sliced
For the dressing
1tbsp sherry vinegar
4tbsp walnut oil
1tsp caster sugar
Sea salt to taste
Whisk together all of the ingredients for the dressing. Mix the shallots and watercress with dressing, to taste, and transfer to a clean serving bowl.
Squid, fennel and tomato salad
Serves 4-6
This takes literally just a few minutes to cook on a barbecue and to cut and toss into the tomatoes and fennel for an easy, colourful and tasty salad. You could also use cuttlefish for this if you wish.
250-300g fresh squid, cleaned
Sea salt and freshly ground black pepper
A little vegetable or corn oil for brushing
200g mixed tomato selection, cut into roughly 1-2cm chunks
1 head of fennel, quartered and cut into roughly 1-2cm chunks (chop the ferns up too)
2-3tbsp olive oil
The juice of 1 lemon
2tsp cider vinegar
Season and lightly oil the squid, then barbecue for a minute on each side. Remove from the grill and leave to cool a little. Cut into roughly 2-3cm pieces. Mix the olive oil, lemon and vinegar together, and toss in a bowl along with all of the other ingredients. Season to taste.
Grilled sardines with gremolata
Serves 4
This is perfect seaside barbecue picnic material to remind you of that Mediterranean holiday. Make sure the sardines are ultra-fresh. A barbecue grilling-clamp can help with the turning of the fish.
12 sardines, cleaned
Salt and freshly ground black pepper
For the gremolata
The grated zest of two lemons
2 large cloves of garlic, peeled and finely grated
2tbsp chopped parsley
3-4tbsp olive oil
Season the sardines and grill for about 2-3 minutes on each side. Meanwhile mix all of the ingredients for the gremolata together and season to taste.
Serve the gremolata spooned over the sardines, or separately.
Join our new commenting forum
Join thought-provoking conversations, follow other Independent readers and see their replies