Mark Hix recipes: Sprout hearts, spinach, kale - there's much more to going green than boiled cabbage
British farmers are increasingly growing for the demanding restaurant market, which soon trickles down to give us more variety in the domestic market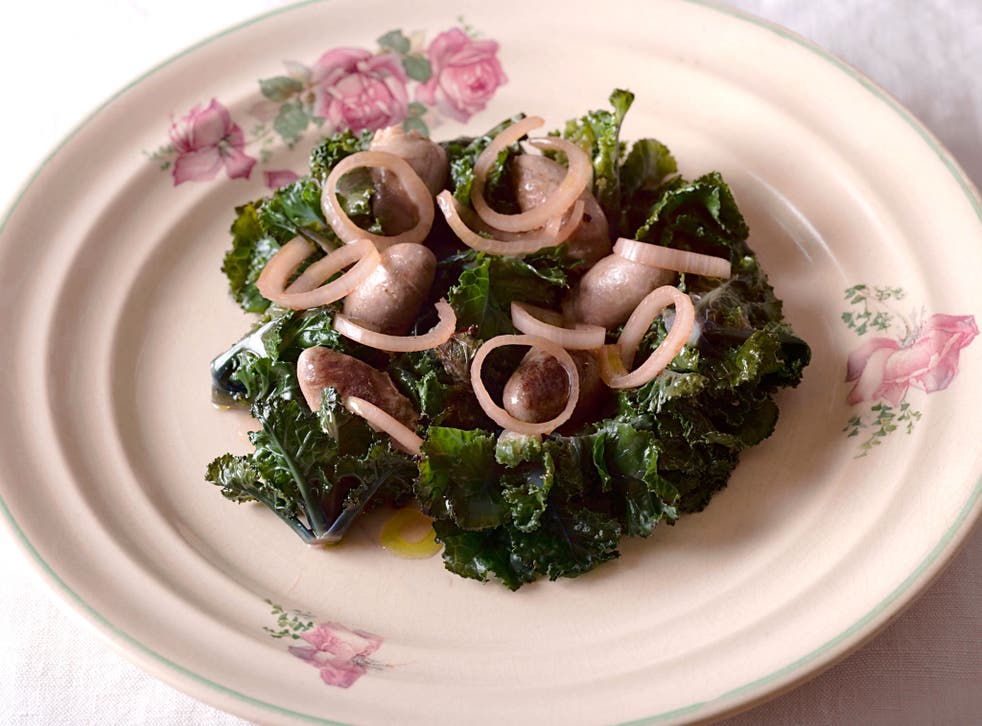 We are spoilt for choice these days with our winter leaves. There was a time when you didn't see much outside of cabbage on the shelves at this time of year, but British farmers are increasingly changing what they grow to meet the demands of the demanding restaurant market, which soon trickles down to give us more variety in the domestic market. This all makes for some hearty winter feasts.
Flowering sprout heart and duck'​s heart salad
Serves 4
These tiny flowering sprout hearts are top of my list in the winter greens league for both taste and looks and also for the minimum preparation they require.
35-40 flowering sprout hearts, trimmed and washed
A couple knobs of butter
24 or so duck hearts (or livers if you like)
2 shallots, peeled and finely chopped
For the dressing
1tbsp sherry vinegar
4tbsp walnut or hazelnut oil
Salt and freshly ground black pepper
Bring a pan of salted water to the boil and blanch the sprout hearts for about 30 seconds, then drain well. Whisk the ingredients together for the dressing and season to taste.
Heat the butter in a frying pan, season the hearts and fry them on a medium heat for 2-3 minutes, rolling them around in the pan and adding the shallots after a minute, until nicely coloured outside but keeping them pink inside.
To serve, toss the sprout hearts in half of the dressing, season, then arrange on serving plates with the duck hearts and spoon over the rest of the dressing.
Fried curly kale with shrimp
Serves 4-6
This is a version of the crispy seaweed you often see in Chinese restaurants – which isn't actually seaweed at all, but shredded and fried spring greens. I normally deep fry my prawn shells or use them to make a broth or bisque, but a few weeks back I thought they maybe rather good, dried and blended up like the dried fish topping you get on that Chinese seaweed.
1 head of curly kale, washed, trimmed and torn into 2-3cm pieces, then dried Vegetable or corn oil for deep-frying
Flaky sea salt
A handful or so of cooked prawn shells and/or heads
1tsp dried chilli flakes
Preheat about 8cm of oil to 160-180C in a large thick-bottomed saucepan or electric deep-fat fryer.
Deep-fry the curly kale in handfuls at a time, moving it around in the pan with a slotted spoon for a couple minutes until crisp, then transfer to some kitchen paper and scatter with a little salt.
Now deep-fry the prawn shells for a couple minutes or so until very crisp, then drain on some kitchen paper and leave to cool. Chop the prawn shells as finely as you can with a heavy chopping knife or blend to a coarse powder in a food processor with the chilli and some salt to taste. If the prawn shells aren't really crisp then transfer to a baking tray and dry them out in the oven for a few minutes. To serve arrange the crispy kale on a serving dish and scatter over the prawn shells.
Roasted flat cabbage with lamb, pine nuts and raisins
Serves 4-6
You can find these flat-looking white cabbages in Turkish or Mediterranean supermarkets. If not available, a halved standard white cabbage will suffice.
Salt and freshly ground black pepper
250g minced lamb
1 red onion, peeled and finely chopped
2tbsp olive oil plus extra for roasting
4 cloves of garlic, peeled and crushed
1/3tsp ground cinnamon
1/3tsp ground allspice
3 tomatoes, finely chopped
2tbsp raisins, soaked in hot water 2 hours
250ml lamb or beef stock
2tbsp pine nuts 
1 whole Turkish flat white cabbage with any discoloured leaves removed
Season and fry the lamb and onion in the olive oil, on a high heat, with the garlic, cinnamon and allspice for 3-4 minutes until lightly coloured, stirring every so often. Add the tomatoes, drained raisins and stock, bring to the boil then simmer for about 20-30 minutes.
The sauce should be just coating the meat. If not, leave it on the heat for another minute or so. Add the pine nuts and put to one side.
Pre heat the oven to 220C/gas mark 7. Season the whole cabbage, place in a roasting tin and spoon over some olive oil. Bake in the oven for about 30-40 minutes or until the cabbage is tender, cover with foil if it's starting to burn.
To serve, reheat the sauce, transfer the cabbage to a serving dish and spoon the sauce in the middle. Cut the cabbage into wedges and spoon more sauce over.
Register for free to continue reading
Registration is a free and easy way to support our truly independent journalism
By registering, you will also enjoy limited access to Premium articles, exclusive newsletters, commenting, and virtual events with our leading journalists
Already have an account? sign in
Register for free to continue reading
Registration is a free and easy way to support our truly independent journalism
By registering, you will also enjoy limited access to Premium articles, exclusive newsletters, commenting, and virtual events with our leading journalists
Already have an account? sign in
Join our new commenting forum
Join thought-provoking conversations, follow other Independent readers and see their replies