A mash-up to make your mouth water: Nikkei is no crazy culinary flash in the pan

Show all 3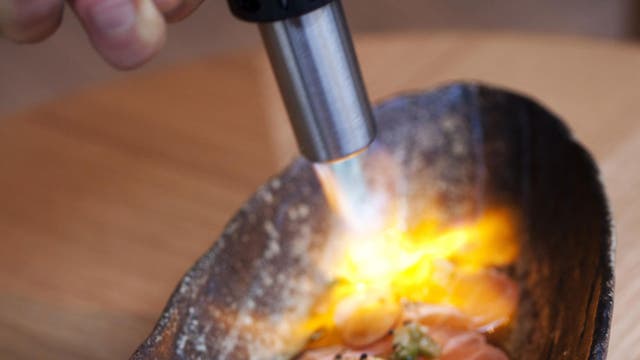 A mash-up to make your mouth water: Nikkei is no crazy culinary flash in the pan
The century-old cooking style is a fusion of Japanese and Peruvian cuisines. Nicole Mowbray meets the restaurateur bringing it to the capital
It's ironic that Kurt Zdesar's new London venture opened on the last day of London Fashion Week last week. Food – as fashion – is always searching for the next big thing; the new sushi, the next cupcake, wondering if the dining public can handle yet another new twist on the burger (the answer to that is no)…
London's certainly has its fill of disparate dining options at the moment, but restaurateur Zdesar is hoping there's still a bit more room on the block for his new food baby, Chotto Matte, which promises something entirely different.
Under the guidance of the chef Peter Gordon (a judge on the New Zealand version of MasterChef), Chotto Matte – which translated means "please wait a minute" – will specialise in Nikkei cuisine; a fusion of Peruvian and Japanese food, which originated in Peru. After more than a century of immigration, the country now has the second largest Japanese population in South America, so Nikkei is not a new thing. Indeed, Lima is bustling with Nikkei restaurants, specialising in fresh fish combined with corn, aji peppers, yucca, potatoes and the like.
"My interest in Nikkei food, or Japanese food with a South American twist, goes back to my first involvement with Nobu in 1996," says Zdesar. "We always said the food we created there was inspired by Nobu's travels, so there were several different influences. Then when I left Nobu in 2004, I travelled a lot and came across Peruvian restaurants in Shanghai and America.
"Eating my way around, I recognised some familiar tastes… I started planning Chotto Matte in 2008, but had to stop due to bad economic conditions. Plans began again in 2011 and I spent a month in Peru tasting everything. There, they bring lots of foods out of the Amazon – fruits and fish no one's ever really seen before. Restaurants such as Central in the Miraflores area of Lima are just producing wonderful food, which is now making its way around the world. We hope we can bring something more to that."
Diners should expect lots of raw onion, lime juice and coriander, says Zdesar, but with a milder flavour than the Nikkei food you may eat in Peru. "When we initially arrived, we found the tastes quite harsh and acidic," he tells me. "But after a month, we were drinking all of the lime, chilli, onion and fish juices left on the plate from shot glasses – sounds unbelievable, but it's a traditional thing out there.
"We've changed the palate slightly here in London and toned things down a bit while retaining the flavours. The aim is a delicate balance of sweet and sour that's potent but not overpowering. We're using a lot of yuzu, coriander, garlic and chilli. Dishes will also include quinoa, cassava and potato. The food is so colourful, it's like an explosion on your plate."
He's obviously on to something. Albert and Ferran Adria, the brothers behind the now extinct El Bulli, opened their own Nikkei restaurant – called Pakta – in Barcelona this April, which is earning rave reviews. It looks as if Zdesar's once again identified a food zeitgeist with legs.
But then again, he's got form. It was he who helped bring Nobu to Europe. The dim sum phenomenon Ping Pong is down to Zdesar, too, not to mention Hakkasan, Alan Yau's sleek Chinese hideout that single-handedly changed the way Londoners thought about Cantonese food. Although Peruvian food may be trendy now, does it have staying power? Zdesar says so. "You can have Nikkei food four days in a row and still be looking forward to it on day five," he says. "There's a lot of raw food, there's no overcooking so everything is very healthy."
The ground floor is also home to an à la carte restaurant and fixed-price raw bar in which master sushi chef Tetsuya Kato – previously chef to the Emperor of Japan – does his thing. Like so many of its contemporaries, Chotto Matte wants to encourage a relaxed environment, and much of the restaurant's menu over the top two floors concentrates on sharing plates. Dishes – such as avocado tempura with smoked purple potato; BBQ pork belly nashi pear salsa; grilled baby chicken with spicy pomegranate salsa – are all meant to be eaten leisurely with friends.
But it's the 10-seater exposed Robata Grill area upstairs that is Chotto Matte's crowning glory. Serving smoky Japanese barbecue specialties such as hotpots, wagyu beef, and seasonal grilled vegetables straight on to the plate, the Robata Grill area looks set to provide some of London's hottest seats for the months to come. Happily, too, the restaurant accepts reservations.
Zdesar is keen for Chotto Matte to be friendly to the pocket as well as the palate, too, describing the price point as mid-way between Ping Pong and Nobu. There's an eight-course tasting menu on offer for £45, or a slightly cheaper option at £35. "There are Peruvian restaurants in London – the likes of Coya, Lima, Ceviche – but we think Chotto Matte brings something more, for a lower price.
"Everything we use is sustainable, we're not cutting corners when it comes to produce, but we're trying to be as efficient as possible. There's no need to charge more when you can do it for less, and personally I think the price point in some London restaurants is so high it's disgusting – there's no other way to describe it when places charge £150 for one person to eat; when others are starving."
One thing's for sure, if you're wandering around London's Soho, it's hard to miss Zdesar's new venture. Set over three floors with a retractable glass wall that enables customers to spill out onto the street in the summer, Chotto Matte is a mega restaurant; and the biggest premises in the area.
The ground floor is home to a swanky cocktail lounge where bartenders shake up concoctions using pisco, sochu and sake. Japanese whisky will be a speciality. And if spirits aren't your thing, there's a wine list almost 60-strong.
And the venue certainly looks the part. A sultry space, it's been designed by Andy Martin Architects (other projects include The Ivy, Quo Vadis, Oliver Peyton) with the intention of "evoking a sense of modern-day Tokyo". The interiors are dark – there's lots of lava stone and burnt cedar used – which have been "urbaned-up" by street artists; including Houxo Que, a Tokyo-based painter and graffiti artist who created a large-scale graphic illuminated by UV light to spread across the lower hallway. Upstairs, too, London-based graffiti artist Tom Blackford has created two 17-metre murals.
"Chotto Matte will be edgy," says Zdesar. "It's in Soho so it'll draw a fun crowd. We're open from midday to 1.30am so it'll be a place that people can come in and get a drink and some high-quality food at 11.30pm, if they want. It's something I feel the capital's really been lacking. I don't want to jinx myself, but we have a phenomenal site, a phenomenal team and have done everything we can to make this a success." And with his pedigree, I wouldn't bet against it.
Brazilian - Japanese
This peculiar marriage of cultures is inspired by polyglot São Paolo, which has more Japanese inhabitants than anywhere outside Japan. Head to Sushinho on London's King's Road to try the salmon sushi with cream cheese – if you dare.
French - Chinese
Wolfgang Puck pioneered this mash-up back in 1983 when he opened Chinois in LA in 1983. Today the style – French techniques, Chinese ingredients – can be sampled at Yam'Tcha in Paris.
Thai - French
One of the happier leftovers of French colonialism is the Bánh mì, a peculiar combination of French baguette and spicy meat or fish. To be scoffed – rather than scoffed at.
Indian - Italian
The yoking of these two proud food cultures was possibly the worst idea purveyors of frozen food, Iceland, ever had, which is saying something. For £1 you can feast on – drum roll – a Chicken Tikka Lasagne. No, just no.
Samuel Muston
Join our new commenting forum
Join thought-provoking conversations, follow other Independent readers and see their replies