No, Mr Bond, I expect you to dine

Show all 3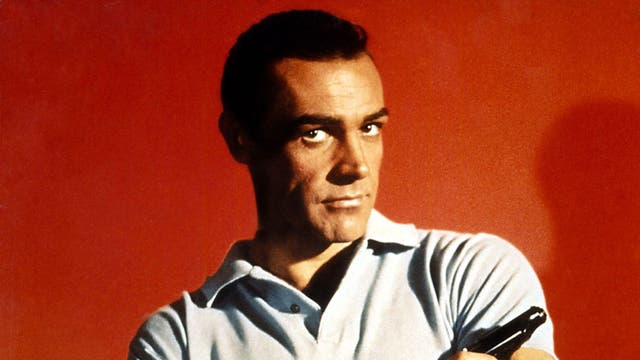 No, Mr Bond, I expect you to dine
He insists on seasonal ingredients, is keen to sample the most exotic of local cuisines, and waxes lyrical about his breakfast. Charlotte McDonald-Gibson wonders if 007 was in fact an undercover foodie
With his edicts on the exact temperature to serve Dom Perignon, lengthy tracts on the finer points of eating caviar, and his cavalier attitude to gender equality, it's no surprise that one reviewer took umbrage with James Bond in 1958, dismissing Ian Fleming's creation as pure "sex, snobbery and sadism". The reviewer may have found an ally in Tiffany Case, the beautiful gem smuggler in Diamonds Are Forever, in whom Bond confides that his ideal woman can "make Sauce Béarnaise as well as love".
But as Britain gears up for a Bond bonanza this year with the 50th anniversary of Dr No hitting our screens and the release of the 23rd film in the franchise, perhaps it is time for re-evaluation: rather than being a snob exhibiting some of the worst traits of Britain's upper crust, was James Bond in fact the prototype foodie?
With his insistence on eating seasonal produce, a determination to sample the local cuisine in whatever far-flung part of the world he finds himself, and a distaste for food "which had certainly been in various deep-freezes for at least six months," 007 pre-empts many of the values espoused by today's globe-trotting, local produce-loving Middle England. To quote Commander Bond himself: "I take a ridiculous pleasure in what I eat and drink," he tells Vesper Lynd in Casino Royale (the book) over a sumptuous dinner of caviar and beef tournedos washed down with copious champagne. "It comes partly from being a bachelor, but mostly from a habit of taking a lot of trouble over details."
And with interest piqued this year, restaurants and bars are lining up to cash in on any links to the dapper British agent. The boutique New Forest hotel and restaurant, The Master Builders, is offering a James Bond menu, to tie in with the nearby Beaulieu Motor Museum's exhibition of cars from the films.
Inspired by Bond's love of luxury, diners can tuck into dishes such as Licence to Kill (oysters and a shot of vodka), Golden Eye (smoked salmon, a poached egg and hollandaise) and Diamonds Are Forever (sparkling champagne sorbet).
While the Master Builders menu offers playful dishes inspired by the names of the films, Dukes Bar in London's Mayfair has genuine 007 heritage: Fleming is rumoured to have dreamt up his infamous vodka martini in its exclusive surroundings. The barman at Dukes recently unveiled his own tribute, the Fleming 89 Martini, based on both the martini mix in the author's books and oils from Fleming's favourite cologne. For the traditionalists, general manager Debrah Dhugga assures customers the original remains on the menu. "In our view, a perfectly mixed gin or vodka martini is synonymous with Ian Fleming's James Bond character," she says.
Their martinis will, however, set you back around £15: like much of Bond's lifestyle, out of the reach of many readers or viewers. But in his book, For Your Eyes Only: Ian Fleming and James Bond, Ben Macintyre argues that 007's relationship with food was not driven by a desire to show off. His creator was instead moved to give depressed post-war Londoners some escapism from their daily grind. "Bond's meals are bright explosions of high cuisine, specifically designed to tantalise and amaze in a Britain where bananas were considering mouth-wateringly exotic, milk came powdered, and practically everything tasted the same and of very little," Macintyre writes.
He uses the example of an avocado pear, now readily available to all at your local Tesco, but back then it was so mysterious and exotic that even Fleming didn't know what to do with it, and in two of the books has it served as a dessert.
But most of the time, Fleming demonstrates a prowess with the cuisines of the world which would have appeared unimaginably exotic in the drab Britain of the 1950s. In Jamaica in Live and Let Die, Bond feasts on the first black crabs of the season, "a little suckling pig, avocado pear salad, guavas and coconut cream". Breakfast in Turkey in From Russia with Love is "yoghurt, in a blue china bowl... deep yellow and with the consistency of thick cream. The green figs, ready peeled, were bursting with ripeness, and the Turkish coffee was jet black and with the burned taste that showed it had been freshly ground." In France, it's foie gras, cold langouste, and Lyon sausage. Japan? Kobe beef and blowfish sashimi.
Back in the UK, asparagus is only eaten in season, smoked salmon must be from the best Highland curers: Bond even stipulates which hens (French Maran) must lay the eggs his Scottish housekeeper serves for breakfast in his Chelsea flat. Indeed breakfast is "Bond's favourite meal of the day" and is frequently described in luscious detail. A particular favourite is scrambled eggs, which are, bizarrely, eaten at all hours of the day. Bond even gives readers his recipe in the short story, 007 in New York: three eggs, six ounces of butter, fines herbes, and served – naturally – "with pink champagne (Tattinger) and low music".
While food plays a crucial role in the books, it takes a back seat to his love of alcoholic beverages in the films. As David Leigh, publisher of The James Bond Dossier website (tjbd.co.uk) and author of The Complete Guide to The Drinks of James Bond, explains: "Ordering an entire meal in detail doesn't make good cinema, while 'shaken, not stirred' sums it all up in three words."
While Leigh concedes that Bond – an old Etonian – does show snobbish tendencies in both the films and the books, he says there is also a celebration of the best, simple cuisine, which chimes with the tastes of today. "He orders ham sandwiches with plenty of mustard from a pub in England; a baguette with a foot of Toulouse sausage in France; sardines and a doner kebab in Istanbul; pasta with a Genovese sauce concocted of basil, garlic and fir cones (i.e. pesto) in Rome," Leigh says. "So perhaps he is a bit of a foodie after all."
And the last word should go to Fleming himself, who – in the book, On Her Majesty's Secret Service – also touched on the possible side-effects of 007's gluttonous ways: "James Bond was not a gourmet ... In England he lived on grilled soles, oeufs cocotte and cold roast beef with potato salad ... He had had the whole lip-smacking ritual of winemanship and foodmanship and, incidentally, he had had quite enough of the Bisodol that went with it!"
Bond's haunts
While on the road, James Bond often dines in rustic farmhouses or beachside seafood shacks. But he's not averse to going upmarket. Here are some haunts where you could play at being 007, but only if your expenses account matches his.
Scott's, 20 Mount Street, London, W1
While in London, Bond frequently dines at Blades, a fictional gentlemen's club. As that doesn't actually exist, you could instead try Scott's, where 007 takes one colleague for "dressed crab and a pint of Black Velvet" – Guinness and champagne.
Dukes, St James's Place, London, SW1
It was while propping up the bar at Dukes hotel that Fleming dreamed up the potent Vesper Martini mentioned in Casino Royale.
21 Club, 21 West 52nd Street, New York
It is over caviar, lamb chops, asparagus with mousseline sauce that Tiffany Case tells 007 in Diamonds are Forever that: "It'll take more than Crabmeat Ravigote to get me into bed".
The Orient Express dining car
In the film of From Russia With Love, 007 is alerted to the identity of a Soviet spy posing as a British agent when he orders red wine with fish.
Join our new commenting forum
Join thought-provoking conversations, follow other Independent readers and see their replies