The Independent's journalism is supported by our readers. When you purchase through links on our site, we may earn commission.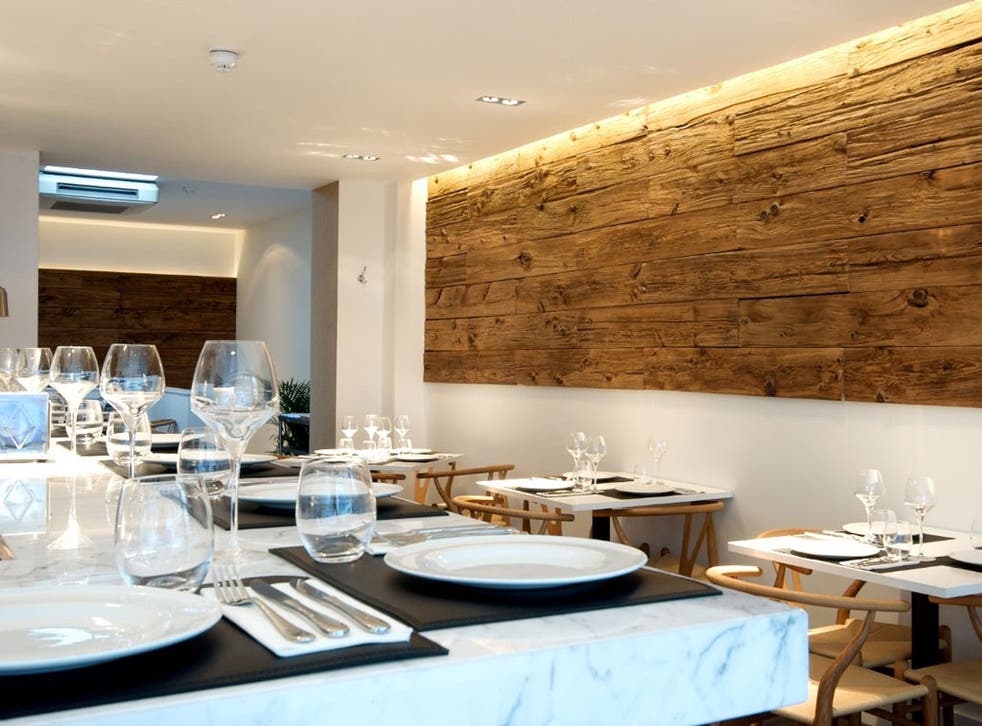 On The Menu: Donostia cod cheeks; Chin Chin labs; Thermapen; Courvoisier; Richard Bertinet
This week I've been eating... Donostia cod cheeks
I enjoy the theatrics of eating tapas, the procession involved. The wait for the dishes to come through the kitchen doors, born aloft by a waitress like a saint in a parade, the trail of dishes across the table, the mess, the crumbs on the table and oil on the cloth. It's the only type of drama you want in a restaurant: modest, anticipatory and concerned only with what's on the plate on the table.
But, of course, the food has to live up to that. At Donostia, a new Basque set-up in London's Marylebone, it does; surpasses it, even.
The biggest hit were the (pricey) cod cheeks (£12). The size of a king scallop, they're cooked in a mix of their own juices and a glug of olive oil, until the mixture starts to gelatinise. The result, though odd-sounding, is clean and fresh and the flesh, so ready to flake, is testament to the chef's skill, which, on the basis of this dish and the others, is considerable.
Hay fever
We're in the middle of Wimbledon fortnight, which pretty much means the same thing every year: rain (mostly of the on-off, cover-on/cover-off variety), references to Cliff Richard and, of course, strawberries and cream. Boring, boring and boring (if quite nice).
North of Wimbledon, up in Camden, Chin Chin labs, has decided to pray for sun, forget about Cliff and
create its own update on the summer dessert: a strawberry-and-cream ice cream, with, wait for it, added flavours of hay. Very, er, Wimbledon.
£3.95, chinchinlabs.com
Easy measure
On the Indy food desk, we like nothing better than slow cooking a large slab of meat. But even for long roasts, accuracy is required. A recent experiment in barbecued pulled pork (done in the oven, admittedly) required constant surveillance of the meat's core temperature, which made our latest gadget a very handy one. The Thermapen is a colourful little, instant-read thermometer which is sharp enough to pierce even a cheap pork shoulder cut. It's also fast and accurate enough for the slightly more scientific world of baking. Get poking.
£57.60, thermapen.co.uk
Best bar none
For two night next month – 13 and 14 July – Courvoisier will be reviving its century-old Institute of Grand Cocktails, with three of Britain's best bartenders. Mixologists from Annabel's (Mickael Perron), Rules (Chris Lacey) and 5 Hertford Street (Amanda Humphrey) will be mixing up a storm for those attending the night of drinks-cum-theatre at The Heritage Rooms in London's Bloomsbury Square.
£10, courvoisier.com
Honest crust
Your shortcrust not cutting the mustard? Can't master that tarte tatin? Let Richard Bertinet, classically trained patisserie chef and winner of BBC Food Champion of the Year a couple of years back, guide you pastry heaven with his lovely new cook book Pastry.
£20, amazon.co.uk
Register for free to continue reading
Registration is a free and easy way to support our truly independent journalism
By registering, you will also enjoy limited access to Premium articles, exclusive newsletters, commenting, and virtual events with our leading journalists
Already have an account? sign in
Register for free to continue reading
Registration is a free and easy way to support our truly independent journalism
By registering, you will also enjoy limited access to Premium articles, exclusive newsletters, commenting, and virtual events with our leading journalists
Already have an account? sign in
Join our new commenting forum
Join thought-provoking conversations, follow other Independent readers and see their replies