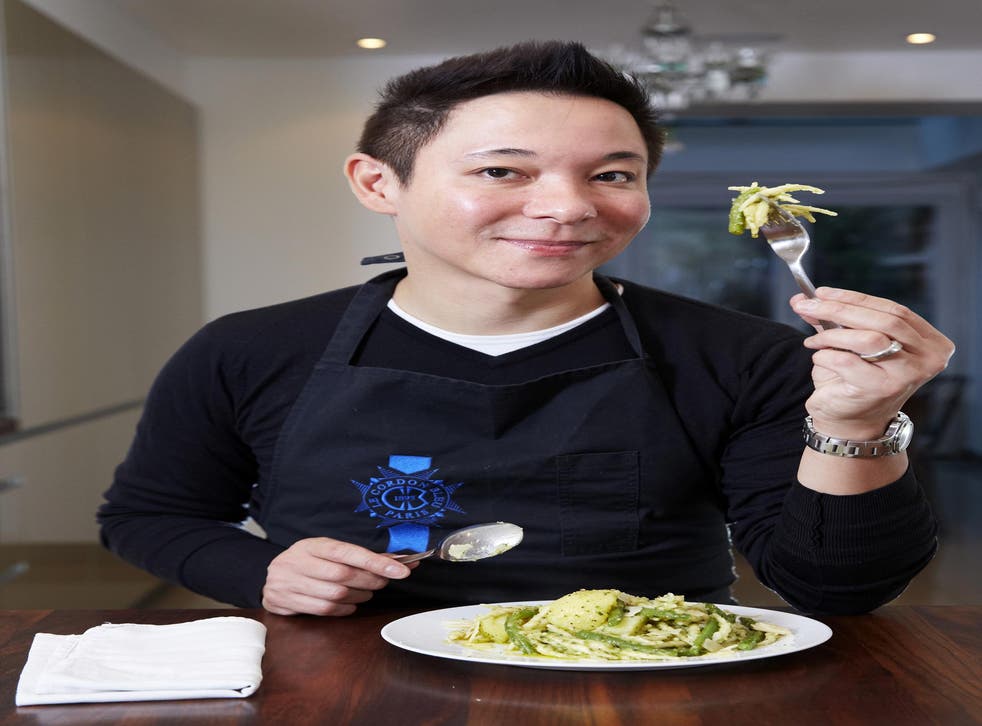 This one's for me: Chefs and food bloggers reveal their favourite solo suppers
Suzy Bowler, Sudden Lunch!, suddenlunch.blogspot.co.uk
My partner and I are so different in our tastes that I almost always cook two separate meals: he has lots of meat and no spice, garlic or anything "unusual", while I am inclined towards vegetarian food, experimentation and lots of flavour. I rarely decide what to eat until shortly before dinner, when I scan the contents of my fridge and make a decision. I love being creative with leftovers and keep a well-stocked pantry so that I can be spontaneous.
I recently added chorizo to my list of staples and love frying it up with finely chopped red onion, cooking a piece of cod in the chorizo-scented pan and then adding cannellini beans and a few spoonfuls of tomato and chilli sauce (sometimes a bought-in pasta sauce). This is lovely with rice or garlic bread.
Kerstin Rodgers, MsMarmiteLover, marmitelover.blogspot.com
Cooking for myself is the whole reason why I started the Underground Restaurant movement back in 2009. Before that, it was just me and my kid, who ate only three things: pasta, fish fingers and pizza. As a cook, this is very limiting, so I created a restaurant in my living room to have other people to cook for. Now, my daughter has gone to university, so it's back to cooking for myself again, except on supper-club nights.
One thing I do is pot noodles, or ramen. But I don't just use the little dried packet of monosodium glutamate that comes with it, I do "hacks" to make it taste better. Take one or two packs of noodles. Boil water and cover the noodles. Then nuke in the microwave for a minute. Leave to soak. You can pour away some of the water once they are soft. Add a squeeze of fresh lime, a few drops of sesame oil, a chopped-up spring onion, a few shavings of fresh ginger, a large pinch of fresh coriander, a glug of soy sauce, maybe a handful of firm tofu squares. It depends what you have lurking in your fridge. All this is best prepared and eaten from a heatproof Pyrex jug, which saves on washing-up.
Jacqueline Meldrum, Tinned Tomatoes, tinnedtomatoes.com
Most of the time I cook for my family but, from time to time, I eat alone and I cook simple dishes when I do. These dishes change from season to season. In the spring, I might cook a herby risotto and top it with some new-season asparagus. When summer arrives, I move on to salads; one of my favourites is a pasta salad with sautéed mushrooms, fresh herbs, black pepper and a little olive oil, or a quinoa and Le Puy lentil salad topped with grilled halloumi cheese and finished with a lemon-and-herb dressing.
When the leaves turn golden and autumn arrives, I welcome butternut squash into my kitchen and make my favourite spiced butternut squash soup. I like to finish this soup off with noodles, which turn it into a substantial meal. Then winter arrives cold and dark and I just want comfort food, and that's when I regularly make my spinach-and-coconut dhal. It's a great one-pot dish. All the ingredients and spices are just thrown into a pot and cooked gently for half an hour. I serve my dhal with toasted wholemeal pitta bread.
Chefs' favourite solo suppers

Show all 7
Luiz Hara, The London Foodie, thelondonfoodie.co.uk
When I'm not cooking for my Japanese or French supper clubs or eating out at restaurants, I am reviewing for the blog. I tend to eat very simply. Having lived in Genoa during university, I took a real fancy to pesto, which is native to this Ligurian city. Made from fresh basil, Parmesan cheese, a handful of pine nuts, garlic and extra-virgin olive oil, all you need is a good food processor to whizz the whole lot in. It couldn't be simpler and tastes so much better than the shop-bought stuff. It freezes brilliantly, too, so I make loads of it in summer, when basil is plentiful (and affordable), and that keeps me going for a good few months. I love using my home-made pesto with Ligurian trofie pasta, cooked with diced potatoes, green beans and garlic and with a generous shaving of Parmesan cheese.
Dominic Franks, Belleau Kitchen, belleaukitchen.com
My partner's a vegetarian but I'm a meat eater so quite a lot of the time I'm cooking solo anyway. What I make for dinner depends so much on the day I've had. Sometimes, after an exhausting day the last thing you want to do is go home and cook. But sometimes it can be a reward and it can relax you.
My go-to meal for when I'm cooking for just myself is a chicken-thigh stew. Thighs are cheap, packed with flavour, and really versatile. In some kind of casserole dish with a lid I throw in vegetables – onion, carrot, garlic cloves, maybe a fennel or some beetroot – then lay the chicken thighs on top and add salt, pepper and maybe a splash of white wine. You don't need any oil because of the fat from the skin. Then you roast it in the oven for about 45 minutes with the lid on, removing it for a final 15 minutes. It's not exactly fast but there's little prep and once it's cooking you can just leave it and go and take a shower or something. Usually I'll eat it out of the pot that it's cooked in. It allows you to be extraordinarily lazy.
Dan Toombs, The Curry Guy, greatcurryrecipes.net
The whole idea of my blog was to get my kids more involved in cooking and so I include them a lot. There are times, however, when I need to cook a meal for just me. At times like this I don't want to spend ages in the kitchen, and tend to rustle up a quick curry. I'm writing a book right now so I'm experimenting a lot with different spice combinations. I might sprinkle a fillet of plaice or salmon with some garam masala seasoning, which you can then cook in five minutes (lamb and beef take much longer to cook). I also usually have batches of a standard curry sauce in my fridge that keep for up to four days, so I might use that. I don't like takeaway curries. It's so easy to make curries at home and, besides, the naan bread always arrives soggy.
Miss South, North/South Food, northsouthfood.com
I live alone so I cook for myself a lot, but I also really like doing it. It's one of the great joys of being an adult: you can have exactly what you want for your dinner. Half the time I spend all day cooking something because I have a slow cooker, which I use a lot. At other times I'll make something that requires little effort, such as rice with a bit of miso in it and vegetables. It depends what I have in the fridge, but I never resort to things such as ready meals or pasta and sauce.
I also make a lot of soups. Things like chowders, stuff that's so thick it becomes almost a stew. They're all fresh but they feel like very little effort. Sometimes I make a couple of quick dumplings to throw in, or serve it with some soda bread. I recently made a corn chowder that I topped off with some deep-fried bacon. It was wonderful.
Claudia Roden, cookery writer
I like cooking, even if it is just for myself, but I make it simple. In the past year, I've been updating and adding new recipes to an Italian book so I've been eating Italian food. A typical meal may start with half a burrata (this is a ball of mozzarella with cream inside) with tomatoes, salad leaves and herbs. Pasta favourites are tagliatelle with sautéed mushrooms, or with prawns and crab meat, and spaghetti with ricotta and fresh goat's cheese, or with almond and raw tomato pesto. I might have tiny lamb cutlets grilled on a plancha. I often have a plate of mixed boiled vegetables dressed with plenty of extra-virgin olive oil. And I always have fruit.
Join our new commenting forum
Join thought-provoking conversations, follow other Independent readers and see their replies