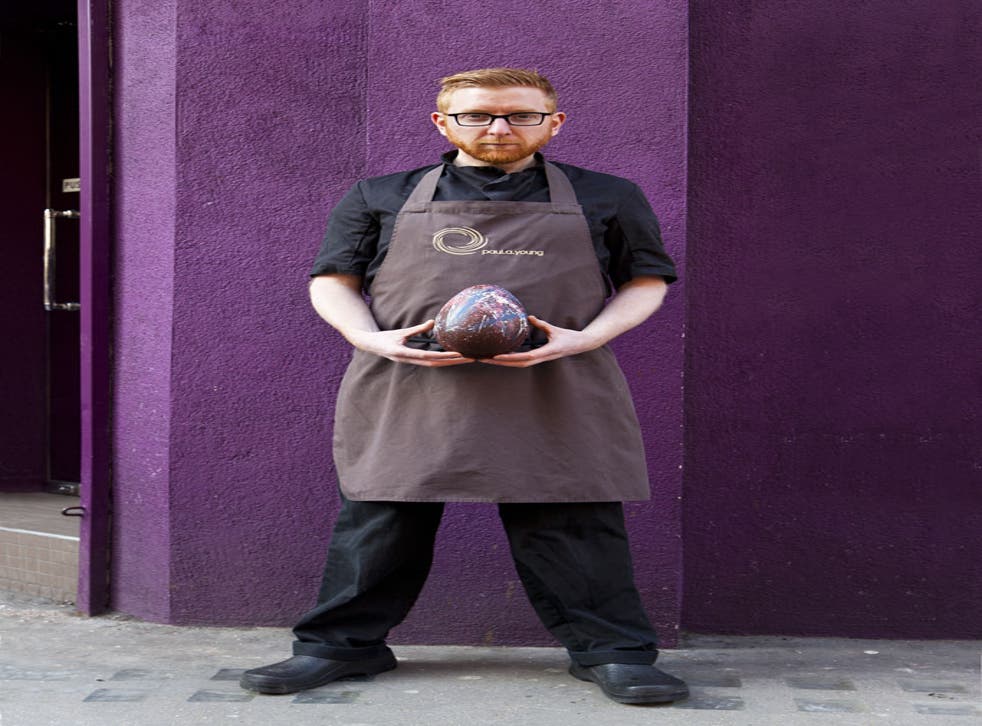 Paul A Young: 'Whenever you're baking anything, add a pinch of sea salt'
My earliest food memory...Going to my great-grandfather's house after school on a Monday evening, when my grandma would come over and cook stew and big Yorkshire puddings. There was a blazing coal-fired range in the kitchen, and the oven at the side was the only way of cooking. That heat from the range was different to the kind you get from gas or electric; I don't think any of us will get to taste food like that again.
My store-cupboard essentials... Pearl barley, because I like to use it to make savoury porridges. I'll put lots of nice cheese and herbs and spices in it, and it's really easy. I can put it on and let it cook slowly while I'm tackling my emails at the end of the day. There are also always two types of chocolate in my cupboard: the Mast Brothers Dominican Republic bar and the Duffy's Honduras bar, which is really earthy and brilliant for savoury recipes. And two jars of piccalilli: it's one of those really uniquely British tastes and I adore it with cold meats, pies and chicken or spread under grated cheese on cheese on toast.
My favourite cookbook... Hawksmoor at Home. I'm lucky enough to live one street away from the Covent Garden Hawksmoor, so there's no excuse for me not to pop in. The book is really usable, with hearty, full-of-flavour recipes: the mac and cheese one has a beef shin stuck in it and is the best thing you can ever eat. I also read my grandma's and great-grandma's recipe books for inspiration, especially when it comes to old-fashioned ingredients.
My top culinary tip...Whenever you're baking anything sweet, add a pinch of sea salt. I put a teaspoon in my chocolate cakes. It lifts and balances the sweetness and brings out other flavours. There's not enough in it to be able to taste it, but it's like putting salt in bread: you know when it's not there.
My top table... At the minute Dabbous, which is a new restaurant [in Fitzrovia, London]. It's wholesome food with a really creative angle. I think the chef Ollie Dabbous is paving the way for a new breed of Michelin-starred restaurants that don't have to be super-fine dining and formal and are just about the ingredients. I also think he must have read my foodie thoughts, because he has a dish of beef tartare with cigar oil, whisky and rye, which has to be all my favourite ingredients in one!
My dream dining companion... Antonin Carême – he's known as the first celebrity chef and was famous [in early 19th-century France] for his massive sugar sculptures and amazingly complex desserts. I'd like to ask him how on earth he came up with all of this fine cooking at a time when there was none of the equipment we have now to help him. I'd also have Oscar Wilde: I think I may have lived in the late 1800s in another life, because I've always had a connection with that era, and his frivolity is very appealing.
The strangest thing I've eaten...The first time I ate a raw cocoa bean was strange. They're slimy, slippery and taste like a mixture of every exotic fruit you can imagine. You don't eat the bean itself: just the outer shell. Oh, and melon and radish juice. My assistant chocolatier Ollie came up with it recently, as he makes juices for the team every morning, so we get some fruit and veg as we're working with sweet things. It tasted fantastic for a second, but after that it turned my stomach.
My pet hates...Cupcakes. No more, please! Usually you get a substandard sponge and loads of over-coloured frosting which just tastes of sugar: they're so easy to make badly, they've been done to death, and they're often expensive. Seriously, there are so many cake recipes in the world: we're cleverer than that.
A renowned chocolatier, Paul A Young runs three chocolateries in London, including a flagship on Wardour Street (paulayoung.co.uk). His cookbook, 'Adventures with Chocolate', is available in paperback now, published by Kyle Cathie, priced £14.99
Join our new commenting forum
Join thought-provoking conversations, follow other Independent readers and see their replies