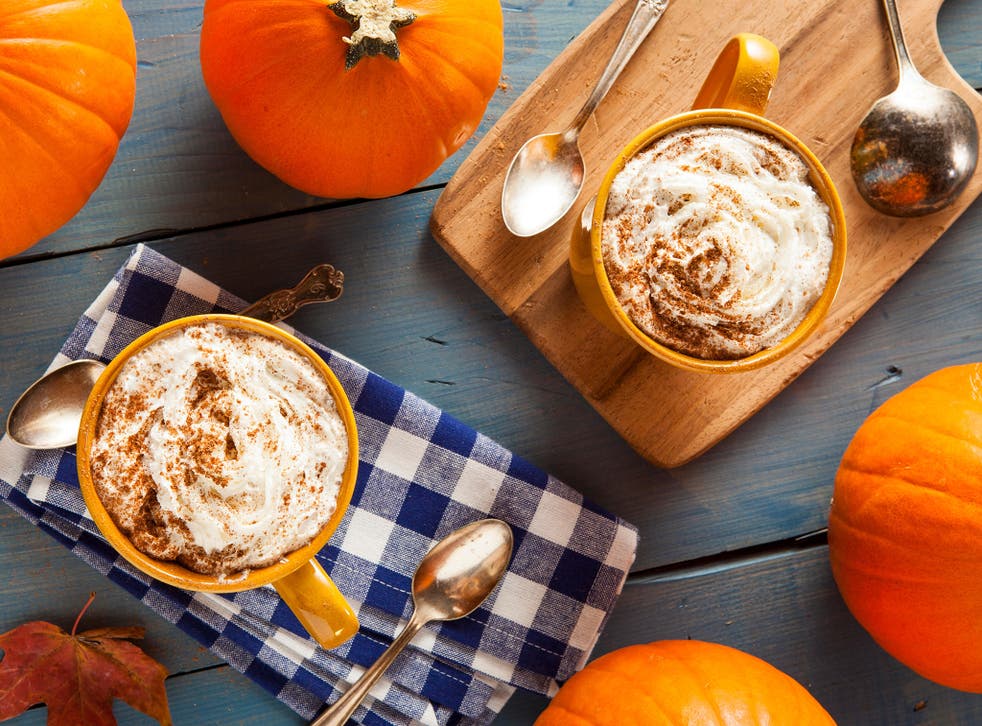 Pumpkin spice is the flavour of the month - but can you stomach the sweetness?
Pumpkin spice, the combination of cinnamon, clove, nutmeg (and no actual pumpkin), now flavours everything from lattes to cream cheese in the US. As the super-sweet seasoning gains ground over here, Gillian Orr traces the rise of a heady marketing ploy
It is 4pm in a Starbucks in Kensington, west London, and a group of overexcited schoolgirls has descended. Smacking gum and filling the room with Miss Dior Cherie, they take turns counting their shrapnel and ordering coffees in a babble of upward inflections at the counter.
But they are not after any old caffeine fix – they are here for one thing and one thing only: the pumpkin spice latte.
Since 2004, the Seattle coffee chain has been hawking the autumnally seasoned treat in the US. Appearing on the menu every autumn for two and a half months, it has been sold in the UK since 2011 and, boy, have we embraced it.
Despite Brits having less of a sentimental attachment to those bright, round squashes than our American friends, sales of the pumpkin spice latte have grown by 10 per cent every year since it was introduced here.
The story goes that the drink was created in the firm headquarters' "liquid lab", and was concocted by sampling a forkful of pumpkin pie followed by a sip of espresso, in a bid to combine the two. Since then, Starbucks has sold more than 200 million cups of the stuff and it remains its most popular seasonal beverage. If you haven't tried one, do so at your peril. They are mercilessly sweet. As someone who pours two sugars into her morning coffee (and didn't add any to the flavoured latte that I tried), I found it pretty much undrinkable and ended up giving it to a colleague of mine who has been known to enjoy gummy bears before 11am.
What is more interesting, of course, is that pumpkin spice is little more than a marketing ploy; a seasonally seductive name for an otherwise pedestrian concoction. It is as fictional as the Great Pumpkin that Linus waits for in the patch every Hallowe'en. There is, after all, no trace of pumpkin in pumpkin spice. It is simply a blend of cinnamon, clove and nutmeg flavouring, added to a latte (not forgetting a big dollop of whipped cream).
That trio of seasoning makes for a pretty common combination. It could just as easily be called holiday spice. Or autumn spice. Or festive spice. But pumpkin spice brings to mind bonfires and crunchy leaves and cable-knit sweaters. It's terrifically twee, certainly, but entirely marketable. Autumn brought to you by Pinterest.
"We create drinks for specific markets and this one was made for north America," says Liz Booker, a Starbucks "coffee ambassador".
"But lots of customers travel over there and then come back and request it here. At first, I thought that people might think we actually put pumpkin in it and they'd be put off. But once you talk to a customer about the fact that it's inspired by the flavours of pumpkin pie, then they are intrigued."
But pumpkin spice has become so much more than a made-up seasoning; it's now a social-media phenomenon. The lattes even have their own hashtag – #PSL – on Twitter ("IT'S FINALLY SEPTEMBER OMG MY FAVE TIME OF THE YEAR #PSL") and Instagram. Search for it on the latter and you will be faced with a slew of artfully arranged paper coffee cups (extra points for some russet leaves in the background!). And you thought photos of meals were annoying; these are snaps of takeaway cups. Starbucks reckons that when the coffee is on the menu, it inspires more than 3,000 tweets a day. Taylor Swift and Katy Perry are among the stars who have pledged their allegiance online.
So, it should come as no surprise that other companies have hopped on the pumpkin spice bandwagon. In the US, there's pumpkin spice-flavoured everything, from porridge to vodka, jelly (jello) to yoghurt. Plenty of big brands are also introducing special editions, including Krispy Kremes, M&Ms and Oreos.
And in Philadelphia's ongoing quest to come up with the most revolting flavour combos for cream cheese, it too has launched a pumpkin spice variation. Yep, just to reiterate: that's cream cheese with a bouquet of cinnamon, cloves and nutmeg, which kind of makes me want to drive a JCB into Philadelphia's test kitchen and stop the madness.
One American woman actually blogged about her attempt to sample every pumpkin spice item on offer (she failed). It's no wonder that the marketing firm Nielsen reported that US sales of pumpkin-flavoured produce increased by 18.8 per cent between 2012 and 2013.
The oversaturation of pumpkin spice products in the US has not only inspired dozens of Buzzfeed-style lists of the strangest creations, and think-pieces asking if they've reached "peak pumpkin spice", but fake products have even been circulating on the internet, including pumpkin spice Doritos and Durex condoms. That much of the US public blindly accepted that these products were real says a lot about their conditioning to it.
And now, as so often happens with food trends, it is making its way over here. Not only has the demand for Starbucks lattes been steadily growing, but it is slowly assaulting other food and drink areas. Twinings, for instance, has introduced pumpkin spice chai tea bags. And Selfridges stocks a number of items such as pumpkin spice cupcakes and doughnuts.
"We notice a spike in pumpkin-flavoured products around Halloween as the flavour is synonymous with this time of year," says Leah Anderson-O'Loughlin, Selfridges' bakery buyer. "The success of Starbucks' pumpkin spice latte has helped the popularity of the mix of cinnamon, ginger, nutmeg and allspice in food and drink products in the UK. We'll be seeing a lot more from this flavour."
Naturally, the backlash has begun. For some time, pumpkin spice lattes have been decried as being the fuel of choice for "basic bitches", that loathsome popular social diss aimed at women who enjoy typically "girly" things and have a penchant for the sugary sweet. Order a pumpkin spice latte and risk outing yourself as a manicured, Sex and the City-obsessed, gossip mag reader.
Never has a beverage been more loaded. John Oliver, a US-based Brit who recently attacked the pumpkin spice latte on his show Last Week Tonight, accusing it of being the "coffee that tastes like a candle". Much of the internet nodded in agreement (while the rest were too busy taking selfies with their #PSL to notice).
So will pumpkin spice see its downfall before it properly arrives on our shores? Or is its marketable allure too tempting for our own manufacturers to ignore? If Twinings, the Queen's tea maker, can fall for this Yank invasion, surely no one is safe.
"I think it's indicative of the growth of Hallowe'en over here which, in the bigger picture, is to do with the growth of Americana," says William Leigh, a restaurateur turned products innovations manager.
"Food trends are always coming over to Britain from the States. Pancakes, mac and cheese, barbecue; they've all come over in a huge wave recently. You definitely will start to see more of this pumpkin obsession filter over."
While we may never have quite the level of infiltration in our shopping aisles as they have Stateside, it shouldn't be long before more of your favourite products start to launch a limited edition variety around September, to cash in on anyone wanting to indulge in a bit of mass-marketed autumnal cheer. Whatever happened to kicking fallen leaves on long walks, collecting conkers, or, you know, carving an actual pumpkin?
Make your own pumpkin spice
4 teaspoons ground cinnamon
2 teaspoons ground ginger
1 teaspoon allspice
1 teaspoon nutmeg
Mix ingredients in a bowl, store in an airtight container and sprinkle on whatever you fancy.
Join our new commenting forum
Join thought-provoking conversations, follow other Independent readers and see their replies