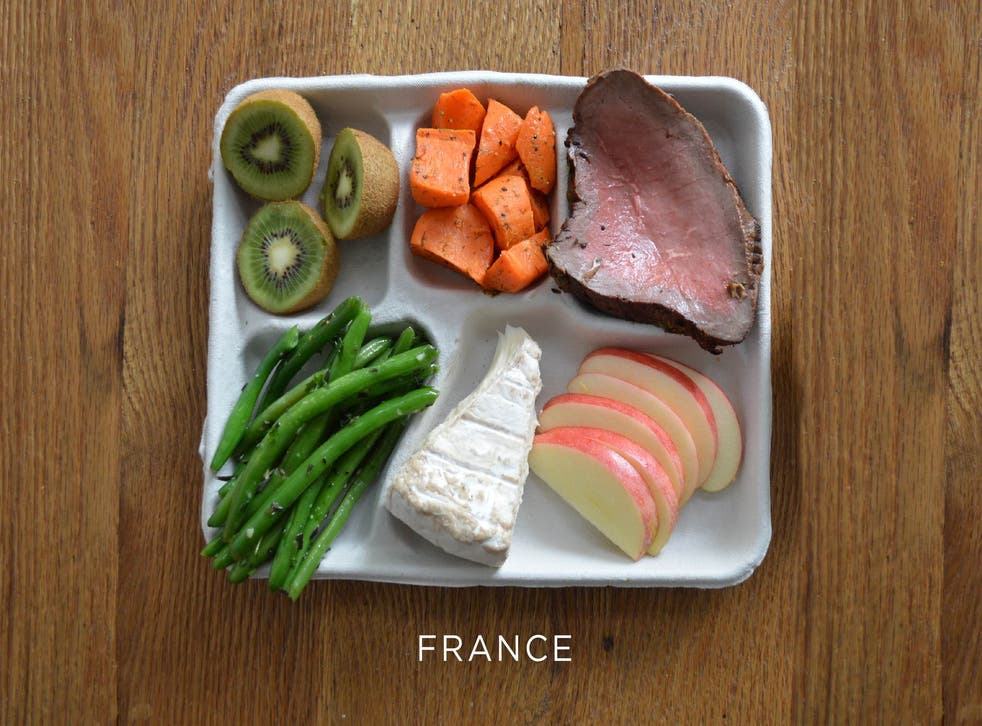 This is what school lunches look like around the world
Have we come far enough since Jamie Oliver's School Dinners campaign ten years ago?
Children in France are feasting on steak, brie and carrots; in Finland schools serve beetroot salad and pea soup; in Italy: fish, pasta and two types of salad; in South Korea: broccoli, peppers, fried rice and tofu.
While countries all over the world are offering children a variety of exotic foods to dig in to for lunch, American school dinners include foods such as popcorn chicken, tinned beans and cookies as staples of the midday meal.
Sweetgreen, a US restaurant chain, released a set of comparison photographs entitled 'School Lunches around the World', documenting school meals from across the globe.
In their image of a UK school lunch, there are fish cakes, brussels sprouts, cabbage, rice, peas and a yogurt parfait with berries.
School lunches around the world

Show all 9
Highlights from their series include Greece, where they serve baked chicken over orzo, stuffed grape leaves, tomato and cucumber salad, fresh oranges and Greek yogurt with pomegranate seeds, and Spain, where lunches include sautéed shrimp over brown rice and vegetables, gazpacho, fresh peppers, bread and an orange.
School lunch comparisons have also come from Martha Payne, who began the blog Never Seconds in 2012 when she was just nine. It featured daily photos of her school meal, including a health rating and mark out of ten.
The blog picked up steam when Martha's school banned her from taking photos of her lunch. The ban was eventually lifted but it encouraged hundreds of children to send photos of their school lunches to the blog.
Jamie Oliver has also been urging the UK to improve school lunches since 2005. In 2012 he said he had "lost faith" in the Government as a result of his ongoing battle over nutritional standards in schools.
Join our new commenting forum
Join thought-provoking conversations, follow other Independent readers and see their replies