Smoking's hot: Chefs are adding the flavour to eggs, vegetables, chocolate and even cocktails

Show all 2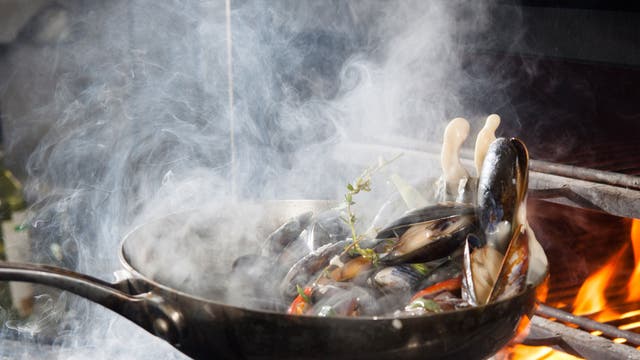 Smoking's hot: Chefs are adding the flavour to eggs, vegetables, chocolate and even cocktails
Smoking at dinner used to be confined, in polite circles, to a pre-prandial drag to perk up the appetite and a fag break after the main course. Now, despite the wholesale cigarette ban in restaurants and at PC dinner parties, full-on smoking is dinner for an increasing number of foodies – and that includes the aperitifs.
Smoking food to preserve it may be an ancient British tradition, but not quite the way it's being done in 2013. Everything from £12,000 Josper grills to smoking guns and ersatz assemblies of cans or boxes with holes punched in them are being employed to smoke food and drink on the spot in the hottest joints, with a great deal of theatre in the process.
We're not talking salmon, bacon, mackerel or poultry here; there is nothing, it seems, that escapes smoking at the hands of cutting-edge chefs. That includes eggs, milk, butter, vegetables, broth, bread and even fudge. Blame the popularity of fume-generating dens such as the Pitt Cue Co, or Jamie Oliver's Barbecoa, which spawned Neil Rankin, who has brought his obsession with smoke to Islington and the equally hot John Salt.
Yet it was not in any cutting-edge London restaurant, but a traditional grill room in Edinburgh that I was seduced by a dish whose description almost put me off tasting it. Smoked mussels can be dry to the point of disgusting straight from the smokehouse, but a bowl of juicily fresh bivalves in white wine, cream and a touch of jalapeño, infused with charcoal fumes as they opened gently inside a Josper with the vent closed, was, against all expectations, to die for.
"I got the idea in Shetland, where the mussels come from – it seemed a beautiful way to point up their delicate flavour," says David Scott of the Blackwood restaurant at the Nira Caledonia hotel, who is excited about the potential of his Josper – only the second in Edinburgh – for infusing smokiness in the subtlest way: "It only takes five minutes for a vat of mussels to open inside the grill, and at the same time the wine and cream become gorgeously infused."
Subtle is the key word when applying wood aromas to delicate ingredients; a hint of smoke also lets the integrity of the goat's cheese in Appleby Creamery's Smoked Hootenanny shine through. Dozens of British cheese-makers are now smoking over woodchips and some varieties pack a really powerful punch, such as the fabulously strong Oak Smoked Vintage Cheddar from Godminster.
Although there's plenty of smoking going on in London – on the roofs of Mayfair, where Mark Hix and Richard Corrigan smoke their salmon, on the balconies of bistros and in the bars of speakeasies elsewhere in the capital – nowhere can it be more prevalent than the New Forest, where both Lime Wood and The Pig, the area's most-acclaimed restaurants, have their own smokehouses.
However, they can't hold a candle in variety to the fumes generated by David Wykes, chef-proprietor of nearby Verveine, tucked behind a fishmonger's in Milford on Sea. He smokes flour, eggs, butter, lobster shells, parsnips, celeriac, potatoes, vanilla – and chocolate, which is a huge trend among the artisan chocolatiers of New York and Chicago, but not generally available here.
"I'm working on smoked chocolate and cep-powder truffles at the moment," says Wykes, who believes smoking his lobster shells gives a deeper flavour to bisques, and favours smoked butter to wrap into mash. "We also have a smoking gun for infusing food under glass cloches," he adds, reporting that rapidly infusing herbs, flowers and spices with this latest culinary tool results in "wonderfully aromatic" dishes such as elderflower-smoked scallops and rosemary-scented spinach.
The gun comes out again at Verveine with a siphon charger to infuse alcohol. "Smoke is fed in, the top is screwed on and charged with nitrous oxide. This displaces the oxygen in the container and forces the smoke into the alcohol. Brandy smoked with elderflower is truly beautiful, as is red wine with oak smoke.
"We're also putting a screw-top Kilner jar on the table 10 minutes before the customer arrives; the jar is filled with smoke and pork skin transformed into smoked bacon crisps. The customer opens the jar as the first amuse-bouche, to enjoy with an apple-and-sage espuma."
Wykes is also burning hay to make smoked-hay ice cream and infusing brandy with cigar smoke for the ultimate digestif, perhaps cognisant that smoked spirits are a major feature of the London cocktail scene. The British vodka-distiller Chase reports that it has had to double its production of smoked vodka to cope with the increased demand for smoked Bloody Marys, and there are plenty of London bars that wield a smoking gun to inject instant fumes into bourbon or rye.
Wykes believes we've missed a beat by turning our backs on our culinary heritage for the past 60 years: "We never picked up our cultural identity after the Second World War, when smoking food was massive, although in those days it was mainly used as a preservative. It wasn't realised there's more to it than that – smoked food tastes so much more alive, less one-dimensional. It has more edge."
It is a hark back to the past that Carlos Diaz, product-development manager for Marks & Spencer, believes has excited the supermarket shopper. "The aroma of burning wood we've been exposed to at barbecue restaurants reminds us of our forefathers cooking over an open fire – that pungent smell of the bonfire which makes you smile when you catch it walking down the road. In New York, we found a tremendous interest in pit-smoking techniques revived after 200 years.
"Here, we've seen the evolution through smoked salmon, working our way through cedar, beech, applewood and oak to come up with the perfect subtle, sweet and rounded flavour. We've also experimented with seasonal smokes, like chestnut, and fir at Christmas time." As M&S customers favour fast-fix interpretations of restaurant trends, the chain is launching a range of smoked butters and salts, and smoked chocolate is tipped to follow.
Heston Blumenthal is already in on the act with an oak-smoked salt for Waitrose, which reports a whopping 37 per cent rise in sales of his pungent lapsang souchong smoked salmon, also citing customers keen to follow restaurant trends. But it's not just posh supermarkets going for the smoke; Morrisons reports a 20 per cent jump in all smoked fish.
Dedicated foodies are smoking their own, such as James Harrison-Allen, who cold-smokes everything from bacon to chillies, garlic to almonds, butter to a whole side of salmon, in a home-smoker made from two wine boxes. "I've always loved smoked foods and thought I'd try making my own," says the researcher, who puts on semi-professional dinner parties.
It has been literally a baptism by fire: "My first attempt at butter ended horribly – the smoking chamber was far too hot – and the chipotle worked well but took a very long time. The outside temperature does limit when you can smoke: too hot and meat will spoil, too cold and you get a sticky, acrid build-up on the food. I'm rigging up a light bulb and thermostat to my smoker so I can control the temperature."
James Harrison-Allen tells the story of his hairy adventures with home smoking on his website, wellhungfood.com
WHO'S SMOKING WHAT
Alyn Williams smokes eggs to serve with celeriac, apple and truffle soldiers at the Westbury.
At Cafe Also in north London, Ali Al-Sersy serves smoked Jerusalem artichokes with flamed Brussels sprouts, cured swede and chestnuts, and smokes fish and butter, too.
Swedish chef Jessica Andersson, who creates meals for delivery, has developed a "smoked" Jessica's Recipe Bag containing ingredients for smoked goat's cheese risotto and smoked trout with dill and bechamel potatoes.
Farmer Tobin Bird is smoking air-dried lamb over oak from his own woodland in Kent.
Jesse Dunford Wood substitutes smoked mashed potatoes for bacon in the Burgundian poached egg and red wine dish, oeufs meurette, at the Mall Tavern in Notting Hill.
The Blue Boar Smokehouse at the InterContinental Westminster smokes fudge, feta, almonds and even baked beans as well as a wide variety of fish and meat in homage to the Gunpowder Plot.
The Grill On the Market, Smithfield, makes a Smokey Old Fashioned comprising bourbon, maple syrup, bitters and water that's been infused with a hand-held smoker.
Join our new commenting forum
Join thought-provoking conversations, follow other Independent readers and see their replies