Sunny and share: Mark Hix creates four light, crowd-pleasing dishes

Show all 4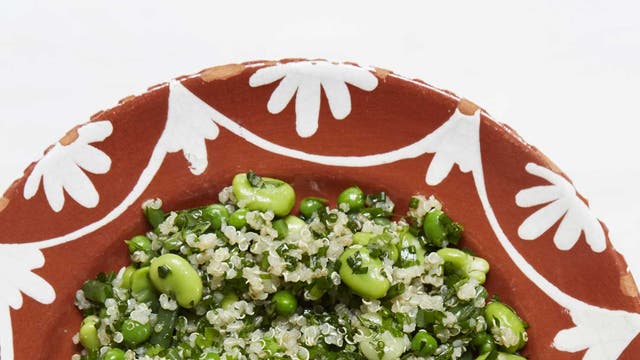 Sunny and share: Mark Hix creates four light, crowd-pleasing dishes
There are some big old manly meals on other pages of our summer food special, so I thought I would avoid the barbecue and go a bit light and mezze-like.
I really enjoy sharing dishes in the summer, especially when you have a relaxed dinner party. It's great to put a few different platters down and let everyone dig in. It would be nice to sit in the garden while eating, but I fear we won't get many opportunities for outdoor dining in the coming weeks.
Still, making some light fare in the kitchen is certainly easier than running from the garden through splashes of rain with barbecued chunks of meat in your hands. Quinoa with summer beans.
Quinoa with summer beans
Serves 4-6
Quinoa is a versatile pseudocereal seed, often mistaken for a grain. It serves as as a good replacement for couscous or rice. You can buy different coloured quinoa from good wholefood shops, which allows you to experiment a little.
It's only really been a larder staple of mine for a year or so, and I'm still a bit of a quinoa novice. But it's certainly a popular item on healthy menus lately.
80g quinoa, soaked in cold water for an hour
80g peas
80g broad beans
10-12 green beans
4 spring onions, trimmed and finely chopped
4-5tbsp chopped parsley
4-5tbsp chopped mint
100ml olive or rapeseed oil
The juice of 1 lemon
Salt and freshly ground black pepper
Cook the quinoa in simmering lightly salted water for about 20 minutes or until the seeds open up and are tender. Drain in a f sieve and leave to cool. Meanwhile, cook the broad beans and peas by boiling in salted water for 2-3 minutes, then drained. You can remove the tough outer skins of the larger broad beans if you wish. The green beans should be boiled for 3-4 minutes then drained, trimmed and finely chopped.
Once the quinoa has cooled, mix it with the beans, chopped onions and all the other ingredients and season to taste.
Watermelon, strawberry, labneh and mint salad
Serves 4-6
Labneh, or laban as it's sometimes known, is a strained yoghurt cheese that is simply delicious and quick to make. It's perfect for light summer starters or desserts like this so be sure to make a bit extra and keep it in the fridge for another dish.
500g natural thick yoghurt
500g watermelon, skin removed and cut into rough 2cm chunks
12 or so strawberries, hulled and halved
1tbsp lemon juice
A handful of mint leaves, washed, with large ones torn in half
50-60g whole blanched almonds, lightly toasted
Line a strainer or colander with a double layer of muslin. Pour in the yoghurt, fold over the edges and place over a bowl in the fridge for about 24 hours. It will set to the consistency of a very soft goats' curd or cheese.
To serve, mix the chopped watermelon, strawberries, lemon juice, mint and almonds together and arrange on plates. Then, using a teaspoon, dot the mixture with rough dollops of the labneh.
Tomato and cumin salad
Serves 4
This is a great way to liven up some fresh tomatoes with my favourite spice, cumin. I came across this recipe in The Lebanese Kitchen by Salma Hage which is full of fantastic and unusual recipes which you just don't see in Middle Eastern restaurants... well, not in London anyway.
1tsp cumin seeds
½tsp coriander seeds
3tbsp olive oil
1 small onion, peeled, and finely chopped
3 garlic cloves, peeled and crushed
1tbsp grated fresh root ginger
500-600g a mix of small tomatoes, halved
3¼tbsp chopped coriander
Salt and freshly ground black pepper
Dry fry the cumin and coriander seeds in a small heavy-based frying pan for a minute or so, but don't let them burn. Remove from the heat and coarsely grind in a mortar and pestle.
Heat the olive oil in the same pan and gently cook the onion, garlic and ginger on a low heat for 3-4 minutes, stirring every so often. Stir in the spices, add the tomatoes and cook on a medium heat for a couple minutes then remove from the heat, transfer to a bowl and stir in the chopped coriander and season. Serve at room temperature.
Broad bean, spider crab and chilli salad
Serves 4
Spider crab is a really under-used and undervalued shellfish. Most of what's landed along our coasts gets sent to Spain where it's as highly valued as lobster. In the Basque country, baked in its shell in the oven, spider crab is a prized dish. Here, it's regarded as a pest and much of it is crushed up and thrown back into the water.
Only occasionally do spider crabs get cooked and eaten and enjoyed as they should be. Do try – it's great-tasting meat.
200-250g broad beans
2 small spring onions, trimmed and finely chopped
1 large, mild red chilli, trimmed and finely chopped
The juice of 1 lemon
3-4tbsp olive oil
1tbsp chopped dill or fennel tops
150-200g white spider crab meat, cooked and freshly picked by the fishmonger
Salt and freshly ground black pepper
Cook the broad beans in boiling salted water for 2-3 minutes until tender then drain and refresh under cold water. Remove the skin from any large broad beans but leave the small ones as they are. Toss them in a bowl with all the other ingredients except the crab and season to taste.
Arrange the mixture on serving dishes and scatter over the crab meat.
Join our new commenting forum
Join thought-provoking conversations, follow other Independent readers and see their replies