Sweet surrender: Mark Hix's home-made Christmas goodies

Show all 4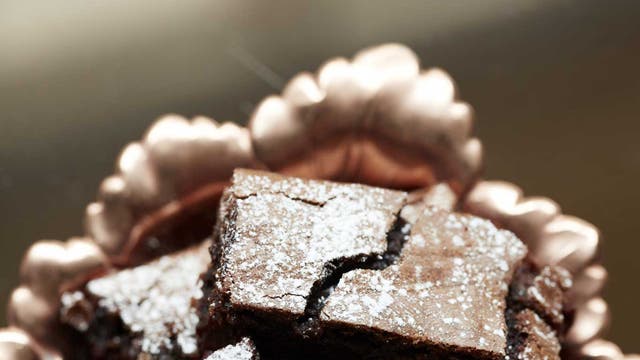 Sweet surrender: Mark Hix's home-made Christmas goodies
Why subject guests to mass-produced treats this Christmas?
Cupboard and larders are normally full to the brim at Christmas time with chocolates, sweets and biscuits that you think your house guests and family are going to scoff over the festive period. But simply buying bog-standard chocolates and biscuits from the shops means they're likely to lack any wow factor and won't be eaten with any real appreciation. So this week I have devoted my column to creating really good-quality sweet treats for your festive guests. They'll thank you for it.
Chocolate and cranberry brownies
Makes 14-18 pieces
For me, the real test of a great chocolate brownie is that it's so gooey and rich in chocolate that you're only just able to pick it up. I've added some dried cranberries here, but there is no reason you shouldn't use cherries instead if you prefer.
250g unsalted butter, melted
70g cocoa powder
110g good-quality dark chocolate, melted in a bain-marie or microwave
5 eggs, beaten
500g caster sugar
140g plain flour
110g walnuts, chopped
100g sun-dried cranberries
1tsp baking powder
Preheat the oven to 175C/gas mark 4. Mix the butter, cocoa powder and melted chocolate together. In a mixing machine, or by hand, whisk the eggs and caster sugar until they are light and fluffy. Mix this with the melted chocolate and butter, chopped walnuts and cranberries. Next sieve the flour and baking powder together and carefully fold it into the mixture. Line a deep baking tray with buttered greaseproof paper, pour in the mixture and bake for 20-25 minutes. The brownie will still be soft once cooked.
Leave to rest in the baking tray for an hour or so before turning out and cutting.
Laura's sour cherry and pecan biscuits
Makes 14-16
Laura Amos used to work for me a few years ago and now she has become a real dessert queen – you may well have eaten or seen her delicious puddings in various foodie shops and stalls all around London; this recipe comes from her new book The Dessert Deli.
150g salted butter, softened
120g soft dark-brown sugar
20g golden syrup
2 medium free-range eggs
270g self-raising flour, sieved
¼tsp baking powder
The seeds from ¼ of a vanilla pod
100g pecans
100g sour cherries
Icing sugar for dusting (optional)
Preheat the oven to 175C/gas mark 4.
Chop the sour cherries roughly and put to one side.
Cream the butter, sugar, golden syrup and vanilla seeds, before slowly adding the eggs. Now add the flour, baking powder, pecans and cherries and mix well
Divide the mixture up into 60-70g balls then flatten them into rough 1cm-thick discs and place on a non-stick or a parchment-lined baking tray, leaving space between them to allow for them spreading during cooking. Bake for 10-15 minutes until light golden, remove from the oven, leave to cool on the tray for 10 minutes and dust lightly with icing sugar if you wish. They keep in an airtight container for up to 3-4 days.
Christmas thins
Serves 4-6
These delightful thins are great to place on the table at the end of Christmas lunch or dinner if you can manage to cram in a little bit more; or you could just serve them instead of dessert.
500g of 70 per cent dark chocolate, chopped and melted in a bain marie or microwave
50g pistachio nuts, lightly toasted and chopped
50g hazelnuts, lightly toasted and chopped
20g crystallised ginger, drained
30g candied orange peel, chopped
50g of 100 per cent Venezuelan black chocolate, coarsely grated (optional)
Line a flat baking tray with silicone or greaseproof paper and pour on the chocolate, scraping the bowl with a spatula, and spreading the chocolate to about 1cm thick. (Don't worry about having neat edges.) Scatter the orange peel, pistachios, hazelnuts and Venezuelan black chocolate all over and leave to set in the fridge. Place it in the freezer if you wish. To serve, break into rough shards.
April's soft oatmeal cookies
Makes 16
This is a recipe from April Bloomfield's new book A Girl and Her Pig. April runs The Spotted Pig in New York, and she came over recently to launch the book here; great fun was had by us all.
45g golden raisins
45g sultanas
45g dried currants
150g unsalted butter, softened
200g light brown sugar
2 large eggs, beaten
150g plain flour, sifted
½tsp bicarbonate of soda
½tsp ground cinnamon
A large pinch of salt
2tsp vanilla extract
150g rolled oats
Mix the raisins, sultanas and currants in a bowl, cover with warm water and soak them for at least 5 hours or overnight.
Line a baking tray with some baking parchment or use a non-stick tray. Put the butter and sugar in a bowl and beat with a wooden spoon for a few minutes until it is light and fluffy; you can use an electric hand whisk or a mixing machine if you prefer.
Mix in half of the eggs for about 30 seconds until well combined, then add the rest of the egg. Mix the flour, bicarbonate of soda, cinnamon and salt in a bowl then fold into the egg mixture with the vanilla until well combined. Stir in the oats, raisins, sultanas and currants, then cover the bowl with cling film and pop it in the fridge for at least an hour.
Preheat the oven to 175C/gas mark 4.
Use your hands to divide the dough into 16 equal balls then place them on your baking tray, leaving about 5 cm between them (you may need two trays).
Bake for about 20 minutes or until they are golden brown and firm at the edges and no longer feel sticky or gooey to the touch. Leave the cookies to cool a little then transfer to a cooling rack. Eat the cookies preferably slightly warm, when they are cakey, or when they have cooled completely.
Join our new commenting forum
Join thought-provoking conversations, follow other Independent readers and see their replies