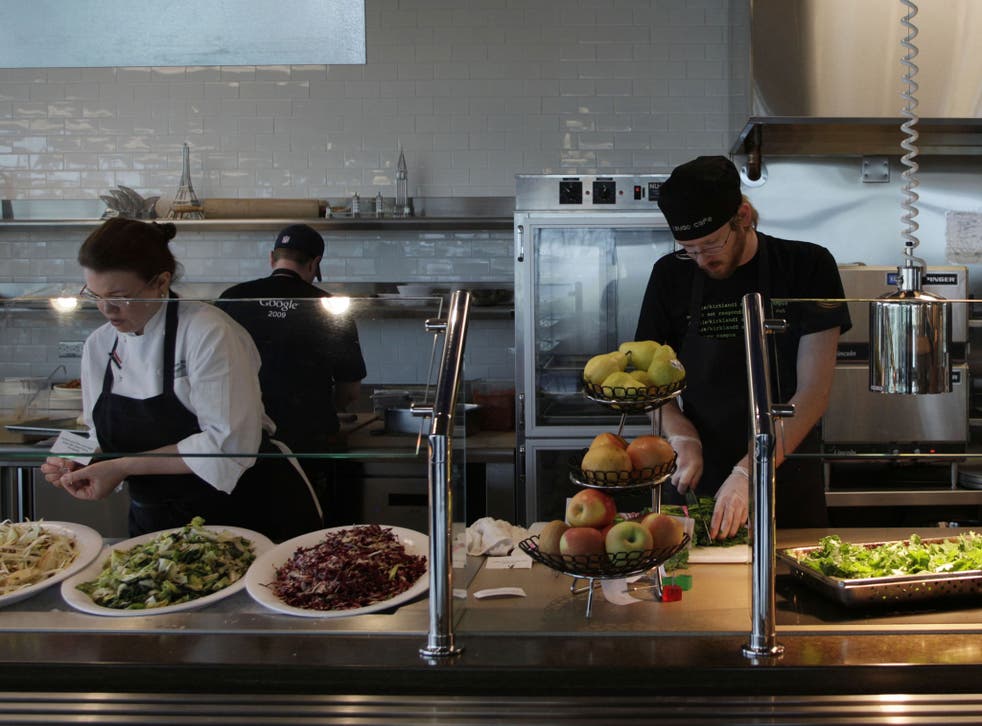 Take a byte: The Silicon Valley chefs creating high-end fare to 'big-ass' barbecues
Google pays $70m a year to ensure that its staff restaurants offer a range of free food, while other tech firms are equally sold on fine dining for their employees
This summer, Facebook's executive chef, Josef Desimone, was killed in a motorcycle accident. In a heartfelt tribute, Facebook's CEO Mark Zuckerberg described Desimone as "a Facebook legend and institution".
The chef had joined the company in 2008 and expanded the firm's food service from a single café at its Silicon Valley HQ, to a global operation feeding Facebook staff on several continents. "Josef played an incredibly important role in defining our culture," Zuckerberg wrote, in a post that attracted hundreds of thousands of likes.
While the hi-tech companies of Silicon Valley have revolutionised the way we all live and work, they have also, by example, led a transformation of corporate workplace culture, and in no sphere is this more true than in the kitchen.
Though Jamie and Heston make the headlines, it's possible that the world's most influential chefs are not those on our television screens or our bookshelves, but those busy cooking behind the scenes for Facebook, Amazon, Apple and others.
Desimone joined Facebook after being poached from the kitchen at Google, where he had worked under the search giant's original head chef, Charlie Ayers. Ayers, who is 47, left Google in 2005, and is now a bestselling cookbook author and the chef-owner of Calafia, the restaurant he opened in 2009 in Palo Alto, at the heart of Silicon Valley. The restaurant is in an upscale outdoor mall mere walking distance from Stanford University, and frequented by casually attired power-lunchers.
Sitting at the bar after a weekday lunch service, Ayers tells me he has been described both as the "godfather" of Silicon Valley chefs and as the "mother" of Google. Like Desimone, he was credited with defining his firm's internal culture. When Robin Williams visited the Google campus, Ayers recalls, "Eric Schmidt [then the Google CEO] introduced me by saying, 'Charlie developed our culture here at Google.' And I guess I did."
Before being hired by Google, Ayers worked as a personal chef for an ultra-wealthy family of 14. "I got tired of cooking in their aeroplane," he says. When Google founders Larry Page and Sergey Brin asked him to take over the kitchen at their firm, they gave him free rein. "Larry and Sergey never said what I could and couldn't serve. But it was always very important to them that the food I fed their employees was of the highest quality. They wanted the experience of a high-end restaurant. I had to take dishes that I previously made aesthetically pleasing, and figure out how to create the same experience with 30 portions."
Before moving into private catering, Ayers had worked for Whole Foods, and he carried with him the US supermarket chain's ethos, which persists at Google to this day: fresh, local, sustainable, organic. He also had the benefit of being in northern California, close to the state's "salad bowl" of fruit and vegetable farming. His fish was often fresh from the Pacific. Google's free employee cafeteria quickly became the hottest meal-ticket in tech.
"Every Friday we'd have what I called a 'big-ass barbecue'," Ayers says. "HR hated the name; they wanted to call it 'big bad barbecue'. I would have kegs of beer, live bands. Very few companies allowed alcohol on campus. But at Google it was in abundance – to the point where some people made asses of themselves. It was fun. The company that plays together, stays together."
In the seven years he spent at Google, Ayers went from preparing 50 meals a day to overseeing more than 10,000. Today, the company's two offices in Silicon Valley and New York alone have more than 35 canteens between them. Each has a unique culinary flavour, from barbecue to raw vegan. Many are tailored to their target demographics: in the sales department, for example, where many of the staff are young women, you're more likely to find salads and vegetarian options.
Due to the influx of Indian engineering talent, the hottest cuisine in Silicon Valley right now is South Indian curry. Several firms have their own tandoori ovens. And while there are plenty of unhealthy options, Google uses behavioural science to guide its workforce towards a balanced diet: healthy food is prominently displayed, dishes are served in modest portions on smallish plates, and each menu item is labelled with nutritional information.
For members of the public, Ayers serves at least two of his favourite Google dishes at Calafia: a "mahogany salmon" with wakame and red quinoa pilaf, and a turkey meatloaf with gingered mashed yams. Ayers still feeds Page, Brin and Schmidt, who often stop by for a taste of the old days. The late Steve Jobs was a regular customer. The Apple CEO had a favourite table, Ayers recalls: "Sometimes he'd come in and say, 'There are people at my table'. And I'd say, 'Yes there are, Steve, you'll have to wait.' He would hover around and I'd have to tell him, 'Steve, sit down at the bar; you're making them uncomfortable.'"
Many of Silicon Valley's leading chefs have passed through the Google kitchen. John Dickman, once the firm's global food-service director, has gone on to manage the catering at Apple and Intel. After consulting Ayers, software firm Palantir hired a French-Basque former Google chef named Jean-Claude Balek, who hosts a chef's tasting table for Palantir staff three times a day. The firm has its own cigar and brandy lounge, and Balek's sous-chef even takes professional-grade photographs of each day's dishes, that he emails to the entire company.
Twitter's executive chef is Lance Holton, better known as @birdfeeder, who was placed at the social network's San Francisco HQ by Bon Appétit, a food management company based in the Bay Area. With more than 500 food-service locations, many in Silicon Valley, Bon Appétit was at the cutting edge of corporate dining when Larry and Sergey were still in college. The company's co-founder and CEO, Fedele Bauccio, began his career in the restaurant business, which informed his thinking when he first came up with the concept for Bon Appétit in 1986.
"I was appalled by the food in corporate America," Bauccio says. "I wanted to create a company that would behave like a restaurant, but in the contract environment. At that time chefs wanted nothing to do with the contract business. It was not glamorous and it did not have a reputation for good food. But I said, I'll gave you a blank piece of paper and every week you can create a new, seasonal, authentic menu. I challenged them to work with small farmers and local purveyors to source the best products they could, and I never imposed a menu cycle or recipes."
Bauccio says his firm was the first to coin the phrase "farm to fork", and the philosophy resonated with Silicon Valley's values. Bon Appétit served 151 million meals last year, 45 million of them to Bay Area hi-tech businesses, including Oracle, eBay and Yahoo! The firm recently committed to using 100 per cent free-range eggs by 2015, and to sourcing at least 25 per cent of its meat from top animal-welfare certified producers. "Quality, health and wellness are critical to all of corporate America today, and that started here in the Bay Area," says Bauccio.
Hi-tech company cuisine does not come cheap. Google's free food service has been estimated to cost $70m (£44m) or more each year. And when Ayers is asked to replicate the operation elsewhere, it doesn't always work out. An east coast insurance firm once invited him to reshape their menu to help make their workforce healthier – but, he says, the employees complained that they didn't like the food.
Silicon Valley is so keen to spread its food values that venture capital firms from the region, who might previously have backed social networks or software applications, last year invested a reported $350m in projects associated with food: from new food-production technologies, to more efficient methods for getting fresh local produce to consumers' plates.
"Young people today feel that the food they eat shapes their identity, and they believe their responsibility is to bring about change to the world," Bauccio says. "There is a food revolution under way, young people really get it – and they're the people we feed in Silicon Valley."
Join our new commenting forum
Join thought-provoking conversations, follow other Independent readers and see their replies