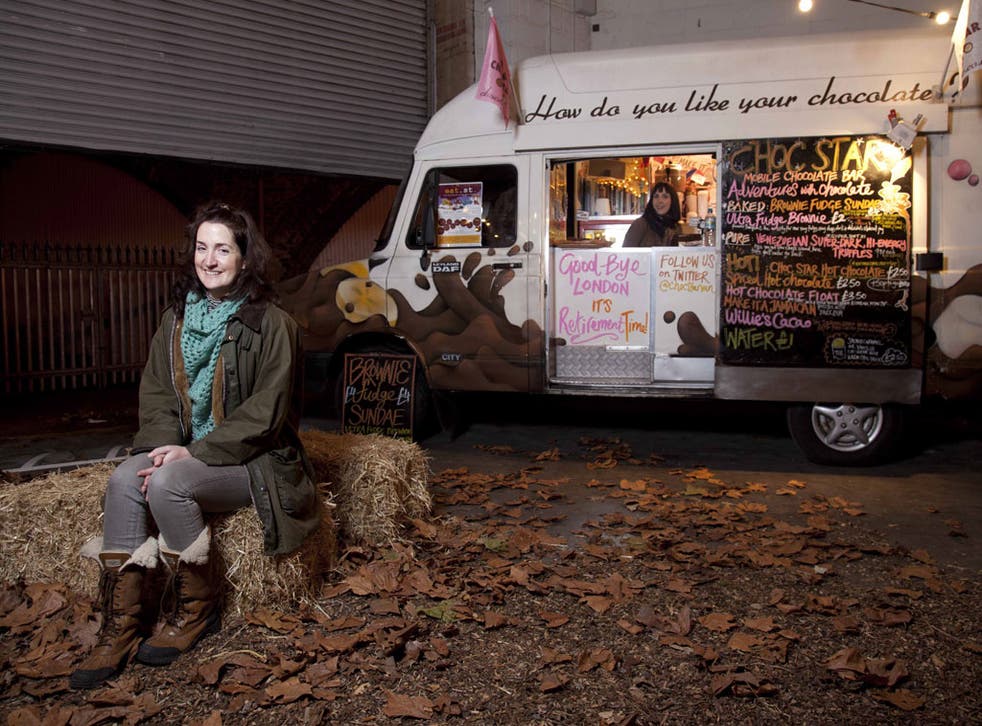 Ten people who changed the world: Petra Barran, who drove the biggest food trend of the year
Whether in the cut-throat field of politics or the fashion industry's corridors of power, this year they left our planet a better place. Celebrate 10 of the best, nominated by Independent writers
In the food world, the glittering prizes normally go to the likes of Jamie, Nigella and Hugh, but this year a woman who runs her business from a van called Jimmy was declared one of London's 1,000 most influential people by the Evening Standard and scooped the One Person's Passion Award at the London Restaurant Festival.
Petra Barran is not only the boss, cook, driver and sales force of the acclaimed mobile chocolatier, Choc Star, but also an energetic and articulate organiser of the capital's burgeoning street food traders.
If you still associate street food with noisome fried onions, gruesome hamburgers and dubious meat pies, it might be time for you to get out more. A renaissance has taken place in Britain's van-based cuisine, now found not just in streets and markets, but also pop festivals, posh parties and just about any other event you might think of.
Who wouldn't join the madly salivating queues for an artisan pizza from the wood-fired stove of Hot Rocks pizza, seductive cakes and buns from the pink VW Campervan of Lulabelle's, sensational Breton galettes (buckwheat pancakes) from the Maigret-esque Citroën van of Crêperie Nicolas, shellfish-crammed paella Valenciana from the gargantuan pans of Jamon Jamon, or the walnut-fudge brownies, mocha ices, choc martini shots and frozen choc-dipped bananas of Choc Star (in other words Petra and Jimmy)?
All these tasty traders are among the 32 members of Eat St, the group co-founded by Petra with the aim of "driving British street food forward". After honing her skills with master chocolatier Pierre Marcolini, Petra set up Choc Star in 2005 and spent the next few years trundling round Britain selling top-quality treats normally only found in the swankier districts of London.
"The idea for Choc Star suddenly sprang out of the recesses of my mind," she says. "It was a combination of wanting to travel and to curate a great chocolate experience. Good chocolate shouldn't just be in posh cabinets in posh neighbourhoods."
Barran rapidly developed a soft centre for the street food scene. "It's such an interesting place to be. You muddle along with everyone else. It's so convivial. They are such straight-talking people. I just love it. The best street food involves imagination and exuberance. Food is a great common denominator. By meeting the most basic human requirement, it engenders trust among people. Suddenly, we find we're not that different after all. We lead such choreographed lives today. Street food is about ruffling up the expected. It gives you an opportunity to shake off the auto-pilot."
Through Choc Star, Barran "made loads of wonderful connections" with fellow traders, but she realised there was no hub to pull them together. "I love consolidating talents. I wanted to create a new movement that provides strength in numbers for street traders and cultivates more people doing great food on the streets. Festival organisers prefer to deal with collectives rather than individuals."
Founded two years ago, Eat St has recently gained both an excellent website and a permanent base in King's Cross where you can sample the wares of a rotating group of four to six traders (10am-3pm, Wednesdays-Thursdays, King's Boulevard). Setting up a pop-up restaurant on wheels is an increasingly appealing ambition but Petra admits that Eat St has to be selective about members. "It's something that lots of people want to be involved in and we want to encourage that but we're getting more fussy about who we accept. We've started charging a membership fee and have become more professional. We want membership to be a seal of quality."
Barran is determined that the street food movement ("it's not a revolution") should be an option for everyone, whether as consumer or trader. "We want to democratise good food. The idea of 'street food' is being trendified as a career option. But we're saying: let's leverage this so it touches all cultures, not just middle-class life-changers."
When she wasn't consolidating Eat St, in the last year Barran has been taking Choc Star to "lots of festivals, markets and parties". If that wasn't enough on her plate, she is also studying for an MSc in urban studies at University College London.
Inevitably, something had to give, even for the force of nature that is Petra Barran. It will come as sad news to chocolate addicts that she is taking an El Bulli-style break. Jimmy is coming off the road.
"I'm not sure for how long, but at least until my degree is finished in September. I might be desperate to hit the road by then and take the van to Europe. Itchy feet is a trait of street traders." Quite so: unsurprisingly, Petra spent this Christmas in Mexico, which just happens to be the birthplace of chocolate.
Join our new commenting forum
Join thought-provoking conversations, follow other Independent readers and see their replies