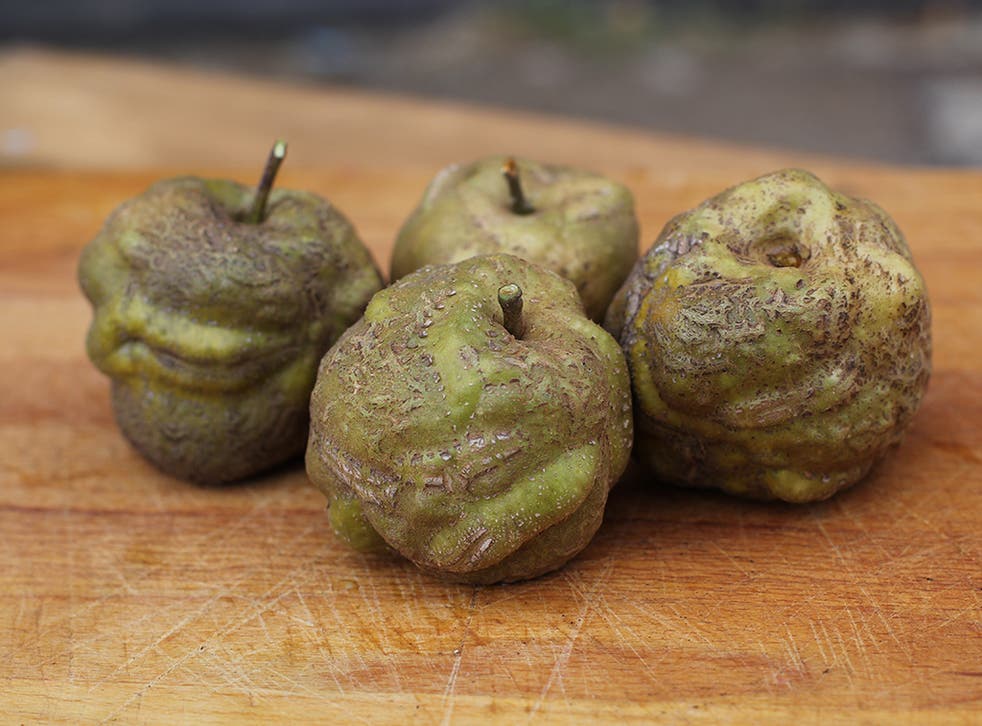 The British apple is under threat
Two-thirds of our orchards have been lost since 1960, and some British apple varieties have gone completely extinct - time to look more locally
Rory Tingle
Tuesday 21 October 2014 10:57 Comments
Given the measly selection available in most supermarkets, it may come as a surprise to hear that Britain once produced the most apple varieties in the world. There are some 2,300 types to choose from – many with poetic names such as Knobby Russet and Hoary Morning. But we opt for a small selection of boring but reliable varieties, 70 per cent of which are imported. The UK apple industry hopes to significantly decrease this figure in the future, but will do this by growing foreign varieties such as Gala and Braeburn.
Apple Day, 21 October, celebrates the incredible diversity of the UK's apples and encourages the growing of traditional varieties. Currently, the British apple is under threat: two-thirds of our orchards have been lost since 1960, having been grubbed up to plant cereal crops or build housing.
Each loss is a tragedy, not only for the wildlife that thrive in them, but also for local distinctiveness. Gone is knowledge of recipes, songs, historical growing customs, wassailing and cider-making. Lost too are traditional apple varieties – which frequently have different names depending on the local area – and the social space provided by the orchard. Some British apple varieties have gone completely extinct, which is bad news for growers, who lose the specific genetic information that can be used to breed better varieties in the future.
As part of the fight back, the second half of this month sees apple day events organised by the Women's Institute, Wildlife Trusts, museums and galleries, horticultural societies, schools and National Trust properties. Jeskyns Community Woodland in Kent has an apple festival on 25 October, featuring local produce stalls, while the National Trust property of Bateman's in East Sussex will host an apple pressing event on 26 October. The dates vary between venues, so make sure you check in advance.
British apple varieties

Show all 8
Chris Margrave, Head Gardener at National Trust Clumber Park, who oversees an orchard with over 100 varieties, said: "Apple days are a great way for us to raise awareness about old apple varieties that are under threat and why it's important for us to look after them. We love sharing the wonderful varieties of apples that we grow with visitors, and our events also give people the opportunity to discover and sample new favourites that they can grow in their own gardens."
Britain's apples are also being protected by local orchard planting schemes, such as those of The Urban Orchard Project, which started in London but plans to spread out across the whole country. The group was created when founders Carina Millstone and Rowena Ganguli met at university, and now owns 100 new or restored orchards across the capital. Unused spaces are planted with approximately ten trees each, which are cared for by five orchard leaders from the local community.
Meanwhile, a project at Brogdale Farm, near Faversham in Kent, is helping to protect the genetic diversity of the UK's apples. The National Fruit Collection, maintained by Reading University, stores the genetic information of named apple varieties. Dr Matthew Ordidge, the scientific curator, explains its importance: "With each fruit variety lost, there is the potential to lose genetic combinations that could be valuable. For example, we hold a few varieties that have specific disease resistance characters, which could be used in the future to breed new apples resistant to particular diseases."
So although British traditional apple varieties are fighting back, with competition from higher-yielding foreign varieties – and the continued destruction of traditional orchards – they still face an uncertain future.
Register for free to continue reading
Registration is a free and easy way to support our truly independent journalism
By registering, you will also enjoy limited access to Premium articles, exclusive newsletters, commenting, and virtual events with our leading journalists
Already have an account? sign in
Join our new commenting forum
Join thought-provoking conversations, follow other Independent readers and see their replies