Top of the bill: Duck is coming to a kitchen near you

Show all 2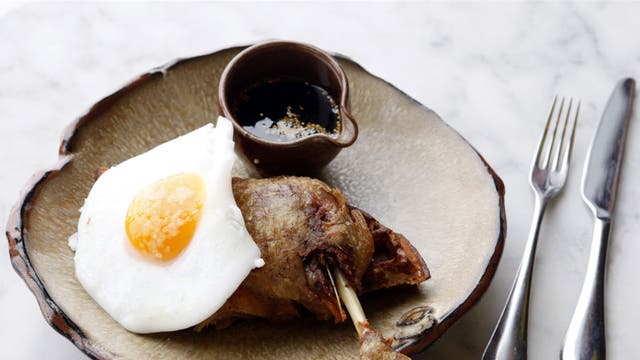 Top of the bill: Duck is coming to a kitchen near you
The tasty bird has made its way from Asian restaurants into ready meals and on to hip menus – but hardly any of us are cooking it from scratch. We're missing out, says Anthea Gerrie.
You could call it the great duckotomy. More of us than ever are loving a duck, yet we have grown a little afraid of this sumptuously rich bird which is has been part of the British culinary canon for centuries.
As John Torode asked viewers of BBC2's Great British Food Revival, in which he called for cooks to summon up their courage and go for it: "When did you last try roasting a duck? I bet it was a while ago."
Yet if the succulent roast is relegated to culinary history, we are tucking into duck in more interesting ways than ever before. A long-time staple of luxury restaurant dining, duck has survived the generation gap to become a hip choice in trendier establishments, where it almost certainly will have been pan-seared, smoked or simmered in deep fat rather than roasted.
Peking duck with pancakes and Thai duck curry have fostered our affection for the bird and moved these dishes from Asian restaurants onto supermarket ready-meal shelves. On the western front, duck confit has become a household dish with widespread availability, and we are also loving duck sausages, duck rillettes and even duck liver and gizzards. Just don't ask us to put a bird in the oven ourselves.
Dedicated foodies are the exception to this duckophobic stance; sales of the raw bird are up seven per cent, reports principal supplier Gressingham, which has crossed Pekin duck with wild mallard to produce a meatier, lower-fat bird, while M&S is outperforming the national trend with a 10 per cent rise in fresh duck sales. But both supplier and retailers confirm it's a tale of two kitchens – confident and curious cooks on one hand and those Caroline Crumby, developer of M&S's Modern Asian range, says "love the flavour of duck but are nervous about cooking with it, as it's perceived as one of the trickiest meats to cook well".
These are the purchasers of the store's new Red Thai Spiced Ducky Curry, which is flying off the shelves, and its Crispy Aromatic Duck – aficonadoes of the tricky fowl who prefer to leave it to someone else to deal with the mysterious and potentially messy business of crisping up the skin while getting rid of the fat. Perversely, given that duck fat has itself become a new staple for roasting potatoes, much more is bought than drained off home-cooked birds.
"Research shows that 51 per cent of adults ate duck last year, but only seven per cent bought any to cook with," says Steve Curzon of Gressingham, which has made duck an eminently affordable luxury and is now making education in cooking it its mission.
"The biggest barrier is not price, but confidence," he admits. And there is also an age divide; it's mostly over-45s who still buy whole ducks as part of their weekend roast repertoire, while younger buyers go for the portions that make a midweek dinner that eats like a treat. You have to wonder why everyone doesn't buy into this new convenience food; nothing is faster or easier than sauteeing a scored, seasoned duck breast on its skin, flipping it to finish and serving nestled on a bed of tinned cannellini beans. And few dinners are cheaper than those promotional packs of duck legs that serve two for £3, and need no more than dry-rubbing with spices and running into a hot oven for 40 minutes.
But with production at a mere 33,000 tons per year compared to the 2.5m tons they produce in China, Torode feels British duck could disappear altogether if we don't support the farmers by cooking more from scratch. He'd like us to invest the same £15 we might spend on a beef roast in a premium duck such as the cross of Aylesbury, of which only one flock remains, and Pekin produced in Goosnargh by Johnson and Swarbrick, which supplies the country's top restaurants. And Torode also praises Gressingham for bringing supermarket duck within the same price category as a good free-range chicken.
Alas, our homegrown is found wanting by at least one expert for charcuterie, compared to the magnificent French birds with fat breasts and legs, which take so well to salt and fat respectively.
"The Gressingham birds, which are virtually the whole British supply, have legs which are not big enough to confit and breasts which are too thin to smoke successfully," says Thomas "Mr. Duck" Maiel.
This Frenchman, whose original UK connection was his gig as private chef to Billy Connolly, is now a hugely successful chef-charcutier, selling not only confit legs, but confit duck gizzards that have won a gold Taste award, to Selfridges and gourmet shops. "They're doing exceptionally well," says Andrew Cavanna, Selfridges fresh food buyer. "Not many people here eat gizzards, but once they've tasted them, they realise they're more muscle than offal."
Indeed, salade de gesiers is a French brasserie staple and its introduction to the deli counter a sure sign that on one level, confident cooks are flying with less familiar duck dishes.
Maiel also does well with his smoked duck breast, coarse duck terrine and the duck rillettes which are his best seller and is moving into duck-rich ready meals such as cassoulet.
Despite Maiel's reservations about their suitability, Gressingham and its newest restaurant customer, Duck and Waffle, are plunging tons of duck legs into deep fat for the confit treatment, which tenderises the meat while ensuring crispy fat: "We sell 120 portions a day; it's a dish people feel they can eat at 3am or even for breakfast," says Duck And Waffle executive sous-chef Tom Cenci, who sticks the leg on a waffle with a duck egg and a pitcher of maple syrup on the side. Duck takes well to a sweet accompaniment and a starchy bed: "Our diners are used to Chinese duck and pancakes," points out Cenci.
Now Gressingham is attempting to take the fear out of home-cooked birds by not only portioning them but supplying them as new foolproof recipe items such as Chinese-style aromatic duck with pancakes, duck breasts in plum sauce or legs in sticky chili sauce, as well as new cuts such as mini-fillets to be stir-fried or seared medium-rare in minutes.
As Torode puts it, with typical bluntness: "The aisles have exceptional farmers producing the most wonderful birds. But it will only continue to have them if we support them.
"It's time to get into your own kitchen and love the duck."
John Torode's foolproof roast duck
1 x 2.8kg whole duck
Salt and freshly-ground black pepper
500ml water
A few sprigs of thyme and rosemary
6 rashers smoked streaky bacon
2 onions, halved
Leave the fat in the duck cavity and season the bird well inside and out. Pour 125ml of water, thyme and rosemary into the cavity and leave in fridge until 3 hours before roasting.
Preheat the oven to 220C/gas mark 8.
Place the duck in a roasting tin over a rack and pour the remaining water into the tray. Cut the onions in half and place around the bird. Lay the bacon over the breast, cover the tray with foil, seal well and roast 30 minutes.
Remove foil and bacon (keep the bacon for garnish), reduce heat to 180C, return to the oven and roast for a further 1 hour, basting twice. Remove and allow to rest 40 minutes. Drain the cooking liquid from the roasting tray and reserve.
Return the dry roasting tin to the hob, add the onion, cut-side down, cook for a few minutes. When the roasting juices have separated, skim off the fat and keep for roasting spuds. Open the duck cavity and drain off the cooking liquid. Add this to the cooking liquid in the tin and serve as a gravy.
Return the duck to the oven for 15 mins to crisp up with the reserved bacon.
See John Torode on 'The Great British Food Revival', now on iPlayer
Join our new commenting forum
Join thought-provoking conversations, follow other Independent readers and see their replies