Waste not, want not: Mark Hix shows how supposedly out-of-date food can be used in delicious recipes

Show all 4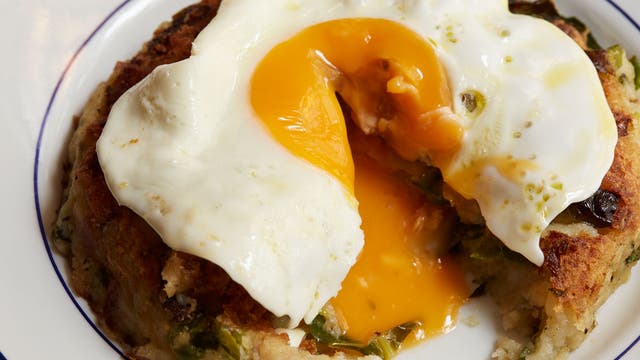 Waste not, want not: Mark Hix shows how supposedly out-of-date food can be used in delicious recipes
You see a lot lately in the news about the amount of food that gets wasted. Whether it's in the home or in supermarkets, this is an ongoing problem that wholesalers, retailers and the general public need to address.
As shoppers we tend not to buy what we need, but buy to fill up our fridges and freezers – a lot of it then ends up in the bin. I read a recent survey that said that, on average, families waste about £60 a month on food.
According to the survey, a fifth of the bread produced in Britain gets wasted and one in five potatoes ends up in the bin. Our throw-away culture accounts for millions of tonnes of edible waste. I understand that we get confused by sell-by and best-before dates but have we lost our sense of smell and taste? People should trust their instincts more on these things.
It sounds difficult but it would help to think like restaurants where it's essential to buy in the right amounts of food and waste little: if restaurants did what many homes do, spending money on food that ends up in the bin, they would all be bankrupt.
I urge everyone to shop more often but buy less. Give your fridge a good clean out before you go shopping and make a list based on what you need in the short term. Also take advantage, as I do at home, of buying bargain produce that's almost past its sell-by date as there is nothing wrong with it. Otherwise, it just ends up in supermarket trash trucks, driving away with perfectly good, edible food.
A fridge clear-out brunch hash
Serves 4
When was the last time you took everything out of your fridge, assessed it and thought, I might have a couple of extra meals here? Well, most of you will have some potatoes in your fridge and a few onions or sad wilting spring onions lurking at the back. There could also be a bag of spinach that hasn't seen a drop of water since you bought it. You might have herbs that also haven't had any water and a head of cabbage or cauliflower that isn't looking great. There's probably some sliced packaged ham in there, too. All of this can still be used for a great tasting dish, rather than being discarded.
4 medium baking potatoes
A selection of vegetables as mentioned above, chopped into small pieces and cooked
A couple or so slices of ham – if you have it – chopped
Vegetable or corn oil for frying
Flour for dusting
4 eggs
Preheat the oven to 200C/gas mark 6. Bake the potatoes for about an hour or until soft, then remove from the oven and leave to cool. Once cool, halve them and scoop out the flesh into a bowl and keep the skins – they can be saved for the next dish.
Mash up the potato a little, mix with the cooked vegetables and ham (optional), and season to taste. Mould into 4 flat patties and leave in the fridge until required.
Next, dust the patties with flour, heat some of the vegetable oil in a non-stick frying pan and cook them for 4-5 minutes on each side until nicely browned. Meanwhile, lightly fry the eggs and serve the hashes with the egg on top.
Fried potato skins with spiced chicken, guacamole and sour cream
Serves 4
Next time you make mashed potato, try lightly baking the potatoes first and freezing the scooped out shells as described in the previous hash recipe. You end up with a great flavoured mash with a real earthy taste and a second meal or snack leftover with the rest.
I often see chicken under-fillets at knocked-down, bargain prices in supermarkets. Maybe people don't know what to do with them, as they're not talked about enough. But I always grab a few packets for the freezer as, bashed out quickly, they make great little escalopes for kids, or a tasty addition to a salad.
8 or so chicken under-fillets
Salt and freshly ground black pepper
2tbsp chilli sauce
A little vegetable or corn oil for deep frying
1 ripe avocado
The juice of half a lemon
A couple of good pinches of cayenne pepper
The skins from 4 or so jacket potatoes, as explained in previous recipe
2-3tbsp thick sour cream
2 red chillies, thinly sliced
2 spring onions, cleaned and thinly sliced
Put the chicken fillets in a bowl, season, mix with the chilli sauce and leave to marinate for about an hour. Halve the avocado, remove the stone and scoop out the flesh. Mash it up with the lemon juice and cayenne pepper and season to taste.
Preheat about 8cm of oil to 160-180C in a large, thick-bottomed saucepan or electric, deep-fat fryer. Heat a ribbed griddle pan on the stove and lightly oil it. Cook the chicken fillets for a couple of minutes on each side, then turn off the heat and put them on the griddle to keep warm.
While the chicken is cooking, halve each of the potato skins so you end up with them all in quarters. Deep fry them for a few minutes, turning them in the oil so they crisp nice and evenly, then remove and drain on some kitchen paper.
Next, slice the chicken fillets into 3 or 4 pieces and mix with the chilli and spring onion.
To serve, arrange the deep-fried potato skins on a warmed serving plate and scatter the chicken over the top of them. Finally, spoon the guacamole in the centre and dot the sour cream around everything.
Bread and butter pudding
Serves 4-6
This dessert is a mere crumb compared to how many loaves are actually thrown away every single day, but it's definitely a really nice way to use up any bread that has gone past its sell-by date, as it were.
4 slices of bread, crusts removed and quartered
A good knob of butter, melted
3 whole eggs
6 egg yolks
60g caster sugar
600ml single cream
3-4tbsp melted marmalade to glaze
Preheat the oven to 180C/gas mark 5. Lightly butter an ovenproof dish measuring about 25 x 20 cm and roughly 5-6cm deep. Arrange the slices of bread in the dish, overlapping and covering the whole thing.
Bring the cream to the boil. Mix the eggs, egg yolks and sugar together then pour over the cream and whisk until well mixed, then carefully pour over the bread, rearranging them if necessary.
For the cooking, you'll need to have a deep tray such as a roasting pan > larger than the pudding dish. Stand the pudding dish in the tray and pour boiling water into the pan, three-quarters of the way up the dish. Bake for 35-40 minutes, until the custard has just set. Remove from the tray and leave to cool for a short while. Finally, brush the marmalade over it and serve.
A hearty fish soup
Serves 4-6
Ever wonder what happens to all of the fish bones and heads in the world? Well, next time you're at the local fishmonger's, ask for a fish head and bones from, say, cod or haddock. You'll end up with enough meat from the head and cheeks to give you a bowl of hearty and healthy fish soup – and to cap it all, it will be virtually free of charge.
Head and bones from a large cod or haddock, washed
1 large onion, peeled and roughly chopped
2 cloves of garlic, peeled and chopped
A couple of sticks of limp celery from your fridge, roughly chopped
The dregs of some white wine, about a glass full
1 bay leaf
1 fish stock cube
A handful of parsley, stalks and leaves separated and washed
A couple of large potatoes, peeled
1 large leek, cut into rough 2cm squares and washed
Salt and freshly ground white pepper
2-3tbsp double cream (optional)
Cut your fish head in half, give it another wash and put it in a saucepan with the bones, onion, garlic, celery, wine, bay leaf and stock cube. Add a couple of litres of water, bring to the boil and season.
Roughly chop one of the potatoes and add to the soup with the parsley stalks. Simmer for 30 minutes, then remove the head and put to one side.
Continue simmering the soup for another 10 minutes, then remove from the heat and blend the soup, bones and all, in a liquidiser or with a hand blender; then strain into a clean pan.
Remove as much meat as possible from the head and put to one side. Cut the remaining potato into rough 1-2cm chunks and add to the soup with the leek. Simmer for 8-10 minutes until the potato is tender. Chop the parsley leaves and add to the soup with the pieces of fish and heat for another minute. Season to taste and finally, if you are using it, stir in the cream.
Register for free to continue reading
Registration is a free and easy way to support our truly independent journalism
By registering, you will also enjoy limited access to Premium articles, exclusive newsletters, commenting, and virtual events with our leading journalists
Already have an account? sign in
Join our new commenting forum
Join thought-provoking conversations, follow other Independent readers and see their replies