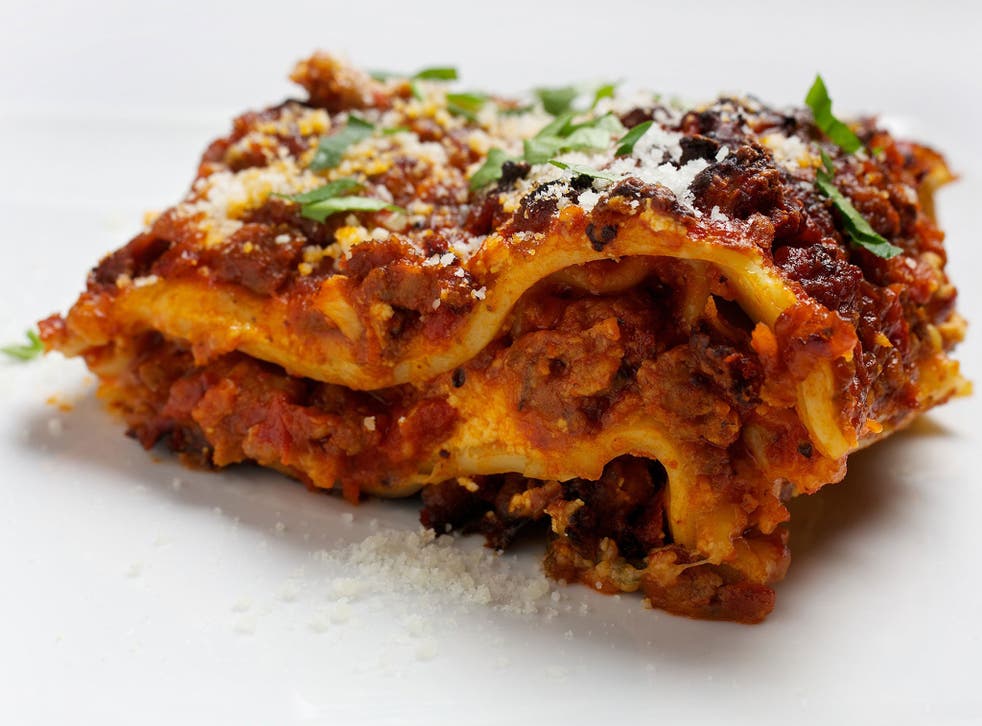 The world's most famous lasagne: How John Chandler's pasta recipe went viral
It's the internet's most popular recipe ever, viewed ­millions of times on AllRecipes.com. And it was posted by a salesman from Texas who's certainly no chef
John Chandler has a secret, and he guards it carefully, lest yet another friend or co-worker asks him to make it for a dinner party.
Chandler is, by day, a 43-year-old salesman and father­-of-two, a self-proclaimed "Southern boy" who lives outside Dallas, Texas, and grew up on college football and barbecue.
Online, Chandler's fans know him as the creator of the World's Best Lasagna, an ­artery-clogging tower of sweet Italian sausage, ground beef and ricotta cheese that has reigned as the most popular recipe on AllRecipes.com for more than a decade. It has earned 10,423 ratings and been "pinned" to Pinterest more than 25,000 times. AllRecipes estimates that 12 million people have viewed it in the past five years alone.
Given the wild popularity of AllRecipes.com – it averages 20 million visits each month, according to analytics firm SimilarWeb – it's ­entirely possible that Chandler's lasagne is the most popular recipe on the English-speaking internet.
Chandler, who since the day he submitted the lasagne in 2001 has posted only one other dish on AllRecipes (and it's the lasagne's sauce billed as the World's Best Pasta Sauce!), can't believe the recipe's popularity. Neither can his friends. "Most of them didn't know I had this recipe," Chandler says. "It's not something I go around beating my chest about. But it makes an interesting icebreaker, you know?"
Lasagne does seem out of character for Chandler, who grew up in Atlanta, moved to the Dallas suburbs a decade ago and describes his heritage as ­"entirely Anglo-Saxon". He learned to cook from his mother – the lasagne is his version of her recipe – and began cooking in earnest as a student.
In 2001, his then-girlfriend, an avid AllRecipes user, urged him to put the lasagne recipe online. The dish ­quickly earned a string of five-star reviews and climbed to the top of AllRecipes' rankings. His girlfriend's submissions never quite caught on. "We ended it soon after that," Chandler jokes.
In the 12 years since, both Chandler's lasagne and AllRecipes itself have seen their popularity balloon. AllRecipes, still a ragtag start-up in the early Noughties, struggled to convince its critics that the internet was cooking's next frontier. Esmee Williams, now vice-president for brand marketing, left her job at a software company that made recipe CD-Roms in 1999 to ­become employee No 18. Friends questioned the career move.
"I got a lot of sand kicked in my face," Williams says. "The internet was young. People didn't think it would succeed. No one understood why people would want to read recipes by their peers and not by professional chefs."
Seattle-based AllRecipes celebrated its 15th anniversary last year and estimates it has more than seven million registered users and 30 million unique visitors annually, which makes it the largest English-language food site in the world, ahead of Food.com, Cooks.com and Taste of Home, all of which operate on a similar home-cook-submitted model.
"I personally wouldn't go to the internet for a recipe... but I know that's not fashionable," says Jan Longone, 80-year-old curator of the American culinary history collection at the University of Michigan and a long-time friend of Julia Child and James Beard. "I'll put it this way: 20 years from now, I'm probably going to be obsolete."
Longone is in the minority. According to a survey which AllRecipes commissioned last year, cooks now turn more to the internet for recipes than to cookbooks or family members. AllRecipes' users tend toward the harried and middle-aged, people who enjoy cooking for their families but are hustling to get a quick dinner on the table.
That means they have priorities, said Williams: they prefer five to seven ingredients that they can find in their kitchen cupboards or at a convenience store. They want nice, clean pictures of each dish. They don't want to spend more than an hour cooking.
As a result, AllRecipes' best-loved dishes – the ones that bubble to the top of millions of Google searches, spiral around Pinterest and end up, eventually, on countless kitchen tables – tend to be classic and easy, verging on ­unsophisticated. Just behind Chandler's lasagne are a basic pancake, banana bread and sugar cookie, each made with seven ingredients.
The site's top-rated pot roast, which in August was briefly one of the most-discussed pieces of content on Facebook, calls for two cans of cream of mushroom soup, a packet of dried onion soup mix and a five-and-a-half-pound roast. That's it.
Chandler's lasagne is the exception. It takes two-and-a-half hours to cook, excluding preparation time, and its 20 ingredients cost around £25 (to serve 12 people). After an hour-and-a-half on the stove, the sauce tastes good the way a jar of Bertoli sauce tastes good: bright and acidic, but not particularly nuanced. And the ricotta filling, which Chandler makes with cheese, one egg and a bit of parsley, seems flat next to, say, the bechamel sauce that's traditional in parts of Italy, or the nutmeg-and mint-tinged varieties that exist elsewhere on AllRecipes.
Other cooks have suggested hundreds of tweaks: less salt and fennel, a cup of red wine, an extra pinch of Italian seasoning – even a wholesale, healthy makeover that substitutes turkey and low-fat mozzarella for the ground beef and sliced cheese.
Chandler uses some of the variants himself – one of his sons has a gluten allergy, and his wife is what Chandler terms a "health nut", which has forced him to invent different versions of the dish. He also hates following recipes – he'd never even measured the ingredients in the World's Best Lasagna until he decided to put it online.
"I like blending the flavours and colouring outside the lines," he says. "The sauce is best when you salt it to taste and then, once you get it going, just flavour it as you go."
His other advice for cooks who want to make his lasagne: let it sit in the fridge overnight; it's better the next day. And be careful whom you cook it for, because you could end up making it regularly. Chandler takes the dish to events 12 to 15 times a year, often at the request of someone who discovers it's the "world's best". He generally doesn't let on about his internet fame, but it comes up from time to time.
He has since changed his profile picture to an illustration of a mustachioed Italian chef – facetiously, it turns out because, true to his Georgia roots, Chandler's favourite things to cook are steak, barbecue and "anything else that can go on a grill".
"I'm definitely not a foodie," says Chandler, a man who has probably taught Americans as much about lasagne­ as Mario Batali has. "I don't have aspirations to be on MasterChef or anything­. But I love to cook."
A version of this article appeared in The Washington Post; read the recipe at: http://bit.ly/1dlm5i6
Join our new commenting forum
Join thought-provoking conversations, follow other Independent readers and see their replies