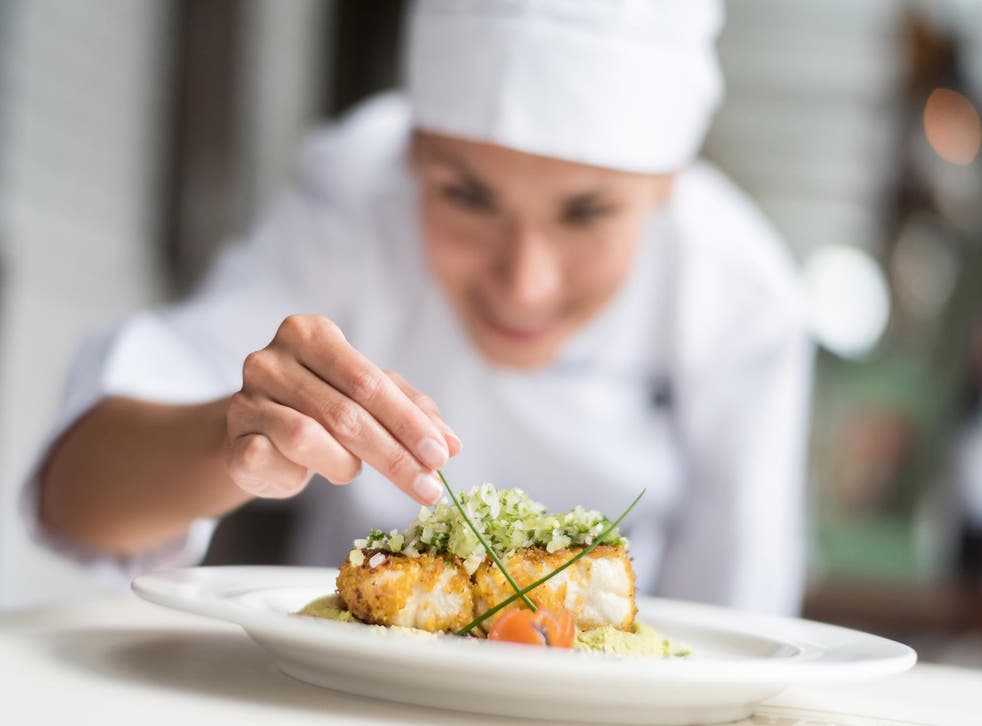 Where are all the female chefs? The Modern Pantry's Anna Hansen talks sexism in the kitchen
Sexual harassment in the kitchen is a continuing problem, Hansen says
Despite the outdated and frankly sexist stereotype that 'women belong in the kitchen', that is proving to very much not be the case.
Snapshot figures from the Office of National Statistics put the number of female chefs at just 50,000, meaning women make up just under one fifth of all professional chefs in the UK.
So why is there a deficit when it comes to female chefs, especially given that so many young women are encouraged to learn and master the art of cooking?
Anna Hansen is one of the few women to rise up through the ranks and run a kitchen. Starting out on the restaurant scene in 1992 after moving over from her native New Zealand, she was trained under Fergus Henderson, the brainchild behind the St John restaurants, and later Peter Gordon.
In 2008, she opened The Modern Pantry in Clerkenwell and in 2012 was awarded an MBE.
Hansen is not convinced there is a definite answer of why so few females rise through the ranks and thinks it is probably attributable to a number of factors.
The world's 30 best restaurants 2016

Show all 30
"Maybe girls are a bit more savvy and think 'god it's going to be a sh*t lifestyle'," she jokes.
The previously touted suggestion that a factor is because a woman would be put off by the long, unsociable hours combined with the desire to start a family is something Hansen doesn't think is exclusive to the culinary world.
"The hours are a problem for anyone, it's not got anything to do with being male or female," she tells The Independent. "Ladies can be put off by fear of taking a break with families but that is the same with any industry and it shouldn't be a hinderance, that's a message we could do with getting across to people… The industry needs to do more to encourage people into secure knowledge that it is ok and they will still have a job in the same role and can still progress when they come back. I see that as a problem for females across the board."
This is something Hansen had to herself when she gave birth to her first child three and a half years ago. She says she was lucky she had a team supporting her.
Hansen ponders on whether there is a fear for women entering the industry and hopes that a positive that the explosive growth of celebrity chefs has proven is seeing that "not all chefs are complete arseholes".
She also says that as a woman herself she doesn't think she pushes herself forward as much as she witnesses her male peers doing.
"Obviously I have got a certain amount of competitive spirit because otherwise I wouldn't be where I am but I am not one to automatically jump in the limelight. I am not saying girls are inherently not like that but there is definitely more of a competitive thing about males than females and where there's a limelight to be had I think boys are more interested than girls. But that is also not necessarily a bad thing, why do you have to be heralded?" She points to Anna Ros (recently named the world's best female chef) saying she has just been quietly ploughing away doing what she does best but has risen to the top a bit more "organically".
Hansen says any sexism she has personally experienced during her three-decade spanning career has been more in the form of harassment which she says is still widespread in professional kitchens.
"I have never worked anywhere that I have seen somebody rendered incapable because they were a woman but by the same token I've seen plenty of harassment. Women are just reduced to their anatomical parts [by their peer].
"That kind of stuff still goes on but certainly not in my kitchen. Whenever I get an inkling of it, I am on those people like a tonne of bricks," she says firmly. "It's just a form of bullying isn't it, it's about power tripping and I don't like it. I have probably been subjected to it once in my life but I have seen it happen with other people. It has never been acceptable but it has been the norm before but now there is just no place for it."
Hansen says she has also seen men being sexually harassed in the kitchen by male chefs. "It's a predatorial kind of spirit that exists across humanity and those that have it and feel they are entitled to behave like that then there are not really any limitations are there."
Despite her prestige, MBE and coveted position as the head of a London restaurant, she says people continue to be surprised at seeing a woman running the show.
"I often get invited to go places as a guest chef... it has happened more than once where I have taken my [male] head chef and he is the person who is addressed. I have felt in that instance that it was because I was female rather than the fact I was too scary to approach."
When you think of the top British chefs, be it on television or running the most acclaimed restaurants, it is clear the men outweigh the women. So is it that the women are just being stifled and held in the junior ranks?
"Probably," Hansen says. "Women do tend to get encouraged to be a pastry chef or do salads or whatever."
So how do these ambitious female chefs fight that barrier? "I think it is important females know they need to have a well-rounded education in the kitchen and don't settle for it. Don't be told, take charge.
Hansen says she would love to recruit more women if they were there. At her Finsbury Square branch she has a total of four females in the kitchen out of 12 and at Clerkenwell half are female but the void of women coming up through the ranks is something she hates.
"You tell yourself its fine but actually things [instances of sexism] are going on all the time," she reflects. "But I think the wellbeing of employee across all sectors has improved greatly across the past decade although there is still a lot more to do."
Join our new commenting forum
Join thought-provoking conversations, follow other Independent readers and see their replies