Fish Market brunch review: All the favourites with a seafood twist
With a menu full of decadent seafood platters, fish burgers and crab rolls – and a 'best dressed' oyster station – Fish Market's Brunch off the boat is a seafood lover's dream, writes Hannah Twiggs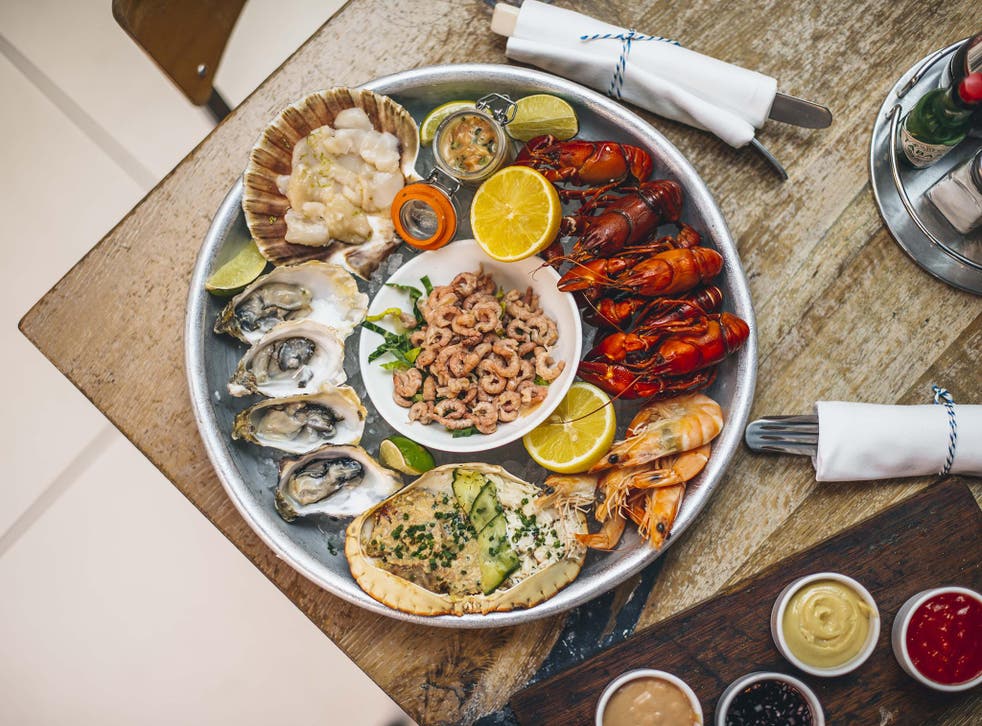 Oysters and bloody marys for brunch? Sounds like a page straight out of Casanova's book.
Fish Market's newly launched "Brunch off the boat" is billed as London's ultimate seafood brunch, and with a decadent menu of seafood platters, fish burgers and crab rolls – and a "best dressed" oyster station to boot – it is exactly that.
A stone's throw from Liverpool Street Station, the Old Bengal Warehouse on New Street is the perfect destination for a weekend feast – or midweek tipple – in the heart of the city. The restaurant is airy and modern, and the canopied outside seating area is sure to make it a hit in the summer.
Start, as we do, at the oyster station, where a chef shucks and dresses your oyster in toppings of your choice. As relative novices, we go for a simple shallot vinaigrette to make the most of its natural flavour, but for the more adventurous, there's bacon, pomegranate, samphire, chilli and pickled ginger.
Throw back your oyster (and don't forget to chew) with a complimentary bloody mary, bloody maria (swapping vodka for tequila) or red snapper.
The starters are more familiar brunch territory, featuring a "dippy egg" with trout roe and sourdough soldiers; half an avocado (which no brunch menu would be complete without) served with white and brown crab meat; smoked kippers with seaweed butter and sourdough toast; and a crumpet menu.
We go for the "dippy egg", it's cooked to perfection and the roe adds a nice fishy punch, but with only three pieces of toast, dip sparingly and don't share.
We also choose a crumpet royale with smoked salmon. The "crumpet" is more like an English muffin but is deliciously light and fluffy, which complements the heavy creaminess of the hollandaise and egg. If this isn't for you, there's also choose king prawn and kale, picked crab or battered fish.
For mains, the piece de resistance is the seafood platter to share. Tempting as it is, we opt for the prawn and soft-shell crab rolls and ultimate fish burger instead (and then look longingly at our table neighbours as they tuck into dressed crab, Jersey rock oysters, prawns, mussels, cockles, sea bream ceviche and scallop ceviche from said platter).
The burger, with a fish cake, soft-shell crab, avocado slices and fried egg, served with anchovy mayo and chips, is indeed "ultimate". There is a good ratio of fillings with nothing that overpowers, and a bit of added crunch from the fish cake. My dining companion adds: "Nice bread."
The fish rolls (also with nice bread) come in two parts: one is filled with deliciously creamy prawn cocktail with watercress, while the other is stuffed with a whole, deep-fried soft-shell crab, which was equal parts crispy and tender.
If you still have room after all that, the dessert selection ranges from light and refreshing lemon posset to indulgent melting chocolate pudding.
For £20 a head for two courses, or £25 for three, Brunch off the boat offers an affordable experience for seafood-loving city dwellers. The menu doesn't stray far from beloved brunch staples, but offers enough culinary creativity – and fish – to make it stand out.
But, with a menu that begins at breakfast and quickly spans to lunch, make sure you arrive hungry. And thirsty: you can make it bottomless, as we do, for £15 per person for bubbles, or £50 for Moet and Chandon, or, if you are so inclined, there is also wine... on tap.
Food ★★★★☆
Service ★★★★★
Value ★★★★☆
Fish Market, 16 New St, London, EC2M 4TR; 020 3503 0790; fishmarket-restaurant.co.uk; open Mon-Sat, Brunch off the boat available on Saturday only
Join our new commenting forum
Join thought-provoking conversations, follow other Independent readers and see their replies