British Street Food Awards 2015: Wales and West heats to kick off in Cardiff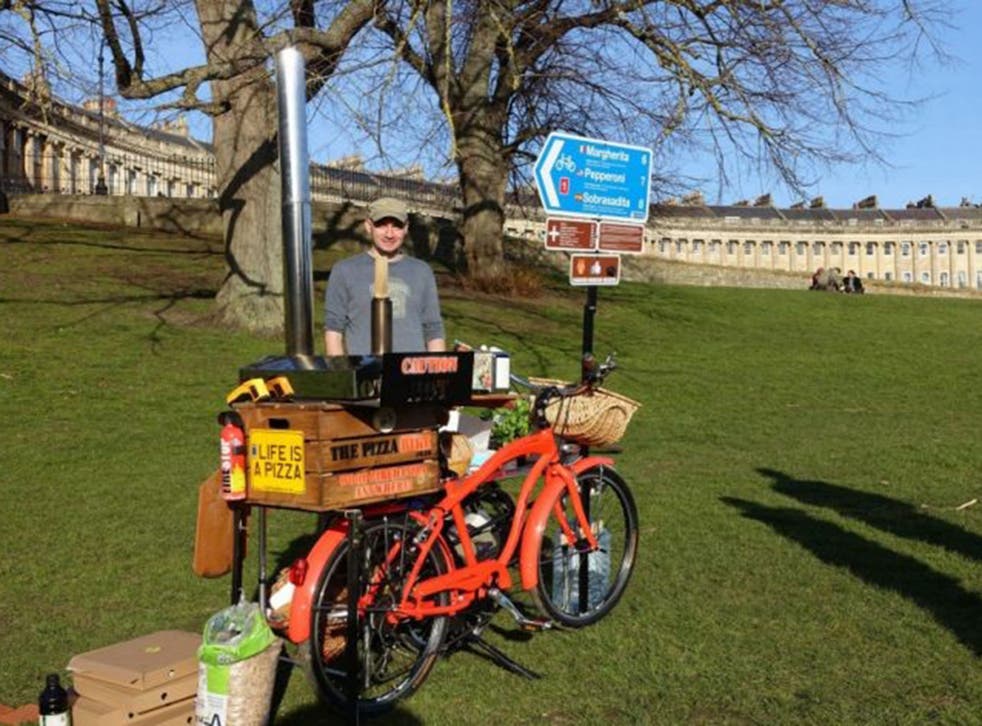 The world's first pedal-powered pizzeria will roll into Cardiff next weekend when The Pizza Bike goes up against 13 rivals in the Wales and West heats of the 2015 British Street Food Awards.
The heavily modified beach cruiser is equipped with a portable pizza oven, sink, fire extinguisher, coolbox and computer. Its pizzas are reportedly delicious – and they'll need to be to see off stiff competition from the likes of Purple Poppadom, an Indian food outlet whose menu options change with the seasons, and Wild Fig Farm, who serve ice-cream sandwiches.
The heats kick off at 5pm next Friday at Street Food Circus, Old Stable Yard. The mix of food and music wraps up the following Sunday night. "One or more of the contestants will go to the final in London," said Richard Johnson, founder of the awards. "We're going to give everyone who comes a voting card to pop in the ballot box at the end."
Entry to the Wales and West heats costs £5, which includes a pint of Sharp's beer.
"Street food is important because it's democratising," said Mr Johnson. "It's good food, made with good quality ingredients and it engages people. Street food makes you understand that you can ask people questions [about the food]".
The heats also mark the return of Jonathan Williams, the "crown prince of Welsh street food", who won the British Street Food Award in 2011.
One Direction and local heroes Manic Street Preachers are both performing in Cardiff during the heats, so organisers are hoping they might pop in for a bite to eat.
For more information go to www.britishstreetfood.co.uk
Register for free to continue reading
Registration is a free and easy way to support our truly independent journalism
By registering, you will also enjoy limited access to Premium articles, exclusive newsletters, commenting, and virtual events with our leading journalists
Already have an account? sign in
Register for free to continue reading
Registration is a free and easy way to support our truly independent journalism
By registering, you will also enjoy limited access to Premium articles, exclusive newsletters, commenting, and virtual events with our leading journalists
Already have an account? sign in
Join our new commenting forum
Join thought-provoking conversations, follow other Independent readers and see their replies