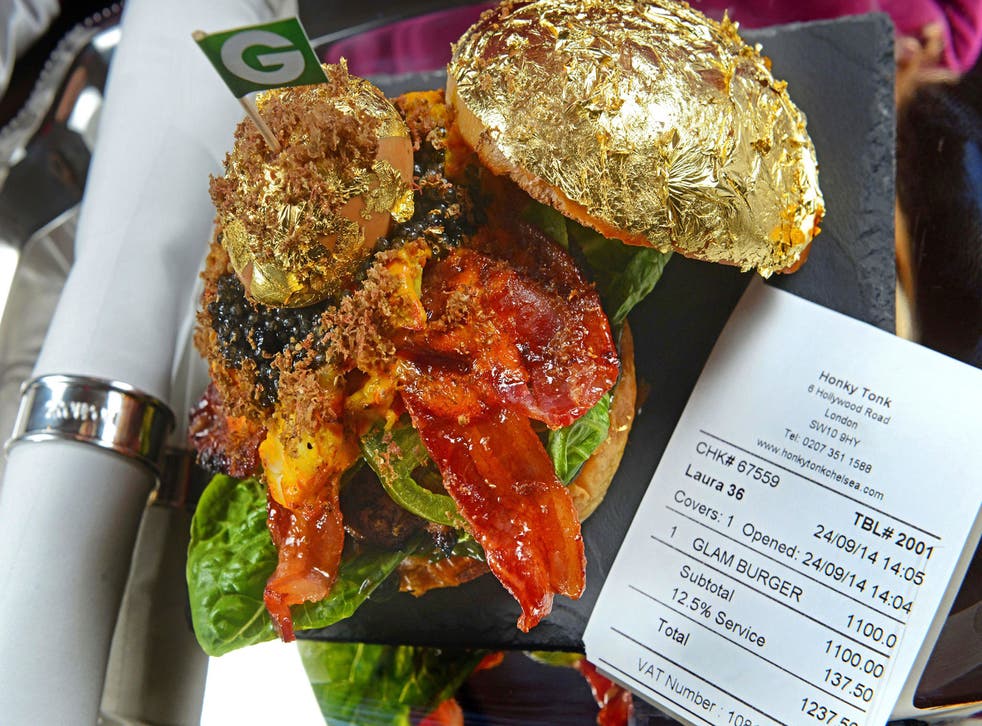 Chelsea restaurant creates world's most expensive burger with gold leaf and caviar
Honky Tonk restaurant in Chelsea, west London, took three weeks to develop the burger
A restaurant in Chelsea has found a not-so-novel way to celebrate excess: by claiming to have created the world's most expensive burger, embellished with gold leaf, lobster and caviar.
Priced at £1,100 (or £1237.50 with service), the burger took three weeks to develop and has been verified by Record Setter as the highest priced in the world, with each of the 14 listed ingredients - including salt and mayonnaise - costing around £78.50 each.
Honky Tonk restaurant in Chelsea, west London, added a multitude of expensive ingredients to the dish, christened 'The Glamburger', in order to justify the eye-watering price.
The meat itself consists of 220g of Kobe wagyu beef, minced with 60g of New Zealand venison to "balance the fat content". At the centre is a black truffle Brie that will create a "liquid pocket" once it has been cooked. If that doesn't sound like enough, the patty has been seasoned with Himalayan salt, served with a Canadian lobster poached in Iranian saffron.
Topping the meat is more meat: bacon coated with maple syrup, along with beluga caviar and a hickory smoked duck egg covered in gold leaf. The bun is seasoned with Japanese matcha, which is a kind of powdered green tea, and mayonnaise, and then also coated in gold leaf. The garnish is a mango and champagne jus with grated white truffle.
The alternative burgers

Show all 10
The combination adds up to a total of 2,618 calories: more than the recommended daily intake for an adult.
The burger was created by Honky Tonk as a publicity stunt in partnership with Groupon, with one meal being given away to a lucky diner.
Chris Large, head chef at Honky Tonk, an American diner-style restaurant, said: "After sourcing the best possible ingredients to create this masterpiece, the winner will certainly have a dinner to remember."
Join our new commenting forum
Join thought-provoking conversations, follow other Independent readers and see their replies