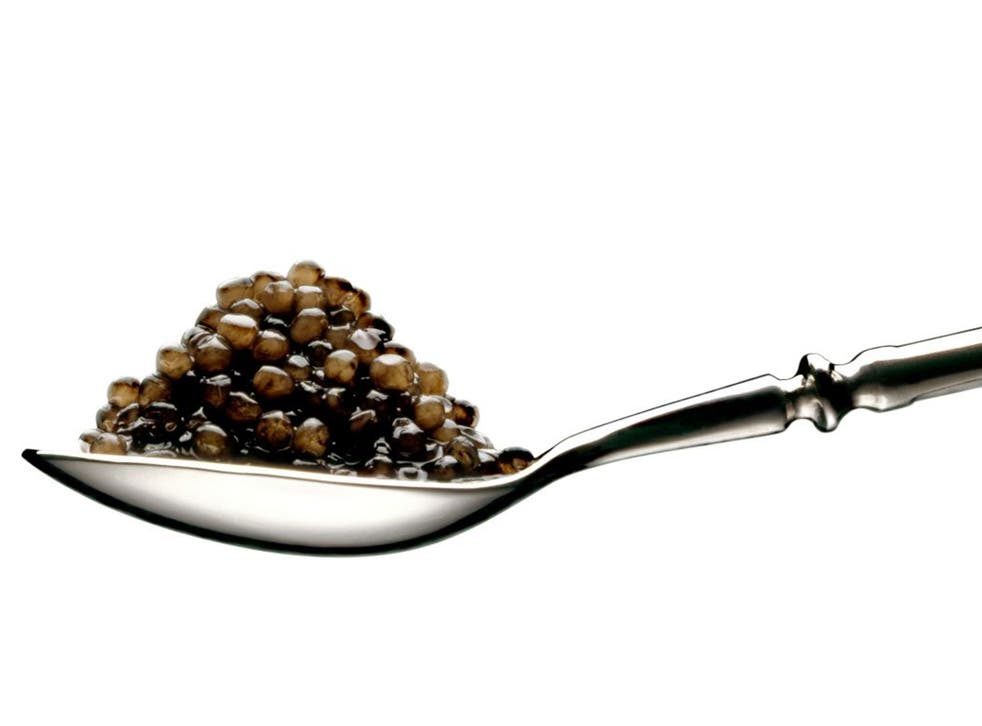 Cut-price supermarket caviar? Why one Beluga expert thinks it's a fishy tale too good to be true
Aldi revealed its latest bargain luxury brand last month
Shoppers looking for a festive treat this year could be forgiven for thinking Christmas had come early when they saw retailer Aldi's offer to sell "Beluga" caviar for only £9.99 a tin – more than £130 less than Fortnum & Mason charges for the same sized product of the world's most expensive caviar.
The German supermarket revealed its latest bargain luxury brand last month as part of its Christmas campaign. Other foods include dressed crab, goose and beef, but the Beluga caviar price- tag immediately grabbed headlines, raising eyebrows from experts.
Beluga caviar can only consist of roe from the Huso huso sturgeon, according to the World Health Organisation's codex for international food standards, which also has guidelines for labelling hybrid caviar from different sturgeon.
Beluga is found in the Caspian, Adriatic and Black seas. It takes at least 18 years to sexually mature in captivity and up to 35 years in the wild, so overheads are extremely high, hence the cost.
None of the sturgeons that are used to produce the caviar Aldi will sell from 21 December are Huso huso. Instead it uses river sturgeon and Amur sturgeon, both of which are indigenous to the Amur river in China and have no relation to Huso huso. The supermarket cites "CN" as the country-of-origin code on its labels, in an example seen by the IoS.
Kenneth Benning, who runs online retailer London Fine Foods and the UK's only caviar farm Exmoor Caviar, said that, despite the correct label, Aldi's addition of "Beluga" would confuse the public.
He said: "As a trader in caviar, there is not a farm on the planet that can sell Beluga caviar for Aldi's claimed price. Given how long it takes to mature the species, many farms have now started to mix sturgeons to try and create a 'Beluga-ish' product they can try to sell as 'Beluga', whereby the male Huso huso is crossed with another faster-growing species such as sterlet or baeri. This is known as a hybrid cross. However a hybrid cross such as 'Huso Sterlet' is not such a headline grabbing name as the well-known 'Beluga' caviar."
Mr Benning complained to Aldi and was told by the store that, following its Christmas campaign launch, it had "no control over what the press ultimately print". A leading UK supermarket said: "We have spoken with our pricing experts and the minimum wholesale cost of Beluga caviar is £2,500 per kilo. Aldi's price for a 20g tin means they are selling it at £500 a kilo and therefore losing around £40 per tin. What business in the world would want to do that?"
Aldi has eaten into the UK's big four supermarkets' market share and earlier this year announced a 65 per cent rise in pre-tax profits to £261m. Its special offers have played a major part in tempting new customers into its stores.
An Aldi spokesman admitted its latest luxury product is in fact a hybrid caviar and does not come from the Beluga Huso huso at all.
He said: "We can offer shoppers Amur Beluga caviar at an exceptional price by making savings across the business, which we pass onto our customers rather than boost our margins. Amur Beluga caviar comes from Amur Beluga sturgeon, a hybrid of the Amur sturgeon and the river Beluga sturgeon. The packaging explains the origin of the caviar and we are confident that people will enjoy this special treat on Christmas Day." Mr Benning said: "The adding of the word 'Beluga' in Aldi's product implies something that is actually not its origin or value. Hence this caviar has no correlation whatsoever to 'Beluga' caviar or the Huso huso sturgeon. Aldi should rectify this."
Join our new commenting forum
Join thought-provoking conversations, follow other Independent readers and see their replies