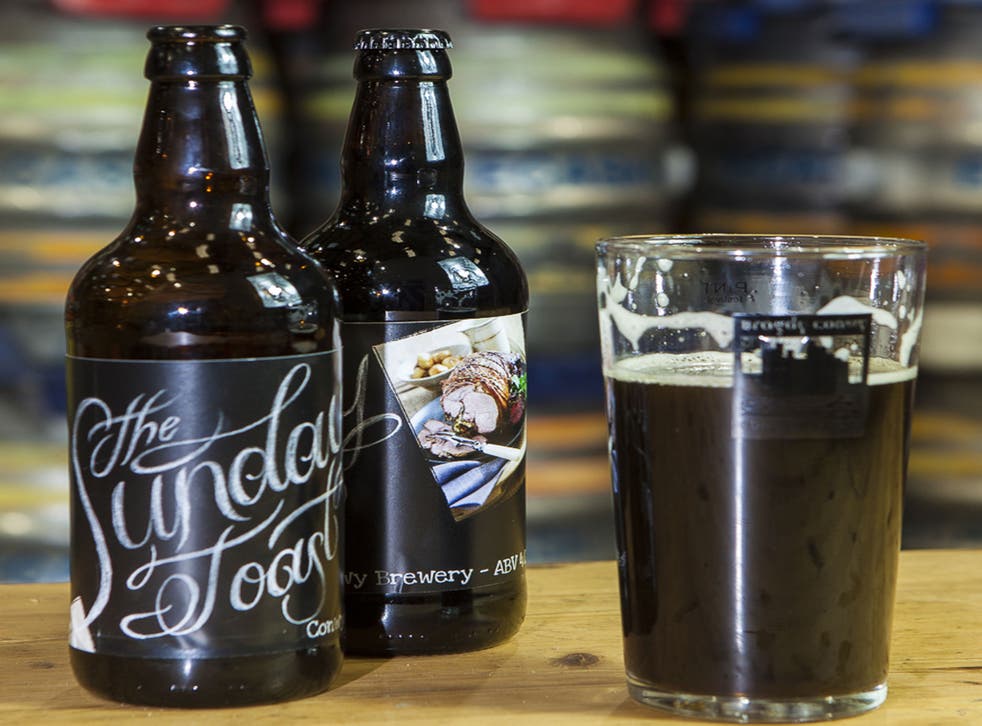 Get your chops around that: Brewer creates lamb-flavoured beer for St David's Day
New beer 'Sunday Toast' combines the aromas of a roast with dark ale
A brewer has created a new beer using the flavours of a Sunday roast to mark St David's Day on Saturday.
Conwy Brewery said it infused lamb in the brewing process to create its unique 'Sunday Toast' blend - which aims to combine the aromas of a roast with a dark ale.
The North Wales-based brewery slow-roasted Welsh lamb, before adding the dissolved meat juices and sugar and keeping the brew warm for a week.
"Seasonal beers are a speciality of ours, but we wanted to do something really different to celebrate our country's national day," Gwynne Thomas said.
It may sound unpalatable, but it's not the first time brewers have gone on a quest for that extra-special ingredient.
American couple Tom and Athena Seefurth hit the headlines two years ago when they announced their special brew - the Mamma Mia! Pizza Beer.
Brewed as a lager, the drink is then infused with tomatoes, basil, oregano and garlic to give it its unique flavour.
"We were eating some pizzas one day with some wine and the wine just didn't taste right with the pizza," Mr Seefurth said.
"So I went and got some of the stuff we'd made, at this point it wasn't chilled or carbonated, but when we tried it we thought, 'holy smokes this stuff is good'. We were so surprised we ended up sharing two or three bottles, it just went so well with the pizzas."
He added: "It tastes like normal beer when it's on your tongue. But when you swallow you get an aftertaste of pizza topping."
Virginia-based brewers Flying Dog Ales originally launched its Pearl Necklace Oyster Stout, which is infused with local Rappahannock River oysters, as a limited-edition concoction. But it did so well that they now offer it in all seasons.
"We decided to brew it year-round not only because the beer itself was well received, but also because it supports a cause essential to our backyard," the brewery announced on its website.
"Proceeds from the beer benefit the Oyster Recovery Partnership (ORP), one of the region's leading nonprofits restoring oysters back into the Chesapeake Bay."
For those who like their beer with an extra kick, US company Rogue offers Chipotle Ale - a brew which is 'delicately spiced' with smoked Jalapeno peppers.
It is, the brewers say, dedicated to Spanish author Juan de la Cueva - who, in 1575, wrote about a Mexican dish featuring seedless chipotles with beer.
Not to be outdone, Rogue also brews a Voodoo Doughnut Bacon Maple Ale - featuring applewood-smoked bacon and maple syrup from Portland - recommended for drinking with 'pork or pastries'.
Or, for meat-lovers, there's always Michigan's Right Brain Brewery's award-winning Mangalitsa Pig Porter - appetisingly made with Mangalitsa pig heads and bones.
They took home a gold medal at the Great American Beer Festival in 2011 in the 'Experimental' category, and are celebrating their win with a 'Pig Porter release party' in April.
LA-based Angel City Brewery - purveyors of the Berliner Weisse, made with homemade pickles, and the French Sip, brewed with beef bouillon and au jus - recently held an 'Avocado Festival' to celebrate brewer Dieter Foerstner's guacamole-inspired Avocado Ale.
It follows the likes of New Belgium Brewing's Coconut Curry Hefeweizen, flavoured with coconut, cayenne, cinnamon, coriander, fenugreek seed, ginger root, kaffir and lime leaf, and Williams Bros Brewing Co's Kelpie Seaweed Ale - which endeavours to 'recapture the taste of traditional beers brewed in Scottish coastal alehouses'.
To do so, the company explains, bladderwrack seaweed is mashed in with malted and roasted barley.
Others have gone for a sweet treat to cleanse the palate.
British brewers Wells & Young's - who also developed Banana Bread Beer and Double Chocolate Stout - based their Sticky Toffee Pudding Ale on the quintessentially British dessert.
But, head brewer Karl Ottomar explains: "This is very much a beer first and a dessert second. It is brewed with our trusted pale ale malt and a secret blend of complex sugars."
Elsewhere, the Michigan-based Shorts Brewing Company sells a key lime pie beer - brewed with fresh limes, milk sugar, graham cracker, and marshmallow fluff - while the Cleveland-based Willoughby Brewing Company offers a 'Peanut Butter Cup Coffee Porter', infused with locally roasted coffee, peanut butter and chocolate.
Phew. It's enough to give you a hangover - or indigestion.
Join our new commenting forum
Join thought-provoking conversations, follow other Independent readers and see their replies