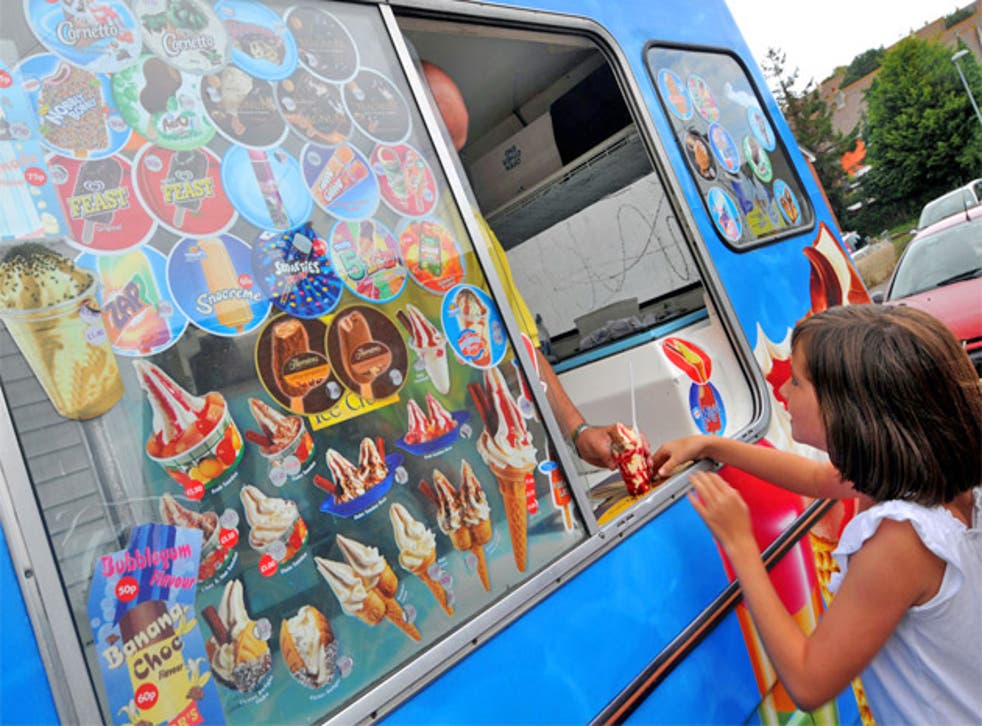 Have you seen an ice cream van recently? Didn't think so...
For decades, their chugging and chiming has signalled the start of summer and feeding time for generations of children armed with small change and sweet tooths. Now, Britain's ice cream vans are stalling their way into a winter of discontent and towards an uncertain future in which they face becoming as endangered as milk floats.
Meltdown for the country's estimated 5,000 ice cream vans started with the rise of the domestic freezer in the Fifties but has been compounded more recently by new EU rules introducing lower emission limits. These mean that many older ice cream vans face costly conversions or face being taken off the road.
In London, meanwhile, tighter emissions standards will come into force from January next year. Some ice cream vans will be able to fit a filter, but the charge for those that don't will be £100 a day.
The amendments add to an already long list of expenses for ice cream sellers, including insurance and a trade licence costing around £800 annually.
"We thought this summer would be the great summer that the industry needed," said Stuart Whitby, managing director of Whitby Morrison, the UK's largest manufacturer of ice cream vans.
"Trade got off to a cracking start. April and May were as good as any we've had for as long as we can remember. But June and July was a washout and August was typically mixed."
As recently as five years ago there were an estimated 20,000 vans plying the streets with Mr Whippy and assorted Feasts, as well as burgers, hot dogs, and overpriced cans of fizzy drink. The fleet has been reduced to a quarter of that size, with councils piling on more pressure by banning vans from some housing estates, parks and schools because of concerns about noise pollution and childhood obesity.
Other authorities have created ice cream selling exclusion zones in town centres, hiked the cost of a van operator's licence and limited how long vans can sound their chimes. Soaring food and petrol prices have also helped drive a flake into the heart of an industry already on its knees.
That the distinctive chimes of the ice cream van are disappearing from our streets may cause a pang of nostalgia, but not enough people, it seems, are sending out their children to vote with their feet.
"The industry bottomed out about five years ago," said Mr Whitby. "Street vending has dramatically changed. Supermarkets are selling ice cream far more cheaply than ice cream vans can, every corner shop and garage forecourt has an ice cream freezer. There are less and less vans doing the rounds.
"Your average ice cream vendor is struggling with his trade, but so are lots of people. Families might not have thought twice about buying their kids an ice cream in the boom times, but now they are thinking harder before sending them running round the block."
Earlier this year, National Ice Cream Week highlighted the demise of the ice cream van by sending an amphibious ice cream vessel – the HMS 99 – up and down the Thames, but the summer of 2011 was no more successful as a result.
Horse-drawn vans selling flavoured "ices" were first seen on cobbled streets in the 19th century. "Should I after tea and cakes and ices, have the strength to force the moment to its crisis?" pondered TS Eliot's J Alfred Prufrock not long after. Motorised vans followed in the 1950s, selling hard, scooped or soft ice cream.
The technique now employed of making a custard-based ice cream using egg yolks started in France around the middle of the 18th century. The Americans had to wait until 1800 to get their first taste.
By the 1980s, the street vending of ice cream had become so lucrative that gangs fought turf wars over who controlled what patches.
A notorious incident took place in 1984, when a row between Glasgow-based gangs led to the murder of six members of the Doyle family, who had run the Marchetti ice cream company.
The subsequent court case lasted 20 years, during which it was alleged that the vans were being used as a cover to sell drugs.
The violent conflicts generated widespread public outrage, and Strathclyde Police's struggle to deal with them earned the force the nickname the "serious chimes squad".
Vendors regularly raided one another's vans and fired shotguns into one another's windscreens.
Sound of the summer
* While no official chart of melodies used by ice cream vans exists, the traditional English folk song "Greensleeves" is widely held to be the most commonly used, maintaining a tradition that is almost as old as the van itself.
* The Disney classic "Whistle While You Work", written for Snow White and the Seven Dwarfs, is reportedly popular in Crewe and Nantwich, while the strains of the popular song "You Are My Sunshine", first recorded in 1939, can be heard in parts of Cheshire.
* In 2009, an ensemble of six ice cream vans made its debut as part of Whitstable Biennale, later taking its 10-minute, six-part composition written especially for the van's horns to the Whitechapel Gallery Street Project.
Join our new commenting forum
Join thought-provoking conversations, follow other Independent readers and see their replies