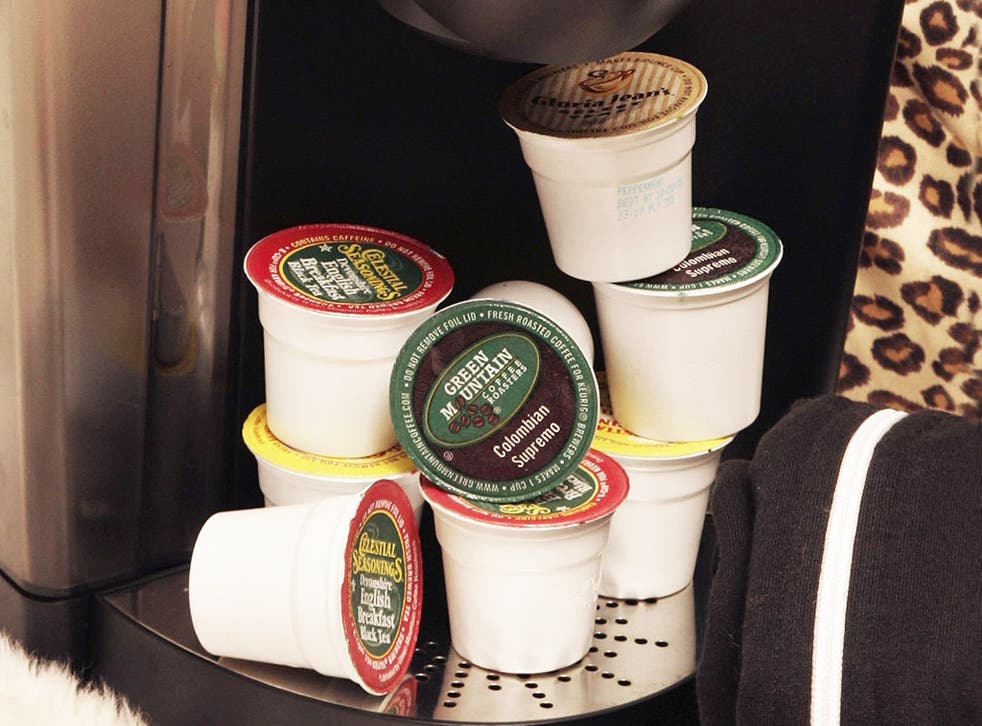 Inventor of the coffee capsule 'feels bad' for environmental damage – and prefers to use filters
John Sylvan revealed that he no longer uses his own invention
His idea revolutionised beverage preparation and spawned a multibillion-pound industry, but the inventor of the American version of the coffee capsule has admitted he "sometimes feels bad" about what he did – and fears for what his creation is doing to the environment.
John Sylvan also revealed that he no longer uses his own invention – the K-Cup, probably the most popular capsule among the millions of Americans who now have a push-button coffee machine in their kitchen.
His invention – a small capsule containing ground coffee that can be put into a machine to produce coffee at the touch of a button – has allowed Keurig Green Mountain, the company Mr Sylvan founded with his co-inventor Peter Dragone, to become a giant that earned $4.7bn (£3bn) in revenue last year.
Americans have been charmed by its 'Brew the love' advertising campaigns – in much the same way that thousands of UK customers have been seduced by commercials featuring Hollywood star George Clooney into buying Nespresso machines, which take a similar-looking but different type of capsule.
But the revolution in coffee making has sparked an environmentalist backlash, with campaigners saying Keurig Green Mountain is now producing at least enough K-Cups to circle the Earth 10.5 times every year, with very few being recycled.
They have started a Kill The K-Cup campaign, complete with an apocalyptic YouTube video showing the world being destroyed by the coffee capsules.
And it appears that Mr Sylvan, who sold his stake in the company in 1997, now shares their concerns. He sent a reporter from The Atlantic magazine a link to the YouTube video and admitted that when he looked back at what he had created "I feel bad sometimes that I ever did it".
Keurig Green Mountain says that all post-2006 variants of its capsules are fully recyclable, and insisted in its sustainability report, released earlier this month: "A top sustainability priority for us is ensuring that 100 per cent of K-Cup packs are recyclable by 2020."
Campaigners, however, have said that even the newer capsules are recyclable only if customers separate them into their paper, plastic and metal components.
Despite his earlier dedication to creating the perfect capsule, which in 1995 sent him to hospital with heart palpitations caused by testing up to 40 cups of coffee a day, Mr Sylvan revealed that he now sticks to plain old filter coffee and did not own a K-Cup machine.
"I don't have one. They're kind of expensive to use," he told the magazine. "Plus, it's not like drip coffee is tough to make."
Monique Oxender, Keurig Green Mountain's chief sustainability officer, said: "We respectfully disagree with Mr Sylvan's views on recyclability of the packs. We believe there is a path to recyclability."
She added that capsules made better use of water than filter coffee.
Keurig Green Mountain estimates that an average of 12 to 15 per cent of coffee brewed in pots is thrown away – this, the company said, meant a total of 25 litres of water wasted in growing the coffee beans and then in the discarding the drink.
A Nespresso representative declined to comment on Mr Sylvan's remarks but said its capsules were made from aluminium, which is infinitely recyclable, and that it had reached an 80 per cent recycling capacity.
She added: "The company's sustainability ambition includes a commitment to increase our recycling capacity to 100 per cent by 2020."
Coffee capsules: A potted history
An estimated 186 million coffee capsules are now used in the UK each year. While filter coffee maker sales have stagnated in the US, purchases of capsule machines have increased sixfold since 2008. Nearly one third of Americans now have a capsule machine in their kitchen.
Keurig Green Mountain, initially called Keurig, was founded by John Sylvan and his co-inventor Peter Dragone in 1990. It sold 9.8 billion capsules and earned $4.7 bn (£3bn) in revenue last year. Nespresso, founded in 1986, sells machines which brew espresso from capsules. It is the most prominent capsule company in the UK. It established its own Sustainability Advisory Board in 2013, with "brand ambassador" George Clooney a prominent member.
Join our new commenting forum
Join thought-provoking conversations, follow other Independent readers and see their replies