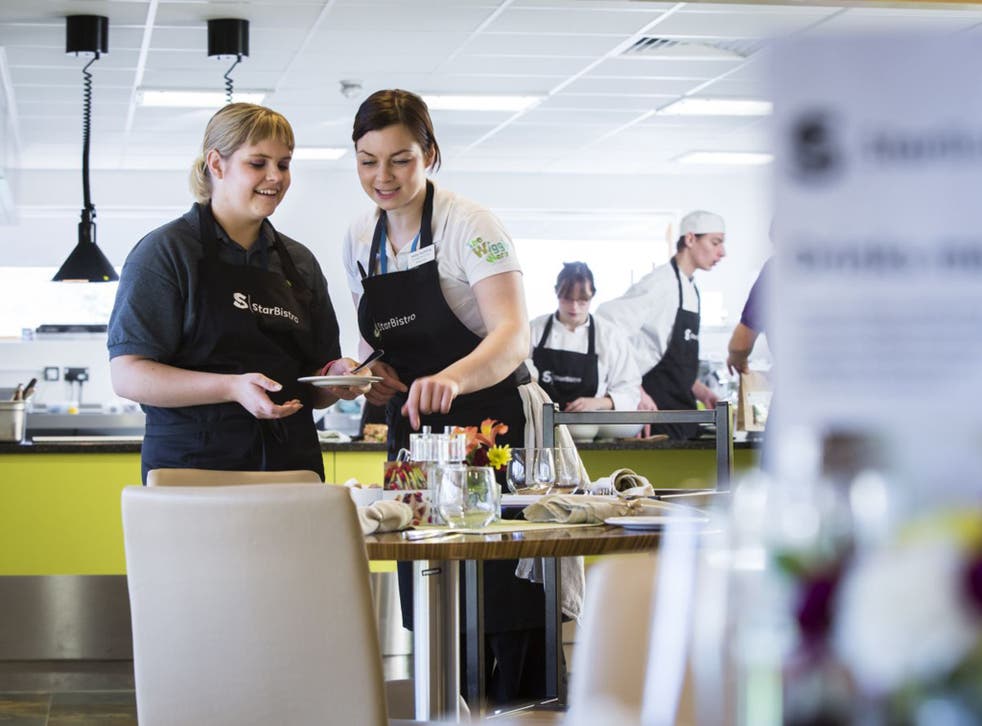 Prize for a bistro where everyone is a winner
The first Sustainable Restaurant Award of 2015 goes to a truly radical business
'They're brilliant chefs, they're brilliant waiters, they're brilliant people," says Rob Rees about his staff at Star Bistro in Cheltenham, which has just been named the People's Favourite in the Sustainable Restaurant Awards 2015. "They just happen to have a story."
There are, indeed, myriad stories. Two thirds of the staff have mental health issues, others have battled addiction. They might be blind or deaf, have autism, or be wheelchair users. And they all help run the kitchen and man the front of house at the establishment that has served up lunch and dinner to delighted customers since 2012.
From hundreds of entries and a shortlist of five, the public voted Star Bistro the winner, acknowledging its commitment to improving the health and well-being of vulnerable people. The restaurant also helps fight poverty in the area by delivering food packages to those in need, while all profits go to the No Child Hungry Gloucestershire campaign.
The idea for the restaurant came after the National Star College, which provides further education to people with learning disabilities, asked for advice from The Wiggly Worm, Rees's charity that uses food to improve the health and well-being of the disadvantaged, and give them skills that can translate into paid work. The college's idea was to build a refectory on site for students to work in.
'People's Favourite' - the shortlist

Show all 5
"But quite often those environments for restaurants aren't that good," says Rees. "It's like going to see a school play and seeing the scenery wobble but you tolerate it because they're in training. I suggested doing a bistro instead. A really, really good bistro."
Indeed, Rees has high standards. The ambitious menu changes monthly and the team go out of their way to source ethical produce from local suppliers. Dishes may include confit duck with herb mash, wild mushrooms on toasted homemade brioche, or game pithivier.
When asked about the day-to-day working of the restaurant, Rees doesn't shy away from the realities of working with people with learning disabilities. He likens it to the day when someone calls in sick at any other organisation, and everyone has to pull together. "We pick up that slack on an hourly basis. If somebody has a wobble, we work together; then the next hour they might be better. But obviously there's a lot of pressure because we're trying to be one of the best eateries in the area."
Also important is what is known as "reasonable adjustment" or "job carving". For instance, there is a member of staff with autism who Rees describes as being "almost a little OCD-ish". They now meticulously polish cutlery and glasses. Another with controlled epilepsy would get very tired, so they moved her shift times around to suit.
Although Rees hopes to open another couple of outlets (there is already a café nearby), what he would really like to see is other people opening restaurants with a similar ethos. "I'd like to share more of what we do with people, rather than do it all ourselves. We're not a catering company; we're a behavioural change operation that happens to do catering. It's just about trying to nurture the best out of people."
The remaining winners of the Sustainable Restaurant Awards will be named next week
Join our new commenting forum
Join thought-provoking conversations, follow other Independent readers and see their replies