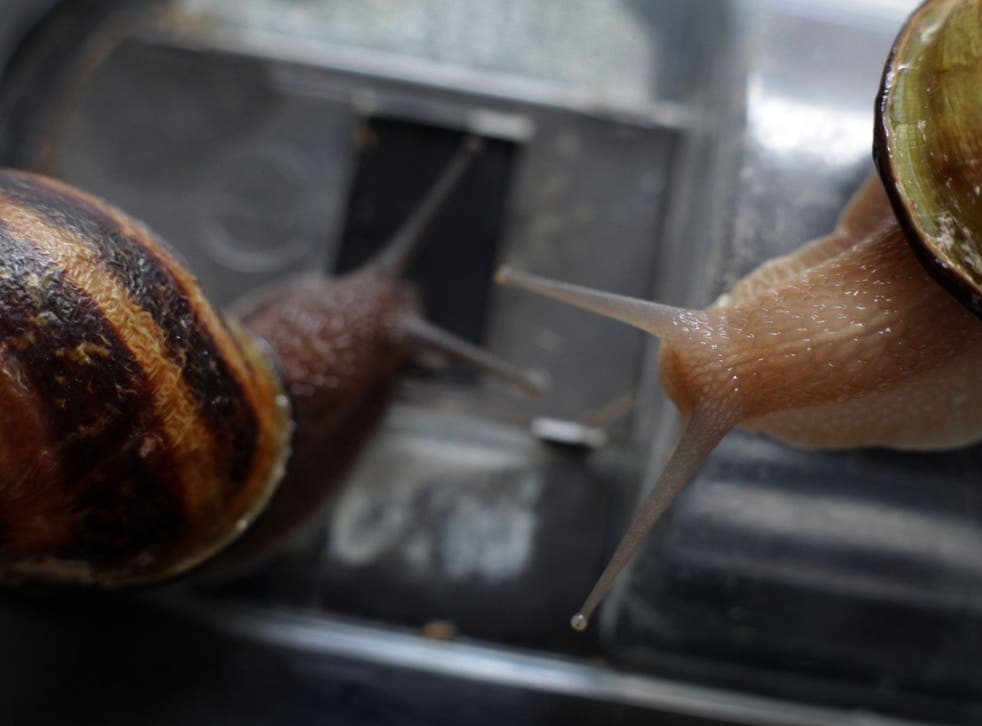 Snails? Farmers just can't keep up with demand from British diners
Heliculturists have increased production 25-fold since 2000. Cahal Milmo meets some and finds out why more home cooks and chefs are shelling out
When Helen Howard was looking for an unusual farming venture which required moderate husbandry and minimal land, she initially considered mushrooms or fish. In the end, there could only be one winner – helix aspersa maxima, better known as the edible garden snail.
Some seven years later, the university lecturer turned "heliculturist" now produces 50,000 plump snails a year from a facility which has spread from her spare bedroom to a fruit farm and a temperature-controlled Nissen hut on a Kent industrial estate.
She is part of a rapidly-growing trend in British agriculture which is seeing an increasing number of snail producers racing to keep up with burgeoning demand for hand-reared gastropods, from restaurateurs to domestic gourmands – and even one or two zoos.
Production across the UK is estimated to have increased from around 30,000 snails per annum in 2000 to more than 750,000 this year, as Britons shrug off their traditional disdain for the allotment-raiding molluscs and reach for the garlic butter.
Ms Howard, who runs classes for would-be heliculturists as well as running her business, H&RH Escargots, from her home near Canterbury, believes a combination of widening gastronomic horizons and greater demand for small, local producers is opening new markets for "niche" farmers such as herself.
Speaking with three of her prized ping-pong ball-sized "breeder" snails waving their antennae from an incubator on her kitchen worktop, she says: "The 'yuck' factor is still there for some, but generally the British have become a far more foodie people who are willing to try something new. Chefs want to put something different on the menu and people want to serve something eye-catching for a dinner party.
"It's true you have to go out there and persuade, but people are very much more receptive to eating snails these days."
It is a picture recognised by David Ward, the co-founder of Dorset Snails, probably the largest commercial producer in the country. It cranks out some 750kg of helix aspersa muller, another close relative of the garden snail, every month for clients including Claridges, Gordon Ramsay and his one-time protégé Marcus Wareing, who apparently takes 1,000 a week.
As a result, snail cuisine has also moved with the times. While the traditional Gallic drenching of garlic butter remains popular, gastropod gastronomy involves frivolities from Heston Blumenthal's famed snail porridge to other signature dishes including snail pizza and minced snail kofte.
Dorset Snails, a family firm which initially started by producing worms before switching to snails in 2008, has grown from selling 2,000 a week to more than 10,000 of the creatures – cleaned, blanched, shelled and vacuum packed ready for dispatch to their Michelin-starred clientele.
Mr Ward said: "It used to be a macho thing, didn't it? 'Oh, I'll eat a snail, no problem.' Now people actually appreciate a fresh snail, but we've really had to work at it to push it into the mainstream. One of the biggest problems is people think of them as those disgusting things you get in a tin which are like chewing rubber. A proper snail should be slowly cooked and beautifully tender."
With a three to six-month period needed to move from a ball-bearing sized egg to a fully-grown adult, snails are indeed a slow food and do not take kindly to any attempt at intensive rearing. The most commonly-reared varieties are the aspersa maxima and the aspersa muller, also known as the gros gris and the petit gris. The larger Roman snail, common in southern Europe but also found on the South Downs, is more difficult to rear in the British climate.
In Kent, Ms Howard hatches her prize specimens in her airing cupboard before transferring them to her winter growing quarters, where the snails kept in plastic storage crates are fed on a diet of cereal, dried milk and powdered chalk.
In the summer months, the snails are transferred to an enclosure in the grounds of the National Fruit Collection at Faversham, where they feast on discarded plums, cherries and apples before being sent – either alive or cooked – to domestic or commercial customers. Among Ms Howard's customers are zoos, including London Zoo, who use her molluscs as food for lizards.
Another company, Aylesbury Escargot in Buckinghamshire, has recently expanded into a 1,000 sq m outdoor enclosure so it can triple production to meet demand.
Despite the dramatic expansion in production, Britain still lags far behind other snail-fancying nations such as France, Spain and Italy in annual consumption. The French alone get their way through 30,000 tons per annum and the vast majority of European snails are produced in eastern Europe in countries such as Poland and Serbia.
Ms Howard believes that, rather than being ghettoised into rarefied restaurants and posh dinner parties, the animals should become a regular fixture on British dinner tables. "In Spain snails are a food of the poor – people go out and gather them from the hedgerows. There is no reason why people shouldn't do that here. They are cheap and highly nutritious. We should be looking under our plant pots for dinner."
Join our new commenting forum
Join thought-provoking conversations, follow other Independent readers and see their replies