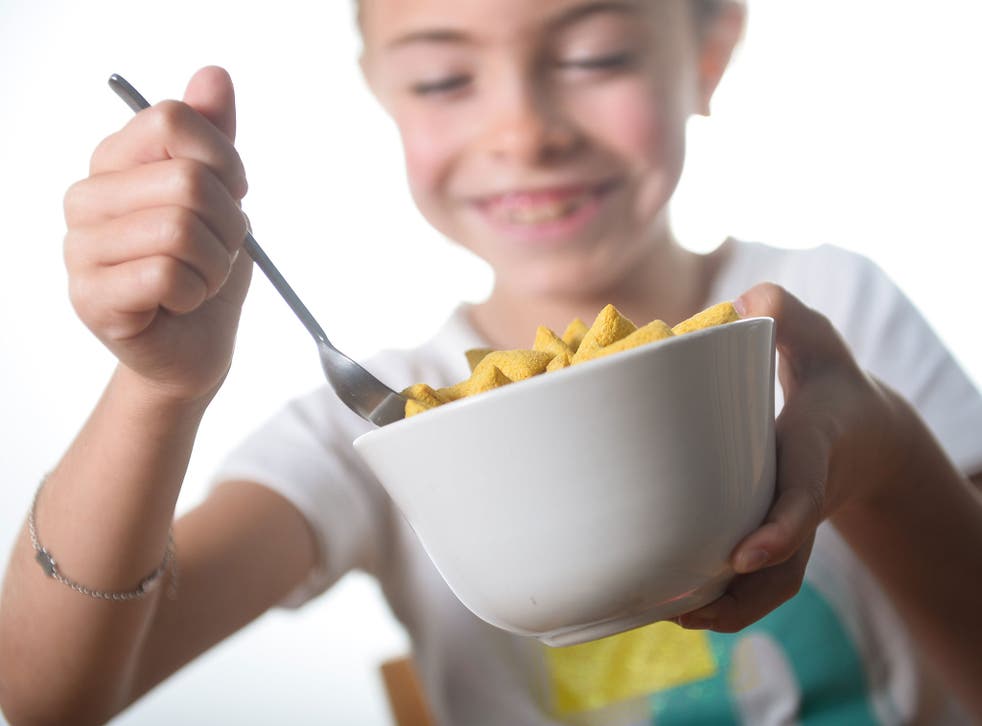 These are the most sugar-packed cereals aimed at your children
Campaigners warn parents against giving their children sugar-packed cereals
Parents are unwittingly feeding their children cereal which contains as much sugar as seven and a half chocolate fingers, according to health campaigners.
The warning from campaigners comes during National Breakfast Week, when the health benefits of eating a meal in the morning are championed.
While cereals high in fibre and low in sugar and salt can be beneficial as part of a healthy diet, Action on Sugar fear that parents may be unaware that many products, including those marketed towards children, contain surprisingly high levels of sugar.
As many as 14 out of 50 cereals tested contained at least 33.3g of sugar per 100g - the equivalent of eight teaspoons.
The nation's sugar intake has come under the spotlight recently, as the contributing factor to Britain's escalating obesity epidemic and as well as raising the risk of tooth decay, type 2 diabetes, heart disease and some cancers.
The study by Action on Sugar is a follow-up to a survey of the sugar content of cereals by Which? in 2012.
10 food and drinks with hidden sugar highs

Show all 10
Three years on, campaigners are concerned that cereal manufacturers have made little attempt in tackling the issue – with certain products containing more sugar than before.
Graham MacGregor, Professor of Cardiovascular Medicine at Queen Mary University of London and chairman of Action on Sugar, said that children quickly become accustomed to the taste of high-sugar cereals, and soon find healthier options less palatable, leading to long-term effects on their health.
"One of the greatest failures in tackling Britain's obesity epidemic is the governments' appeasement of the food industry; we cannot allow this to go on any longer. The so-called 'Responsibility Deal', which allows the food industsry to regulate themselves (a likened to 'Dracula being put in control of the blood bank'), has clearly failed. It's time for it to be scrapped," he said.
The worst offender in the survey was Aldi's Harvest Morn Choco Rice, with a 30g bowl containing 3 teaspoons of sugar - the equivalent of seven and a half Cadbury Fingers - and an 18 per cent increase since 2012.
Other cereals aimed at children which high sugar content included Kellogg's Coco Pops, Sainsbury's Choco Rice Pops, The Co-Operative Choco Rice Crispies, and Essential Waitrose Choco Pops.
However, cereals not directly aimed at children were also high in sugar, including Kellogg's Frosties, Sainsbury's Honey Nut Corn Flakes, Kellogg's Crunchy Nut, Asda Honey Nut Cornflakes and Tesco Honey Nut Cornflakes Honey Nut Cornflakes.
Cardiologist Dr Aseem Malhotra said in a statement on the Action for Sugar website: "The continued failure of government action to protect children from the harms of excess sugar is contributing to unspeakable suffering and putting an increasing strain on our NHS."
Public Health England chief nutritionist Dr Alison Tedstone said: "Eating too much sugar can result in having too many calories. This leads to being overweight or obese which increases your risk of heart disease, type 2 diabetes and some cancers.
"Our new Change4Life Sugar Swaps campaign offers hints and tips on how to reduce sugar in the diet, including swapping your sugary breakfast cereal for plain cereals or porridge."
Kellogg's told MailOnlie the sugar in its cereals was to a tiny proportion of daily consumption.
Sainsbury's said it had not increased the sugar in Honey Nut Corn Flakes, but had recalculated, which had led to a higher figure. Morrisons said its Honey & Nut Corn Flakes had not changed and could not explain the increase. From next month it will have 8 per cent less sugar.
Aldi also said it would reduce the sugar content of its cereals.
Cereals with some of the highest sugar content:
Aldi's Harvest Morn Choco Rice with 39g/100g (An 18% increase since 2012)
Kellogg's Frosties with 37g/100g (The same as 2012)
Sainsbury's Honey Nut Corn Flakes with 36.3g/100g (An 8%increase since 2012)
Kellogg's Crunchy Nut with 35g/100g (The same since 2012)
Cereals marketed at children will some of the highest sugar content:
Aldi's Harvest Morn Choco Rice with 39g/100g (An 18% increase since 2012)
Kellogg's Coco Pops with 35g/100g
Sainsbury's Choco Rice Pops Children's Cereals 36g/100g (-1.0% decrease since 2012)
The Co-operative Choco Rice Crispies with 36g/100g (-2.8% decrease since 2012)
Essential Waitrose Choco Pops Children's Cereals 36g/100g (-2.8% decrease since 2012)
(Lidl) Crownfield Choco Rice Children's Cereals 36/100g (-5.0% decrease since 2012)
Cereals with the least sugar:
Shredded Wheat Original with 0.7g/100g sugar. (Ranked healthiest cereal in 2012)
Quaker Oats Oat So Simple Original with 1.0g/100g sugar
Weetabix with 4.4g/100g sugar
Join our new commenting forum
Join thought-provoking conversations, follow other Independent readers and see their replies