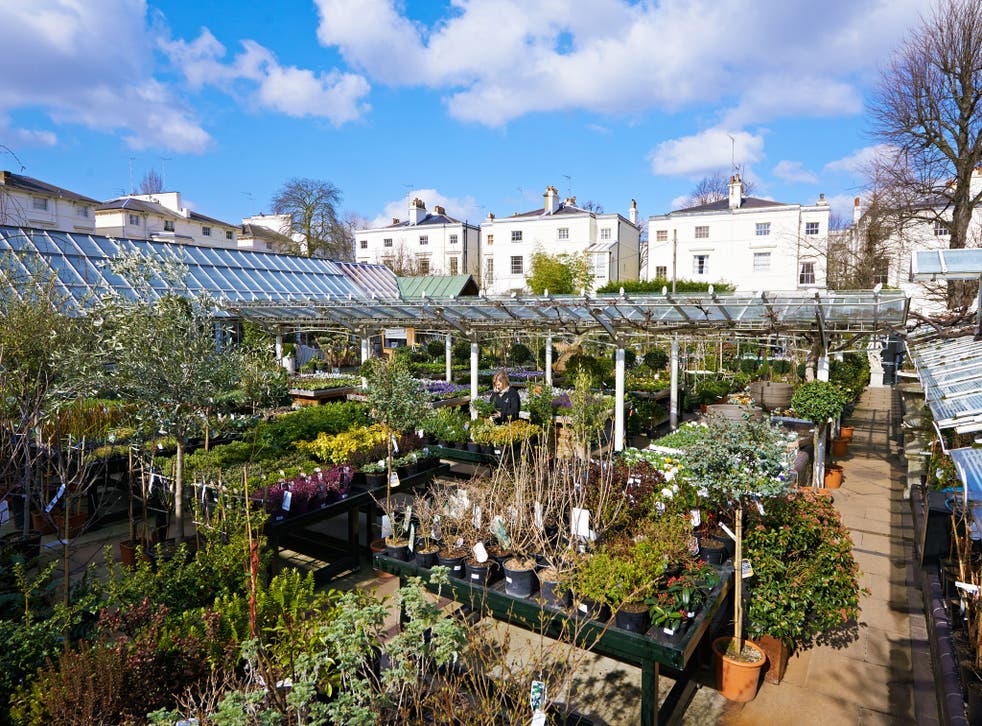 Trouble in store for agriculture: Crops and gardens join the economy in not growing
Special report: The harsh weather has led to the loss of livestock and problems in both vegetable and cereal production
For many of us, the gloom of Britain's six-month winter will finally be over this week when warmer temperatures herald the actual arrival of spring. But for those in the farming, horticultural and food industries, the misery of what has been dubbed the "springter" is set to continue for weeks. Rural bankruptcy, soaring food prices and lack of consumer confidence are warning signs that the economy could tip into triple-dip recession later this month.
With soil temperatures still at winter levels, garden centres and nurseries are reporting their worst Easter for years, as green-fingered consumers failed to spend money on plants they cannot get into the ground. As many crops need to be sown by the middle of April before the optimal sowing period ends, this has led to fears that unless the weather improves significantly in the next 10 days, farming in the UK will be in crisis.
Farmers have suffered catastrophic losses of livestock due to freezing temperatures and drifting snow, with the national body responsible for collecting carcasses revealing a 16 per cent rise in dead sheep and nearly 6 per cent in dead cattle, compared with this time last year.
The National Fallen Stock Company (NFSCo) said it expected thousands more dead lambs and cows that were hidden in drifts to be revealed over the coming days as temperatures rise, and it could take until May to uncover the true scale of the losses. In order to cope with the huge numbers of carcasses, ministers have approved an emergency opt-out of EU rules (imposed after the BSE crisis) banning the burial of dead animals on farmland.
The number of sheep that died between January and March this year in the UK is almost 150,000, an increase of nearly 20,000 on the same period last year. The figure for cattle is more than 82,000 in the first three months of this year, an increase of nearly 5,000. The NFSCo said these figures excluded dead animals in the most badly-hit regions, such as Cumbria and Scotland, because snow would still be hiding carcasses.
Michael Seals, the NFSCo chairman, said the company was trying to help farmers in the worst hit regions, by coordinating compensation packages from the Government and offering cheaper prices for bulk collections.
Yesterday, it emerged that because the bad weather has ravaged crops so badly Britain is expected to become a net importer of wheat later this year for the first time in a decade. Peter Kendall, the National Farmers Union president, said last year's wet summer meant more than two million tonnes of wheat was lost and the cold winter could threaten this season. Mr Kendall said farmers were now facing a "perfect storm" of problems because of the cold, including the loss of livestock and produce and mounting debts. Although the wheat shortage is unlikely to affect the price of bread – because it contributes to only 10 per cent of the cost – there are likely to be shortages of other crops due to the cold weather, which in turn could lead to higher prices.
Guy Poskitt, a member of the NFU's Horticulture and Potatoes Board and himself a carrot farmer in Goole, East Yorkshire, said: "Nothing is growing and the prospect of early crops or high yielding summer crops looks low. Another year of shortage is highly likely and I think planted areas are down generally, due to poor returns."
Tim Papworth, a potato farmer from Norfolk, said: "Nothing has moved on the land for a while, we are well behind on planting potatoes and drilling peas, which will push the whole season back."
Anthony Snell, a soft fruit farmer in Herefordshire, said that while it was good for his crops to have chill during the winter, planting and ground preparation was "way behind". He added: "Any prospect of an early start to the British season for soft fruit is now a distant memory. Soft fruit crops under polytunnels and fleece are not growing due to the extreme conditions and low light levels. Yields and production will inevitably be down," he added. "But there will be a consistent programme of production through the season to ensure we have enough soft fruit for every summer barbeque and event."
Next month's Chelsea Flower Show, which marks its 100th anniversary, could also be badly hit. The Royal Horticultural Society said some growers and designers were struggling to get plants ready in time for the event, which begins in six weeks. Jinny Blom, who is creating the B&Q garden in conjunction with Prince Harry's charity Sentebale, is among several designers experiencing problems in getting plants ready. And the Woodland Trust reported that spring sightings of ladybirds have fallen tenfold since last year, from 1,169 to 119, while numbers of cuckoos and hedgehogs are also substantially lower.
The Easter weekend, traditionally the busiest time of year for garden centres, has been one of the worst for trade in recent years. A number of large garden centres have reported sales down by as much as 50 per cent. Steve Ashworth, managing director of the Wyevale Nurseries chain, said sales to garden centres were down by 50 per cent in comparison with March last year, while its overall sales were down by 30 per cent. He said: "Our team had virtually nothing to do over the Easter period; we stood many people down."
Robby Ward, owner of the Alleyn Park Garden Centre in south London, said its sales were down 46 per cent on this time last year. "It has been a horrendous March," he said. "We have cut down on most products and are being very careful in what plants we are buying in. People who would normally spend money in March [with us] have spent it on something else. We will never recoup that."
Additional reporting by Natalie Glanvill
Join our new commenting forum
Join thought-provoking conversations, follow other Independent readers and see their replies