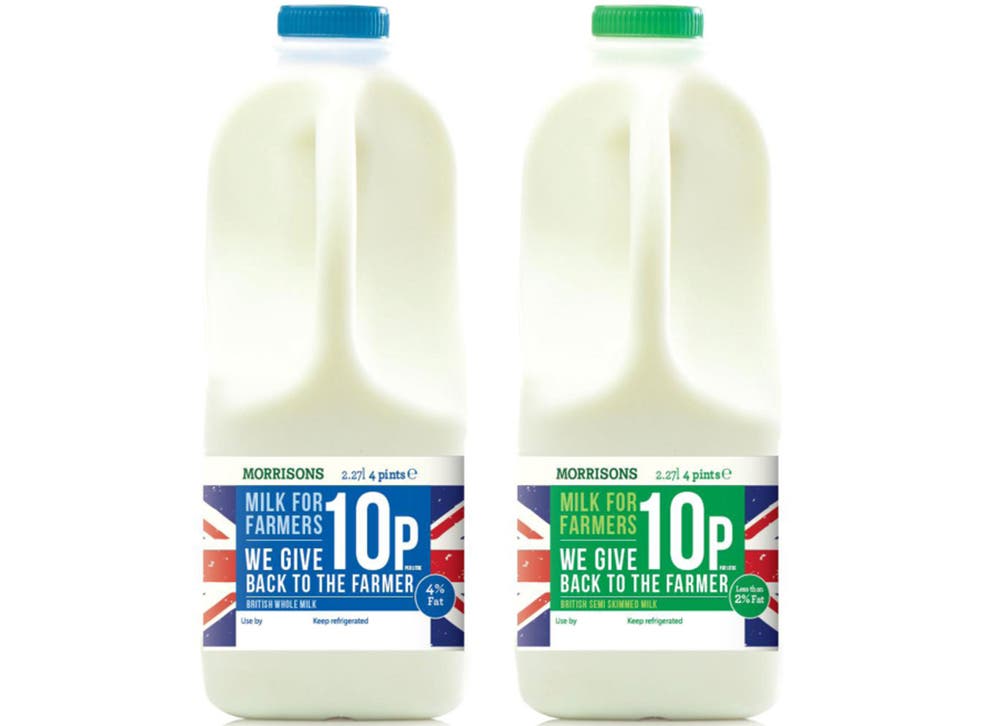 Morrisons to sell new 'Milk for Farmers' brand to support British dairy producers
The supermarket has promised that 10p-per-litre of the price will go directly to dairy farmers
Morrisons has responded to the current milk "crisis" by promising to launch a new brand that will see 10p-per-litre of milk go directly to dairy farmers.
The new brand, "Morrisons Milk for Farmers," will go on sale this autumn and is aimed at customers who wish to directly support dairy farmers. The four pint bottles will be sold at a retail premium of 10p-per-litre, and will sit alongside the supermarket's standard-priced own brand milk.
Morrisons bosses on Tuesday met with farming industry leaders over the milk "crisis" that has sparked weeks of protests from dairy farmers up and down the country.
The supermarket chain is just one of many targeted by farmers in their bid to raise awareness of the effects of plummeting milk prices on the industry. Protesters have been clearing supermarket shelves of milk and dumping it at checkouts or buying it and giving it away, and have even taken cattle into stores after Arla, the UK's biggest milk co-operative, announced a further price cut to dairy farmers of 0.8p per litre of milk.
Farmers are now being paid 23.01p per litre, despite their claims that it costs between 30p and 32p to produce each litre.
The overall price paid for milk has dropped by 25 per cent in the past year, causing farmers to face rising debts or go out of business – farmers in Scotland have claimed 19 farms have closed this year alone, and many are on the brink of bankruptcy.
Morrisons' corporate services director Martin Jones said on Tuesday: "We recognise that the current market for liquid milk is impacting on hardworking dairy farmers and their families. We want to reassure the industry that the retail price we charge for Morrisons milk reflects the highly competitive retail market. It is not linked to the price we pay to our milk suppliers.
"We want to offer practical help by launching a range of 4-pint milk at a retail premium of 10-per-litre, all of which will be passed back directly to dairy farmers. We will stock this product in all of our stores, offering our customers the choice to support dairy farmers directly."
The National Farmers Union (NFU) president Meurig Raymond said the move was a "welcome first step," but added that Morrisons must make sure there is plenty of resource available to promote the product and that it is displayed prominently in store.
"We have also had discussions with Morrisons about how it can introduce further initiatives to support dairy, including cheese, butter and yoghurt. We will continue to urge Morrisons and all retailers to ensure that farmers from all sectors who supply their food get a fair price," he added.
The four main farming unions, the NFU, the NFU Cymru, NFU Scotland and the Ulster Farmers Union, held an emergency summit in London yesterday to develop an action plan to tackle falling milk, lamb and arable prices.
Speaking outside the summit, Mr Raymond said: "Obviously the industry is in crisis. There's despair within our members.
"There has been a race to the bottom to devalue product. When four pints of highly nutritious milk is selling for less than a bottle of water then there is something wrong in the culture of society."
Ahead of today's meeting, a Morrisons spokesman said: "We recognise that the current issue is being caused by a reduction in global demand for milk that has led to an over-supply in the UK and very difficult conditions for many dairy farmers.
"We want to reiterate that we are not seeking any further reductions in milk prices and we will continue our talks with the NFU, in a constructive manner, to finalise our agreed plan of action."
Mr Raymond said the "huge crisis" had already driven 256 herds out of the industry in 2015 alone.
"We'll end up importing more milk and milk product, and that cannot be good for UK Ltd," he said.
"Our consumers want to see more British food on their supermarket shelves."
Additional reporting by PA
Join our new commenting forum
Join thought-provoking conversations, follow other Independent readers and see their replies