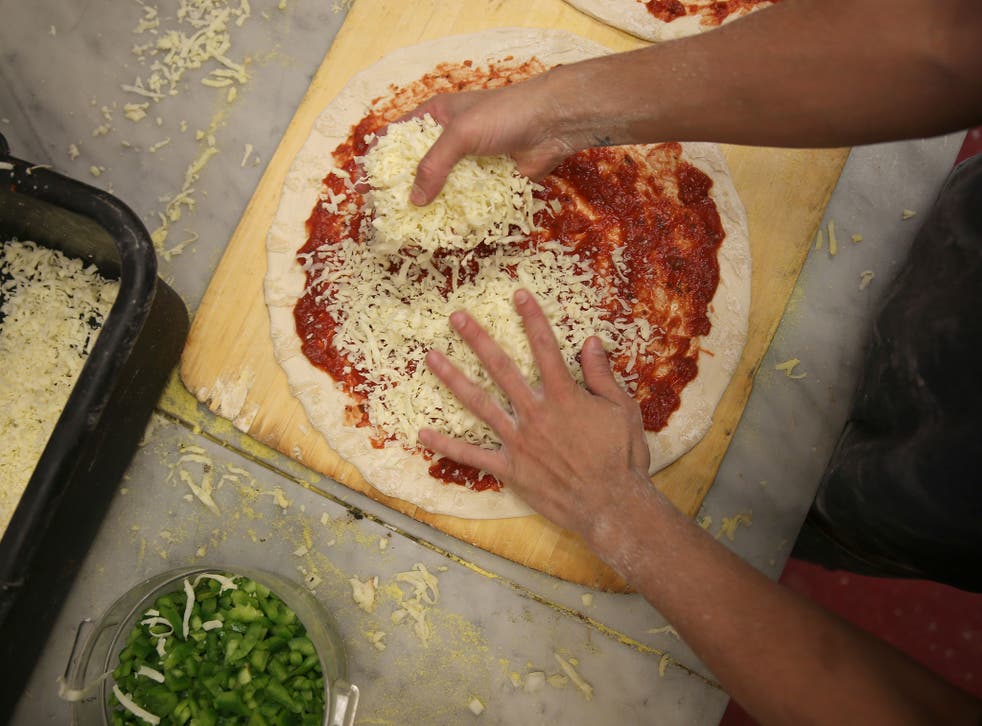 Ukraine crisis: Russian chefs adopt creative methods in the face of ban on Western produce
Chefs have reportedly resorted to buying delicacies from smugglers
Chefs in Russia have become creative in the face of a country-wide ban on Western food - not least by sourcing fine Parmigiano-Reggiano cheese from Belarus or by overhauling their menus entirely.
Since the import of dairy, meat, vegetables and fruit from most Western countries was banned in response to sanctions over the crisis in Ukraine, running restaurants - from pizzerias, sushi bars and French-style brasseries - has become increasingly difficult.
Chefs have resorted to searching for new suppliers, buying delicacies from smugglers, or transforming their repertoire entirely.
But cooks at high-end restaurants in Moscow, most of which source 85-90 per cent of their produce from abroad, were convinced there is always a way to find the ingredients they need.
Two chefs at Moscow restaurants told reporters that they saw genuine Parmigiano-Reggiano - produced only in a few northern Italian provinces – in original Italian packaging, stuck with crude stickers saying "made in Belarus" in an attempt to dodge the ban.
Speaking on a condition of anonymity, they explained that that as Minsk, the Belarussian capital, has imposed no ban on imports from the EU and has a customs union agreement with Moscow, products can be brought into Belarus legally and shipped to Russia with no border checks.
As well Italian cheese, the country has become a source for fruit and vegetables - all bearing fake Belarus labels.
Igor Bukharov, president of the federation of restaurateurs and hoteliers, said he was surprised to see a sign outside a restaurant which said simply "Parmesan" and gave a phone number.
"The question for a chef is to take what he can, and as quickly as possible redo everything," said Bukharov, who is a co-owner of Nostalgie, an upscale restaurant serving gourmet versions of traditional Russian dishes.
Russian chefs used to similar privations in the past are likely to prove more resourceful than the foreigners cooking in many Moscow kitchens, Bukharov added.
"When you have never worked in a situation when there are bans on some products, when you've always been able to pick whatever you want, of course it is 'interesting'."
An official at Russia's customs agency said it had no official figures on imports from Belarus and declined to comment on whether officials were seeing oddly packaged Parmesan cheese.
Officials in Minsk said that despite the customs union removing checks at the Russia-Belarus border, Moscow would still pick up on large imports of "Belarussian parmesan" by inspecting it at the final destination.
"At the level of gastronomic tourism, when cheese is brought in a suitcase, then maybe it can get through," said a Belarus government source. "But for large-scale, organised efforts, that will not be tolerated."
Leonid Pleshko, director of Belarus's state inspectorate for seeds, quarantine and plant protection, said food imports from the EU would be barred entry into Belarus if their documents showed they were intended for onward shipment to Russia.
Additional reporting by Reuters
Join our new commenting forum
Join thought-provoking conversations, follow other Independent readers and see their replies