When is a wine made in Piedmont not a Piemonte wine? When EU rules make Italian vineyards invisible
Producers fear rigid application of rules would hit their ability to market their wine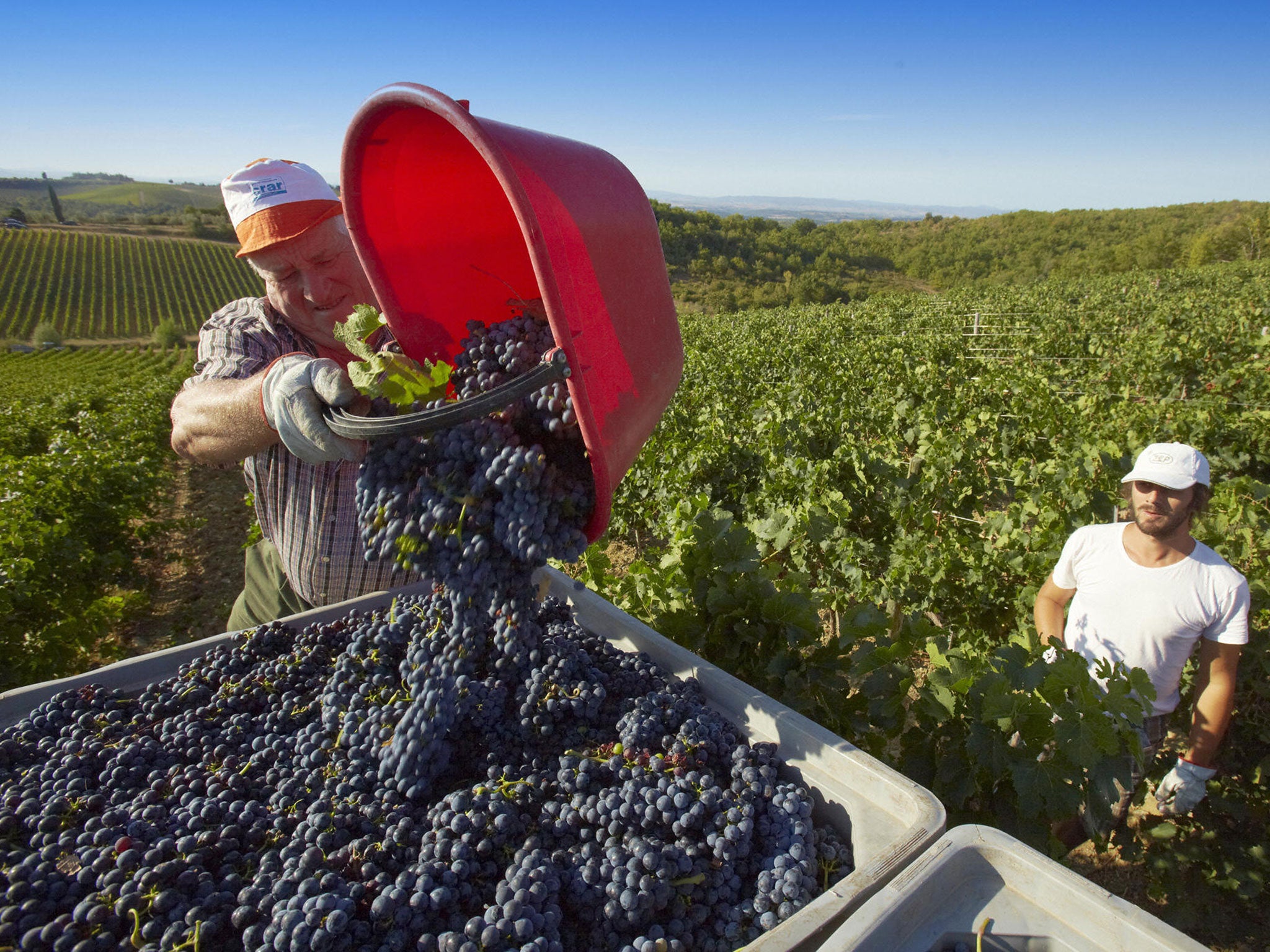 Italian winemakers from Piedmont to Sicily are up in arms because EU rules suggest that famous marques are no longer able to list their full addresses on websites and brochures. Hundreds of independent producers are set to protest over the issue.
Earlier this year, a small producer of the celebrated Barolo wine in northern Italy was fined €4,000 (£3,165) because he had mentioned in marketing material that his cellar was in the Langhe area of Piedmont, as well as being in the village that has given the red wine its name.
Government inspectors said information on his promotion kit contravened European Commission regulations, stating that wine labels or publicity material must not mention the names of towns or regions that give their name to Protected Designation of Origin (PDO) wines. Thus the producer of the Barolo PDO (or Barolo DOC, as it is known in Italy) was remiss in using the words Piemonte and Langhe because Piemonte DOC and Langhe DOC wines already exist.
"This is utterly ridiculous," said Michele Fino, a law professor and an expert on wine labelling at the University of Gastronomic Sciences in Bra, south of Turin.
"To start with, the producer of Barolo, one of the most prestigious Italian red wines, would not want to pretend his product was an ordinary Piemonte or Langhe wine," he said. "But it's not only that. It means that a cellar that has been in the same family, making wine for 500 years, may no longer be able to mention where the product is from."
Carlo Petrini, the founder of the Slow Food movement, wrote ironically in the newspaper La Repubblica: "To play it safe, on the internet, you'll have to limit yourself to saying the wine is a Barolo from somewhere between Switzerland and the Ligurian sea."
Matilde Poggi, an independent producer in Cavaion, near Verona, said such rigid application of EU rules would hit her ability to market her wine.
"It makes sense not to allow more than one DOC place name on the label. We're agreed with that. But not being able to mention where the wine is from in the marketing material or online is ridiculous. I won't be able to say that my wine is from the Veneto region, because Veneto DOC already exists. But Veneto is a famous wine-producing area; if I can't say where my wine is from in brochures and on websites, how am I going to sell it abroad?"
Ms Poggi says she will be joining the other 800 or so members of the Italian Federation of Independent Winemakers in a nationwide protest planned for 1 January, in which participants will flout the regulations. She notes that other countries, including France, have not enforced the rules.
"It will be an act of civil disobedience," said Mr Fino, whose wife owns a small cantina. "The producer who was fined is nervous and he's keeping his head down. But all 800 members of the Federation are going to put on their websites exactly where their wines are made, with complete addresses. They will have to come and fine all of us."
Laura Sbalchiero, the federation's spokesperson, said that contesting the Italian government's interpretation of EC rules was particularly important for the small producers. "It could affect wine growers everywhere in Italy including lots of marques you have heard of, such as Prosecco and Brunello, and many you haven't heard of," she said.
"After the year that we've had, with the awful weather, this sort of bureaucracy is the last thing we need."
In key wine-producing regions, severe storms, flooding and low temperatures saw producers struggle to harvest enough grapes. The newspaper La Stampa earlier this month declared 2014 "the black year" for Italian wine. Adding insult to injury, it was overtaken by France as the world's biggest producer.
Join our commenting forum
Join thought-provoking conversations, follow other Independent readers and see their replies