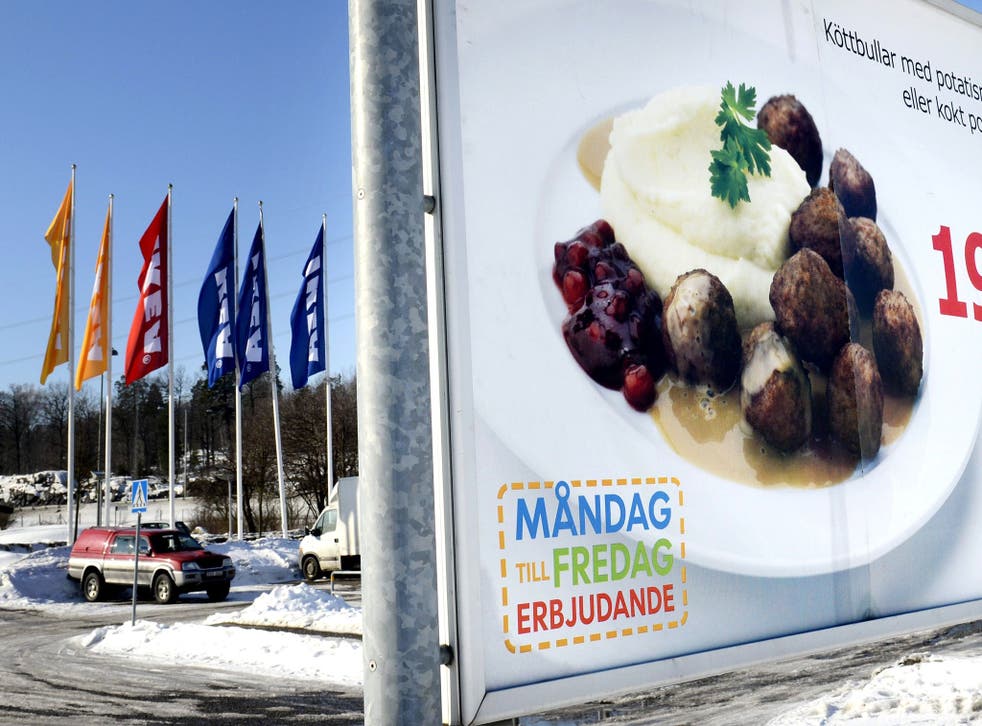 Withdrawn meatballs back on sale
Ikea is to return its signature dish – horse DNA and all – to its in-store restaurants, and other retailers may follow suit
Beef products found to have been contaminated with horsemeat are to be relabelled and put back on sale in British stores, The Independent on Sunday can reveal.
The Swedish retailer Ikea has become the first to confirm plans to return withdrawn items to the human food chain, three months after watchdogs discovered horse DNA in a series of "beef" products sold in shops and restaurants throughout Europe.
Batches of Ikea's signature meatballs could now return to its shelves and in-store restaurants within days, relabelled to warn of the true contents and probably at a reduced price.
Details of the proposals emerged after the Government gave the green light to supermarkets and suppliers to put their frozen contaminated products back on sale, rather than throwing them away.
Lord De Mauley, a minister in the Department for Environment, Food and Rural Affairs, said "it would be preferable to avoid wasting the products". He added: "The decision to relabel, redistribute or dispose of a mislabelled product lies with the business concerned."
But Labour's environment spokesperson Mary Creagh said it was "totally unacceptable" for stores to sell contaminated meat – and for ministers to encourage the return of withdrawn items to the shelves. "The only reason Ikea and any other store were selling horsemeat is because their supplies had been criminally adulterated," she said. "It is impossible without testing every item withdrawn from every retailer, to know not only how much horsemeat they contain, but whether they contain damaging ingredients, including the horse painkiller bute and heavy metals.
"It is also wrong that people who are on lower incomes will effectively be targeted as customers for products that would be rejected by those with more money."
The Food Standards Agency carried out more than 5,000 tests on meat products after an investigation in Ireland found horse DNA in beefburgers sold at five supermarkets, including Tesco, Iceland and Aldi.
More than 40 products, on sale in at least eight supermarkets, were removed after they were found to be up to 100 per cent horse. At least 15 more were withdrawn as a precaution after tests showed they contained undeclared meat from other animals, including pigs and lambs.
Amid the Europe-wide scandal over "meat fraud", suppliers and retailers were left with the problem of what to do with tonnes of meat that posed no health risk but appeared to be unsaleable. A number of supermarkets have already said their products will not re-enter the food chain, and could be used to generate energy at "anaerobic digestion plants".
In Finland, 900kg of food containing horsemeat was given to charities, although a conservative politician provoked outrage when he suggested a similar move in Germany.
Dan Crossley, chief executive of the UK charity the Food Ethics Council, said destroying the meat would be "unethical". He said: "If it is fit for human consumption it would seem wrong to throw it away. If the decision was made that it could not be sold through normal channels, they could look at other options like giving it free to people if they wanted it."
Dawn Frary, of the Manchester homeless charity The Mustard Tree, said: "It's abominable waste that people are throwing away food while there are plenty of people in this city who are actually starving. There's nothing wrong with the meat and it is perfectly edible. If people believe it is not fit for consumption then we will happily take it off their hands."
An Ikea spokesman said last night that the company was working on "a sustainable solution" for its meatballs, which are stored frozen in its warehouses. He added: "There is no health risk associated with eating the meatballs, so we would like to sell them relabelled and at reduced price and donate the money to charity."
Additional reporting by Natalie Glanvill
Join our new commenting forum
Join thought-provoking conversations, follow other Independent readers and see their replies