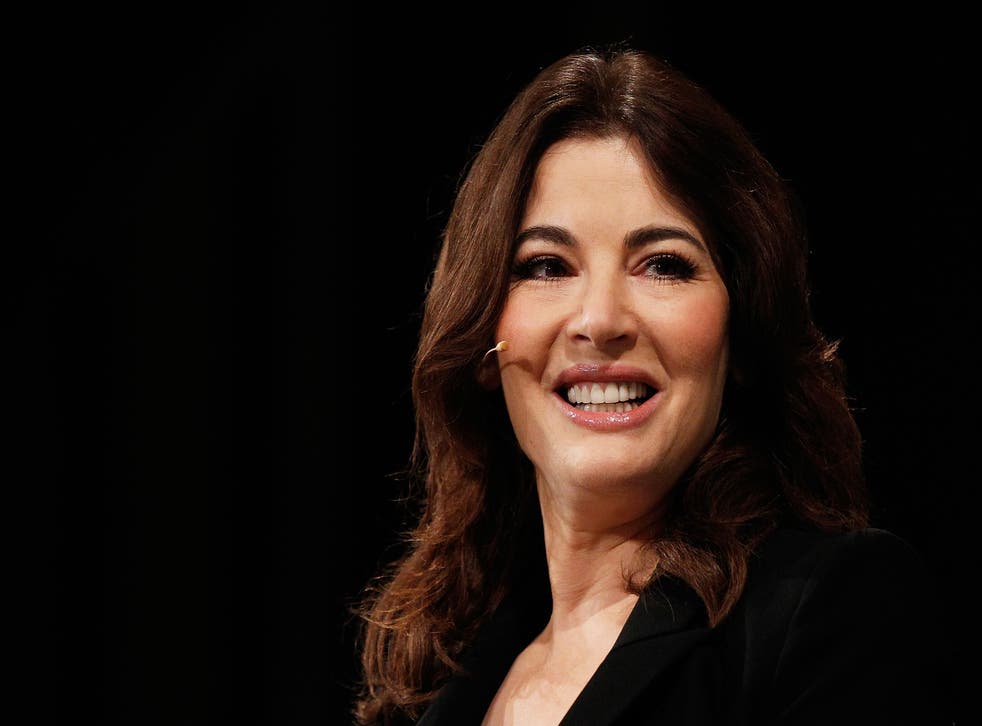 Nigella Lawson chooses 'bitter orange tart' as recipe of the day as Trump leaves The White House
Cook's tweet has gone viral as social media users delight in her tongue-in-cheek choice
Nigella Lawson has tickled the internet by choosing a "bitter orange tart" as her recipe of the day, coinciding with the departure of Donald Trump from the White House.
On Wednesday, the popular TV cook and author shared her daily recipe on Twitter.
"Well, yes, Bitter Orange Tart just happens to be #RecipeOfTheDay," Lawson wrote in an apparent jibe to the outgoing US president.
"Apart from anything else, there are more things to make with Seville oranges than marmalade! This is not complicated: the base is bashed ginger nuts."
The 61-year-old Cook, Eat, Repeat author added that if you don't have Seville oranges, you can just use regular oranges and limes.
However, Twitter users were far too enthralled by the name of Lawson's recipe of the day, and her playful timing, to fixate on the recipe itself.
"Absolutely LOVE @Nigella_Lawsonfor making this her recipe of the day today," tweeted one person.
Another person described the choice as "Top level trolling".
Meanwhile, the journalist and author Caitlin Moran commented: "If anyone says ''given the last few years, are there any things that still make you proud to be British?' I have to reply, 'It's a dwindling list, but Nigella Lawson calmly choosing Bitter Orange Tart on the day Trump leaves office would be one of them'."
Historian and author Greg Jenner described Lawson's tart as the "perfect choice for this historic day".
One person described the choice as the perfect "chef's kiss moment", tweeting: "Nigella's recipe of the day as we farewell Trump is.... a legit chefs kiss moment. God bless Nigella and all who sail in her."
Many Twitter users described Lawson as a "legend" and a "glorious queen", while many others vowed to bake the sweet citrus dessert to honour the cook's good humour.
The Independent has contacted a representative for Lawson for comment.
Register for free to continue reading
Registration is a free and easy way to support our truly independent journalism
By registering, you will also enjoy limited access to Premium articles, exclusive newsletters, commenting, and virtual events with our leading journalists
Already have an account? sign in
Register for free to continue reading
Registration is a free and easy way to support our truly independent journalism
By registering, you will also enjoy limited access to Premium articles, exclusive newsletters, commenting, and virtual events with our leading journalists
Already have an account? sign in
Join our new commenting forum
Join thought-provoking conversations, follow other Independent readers and see their replies