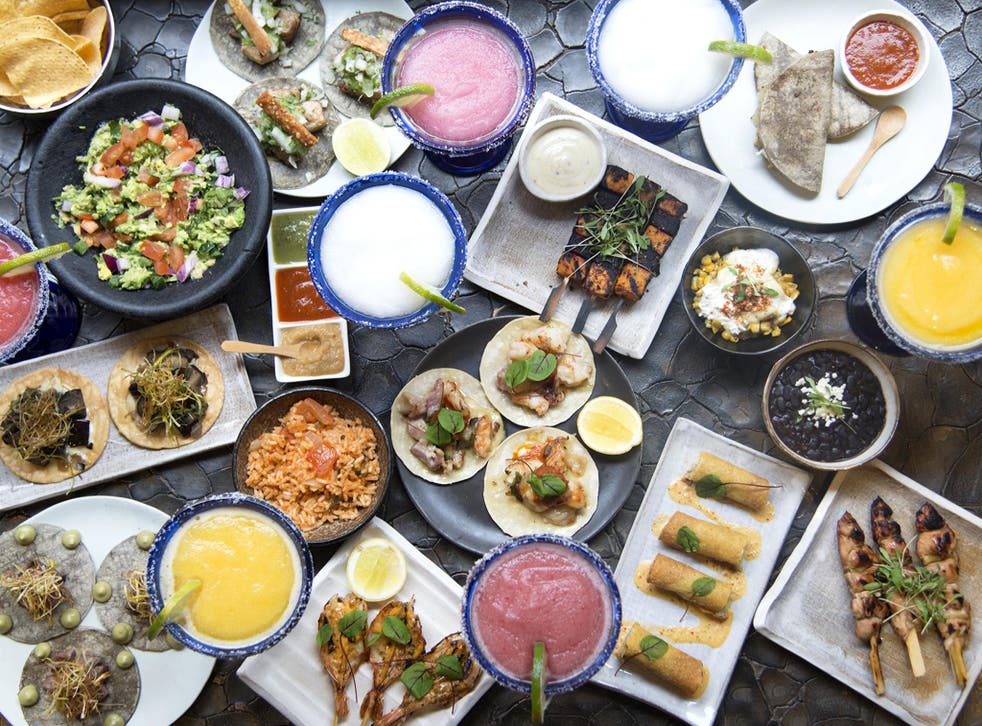 Brunch on Saturday: Tacos for breakfast and savoury waffles
This week on brunch on Saturday, we spice things up with a tapas-style brunch and try out a hearty waffle recipe at home 
Brunching out...
From the outside, Cantina Laredo blends into its back-street Covent Garden location. It's housed in a nondescript concrete building with brown window trimmings, and a chalkboard stands outside with a few plastic chairs. You would be forgiven for believing that this was just another tourist-trap English café churning out ham and eggs. On stepping inside, however, you are greeted with the kind of warm, flamboyant hospitality usually found in the colonias of Mexico city.
Everything about Cantina Laredo is old-meets-new. The family-run venue is known around the London market area for its impressive array of tequila – but its menu tries to veer away from stereotypes. Gone are burritos and street food, replaced by modern European flavours found in cosmopolitan Mexico.
The theatrics remain, however. The restaurant's take on the British boozy brunch begins with servers preparing a traditional guacamole en molcajete at the table. The menu is set-up tapas-style, with starters including meaty staples like Brochetas and Quesidillas matched with European fusion dishes such as Calamari with salsa and thyme.
Their tacos again differ greatly from what you will find in most Mexican hasheries. With ingredients neatly laid on small round tortilla disks – with mouthwatering fillings such as pork belly with salsa verde and duck confit with plum and nutella mole.
The four-course brunch menu starts at £30pp and is the full works, including a starter, a main, a side dish and a dessert. Dessert options are particularly tantalising, with a skillet brownie (again cooked in front of you at the table) and churros – if you've got room.
Free-flowing drinks come at an extra £20pp, and include frozen margaritas, prosecco and virgin mojitos.
Cantina Laredo, Seven Dials London, 10 Upper St Martin's Lane, London WC2H 9FB www.cantinalaredo.co.uk
Brunching in...
Egg, bacon and guacamole waffle
This is a go-to breakfast fit for a king. Fills you up and makes you smile.
Prep time: 15 minutes
Cooking time: 20-30 minutes
8 slices bacon
375g mashed potato 
250ml buttermilk 
6 medium eggs 
60g butter, melted 
250g plain flour 
1 tsp bicarbonate of soda
½  tsp baking powder (baking soda)
115g  grated Parmesan 
oil, for frying 
1 avocado, lightly mashed 
sea salt and freshly ground black pepper 
Cook the bacon either in a frying pan (skillet) or under the grill (broiler) until crispy, then set aside. Heat up the waffle iron.
In a large bowl, whisk together the mashed potato, buttermilk, 2 eggs and the butter until smooth. Add the flour, bicarbonate of soda and baking powder and stir until just combined. Fold in the cheese.
Spoon half the mixture into the waffle iron – don't overfill – and spread the batter using the back of the spoon. Cook for 5-8 minutes, flipping the iron over halfway through if you're using a stove top iron, or until the waffles are golden and crisp.
Transfer the cooked waffles onto a warmed plate and cover with kitchen foil to keep warm. Pour the remaining batter into the iron to cook the rest. Add these to the plate and cover to keep warm.
Heat some oil in a large frying pan over a medium-high heat and fry the remaining eggs to your liking. Lay the waffles on a board and divide the bacon, avocado and eggs between half of them. Season and top with the other waffles and dive in!
Melts – Over 50 Delicious Toasted and Grilled Sandwich Recipes by Fern Green (Hardie Grant, £12.99) Photography ©Jacqui Melville
Join our new commenting forum
Join thought-provoking conversations, follow other Independent readers and see their replies