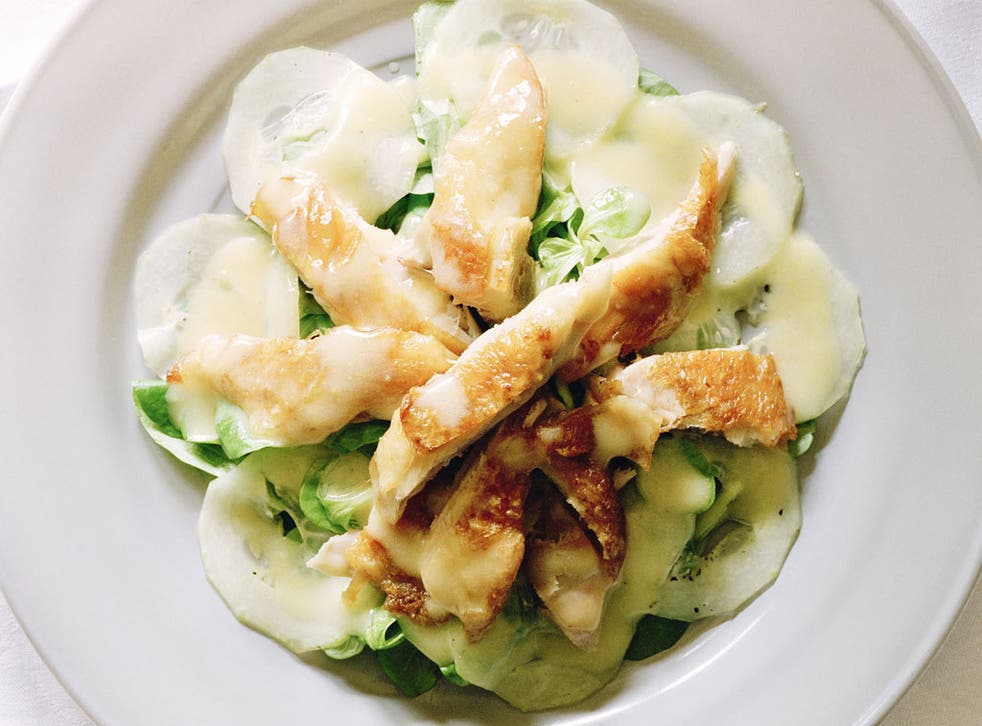 Hot chicken salad with sweet mustard dressing
2 cooked chicken legs
A little sunflower oil
2 big handfuls of salad greens: mâche (lamb's lettuce), watercress, rocket (if you must), small spinach leaves or a mixture of all four
A tiny squeeze of lemon juice
A little olive oil
A little finely chopped shallot (or chives or spring onion)
Some peeled and sliced cucumber
For the dressing
1-2 teaspoons smooth Dijon mustard
1 rounded teaspoon caster sugar or, if you happen to have some, 2 teaspoons syrup from a jar of preserved ginger
Salt and freshly ground white pepper
A squeeze of lemon juice, to taste
A few drops of Tabasco sauce
4-5 tablespoons sunflower oil
2-3 tablespoons hot – but not boiling – water
Using a small food processor, ideally, blend together the first 5 dressing ingredients until smooth. With the motor running, gradually add the oil and water, alternately, until an homogenous dressing is realised. Pour into a small bowl and set aside.
Season the chicken legs and very quietly fry them, skin side down in the sunflower oil, in a frying pan until the skin is really crisp; anything up to a slow 10-15 minutes, and do not rush them. Turn over and do the other side, but not for as long a time – it is the skin that you need to be crisp, for a sensational hot salad. Cut the chicken meat away from the bones and roughly slice. Keep hot.
To serve, put the salad greens into a bowl, season them, then briefly dress with lemon juice and oil. Pile on to 2 plates, sprinkle with the shallot and surround with cucumber slices. Pile the chicken on top of the greens and, without drowning the salad, spoon over some of the dressing. Eat forthwith, while the chicken remains crisp and hot.
Taken from 'The Good Cook' by Simon Hopkinson (BBC Books, £25).
Join our new commenting forum
Join thought-provoking conversations, follow other Independent readers and see their replies