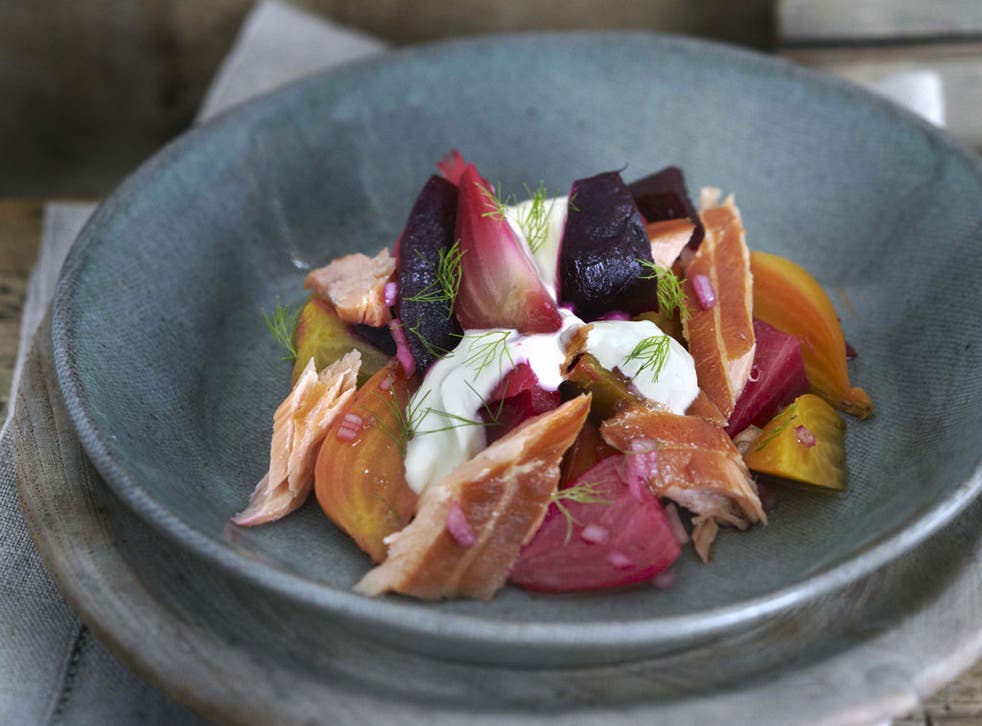 Hot-smoked salmon, beetroot salad and horseradish crème fraîche
120g organic, line-caught hot-smoked salmon
For the beetroot salad
480g mixed small beetroot (about 4), washed and trimmed
Half a shallot, peeled and finely chopped
2 teaspoons aged balsamic vinegar (at least eight years old)
2 tablespoons extra virgin olive oil1
1 tablespoon water
2 pinches of sea salt
2 pinches of freshly ground black pepper
For the dressing
100g crème fraîche
1 teaspoon finely grated fresh horseradish
2 pinches of sea salt
Pinch of cayenne pepper
Squeeze of lemon juice
For the garnish
A few dill sprigs
This is a simple dish that combines some interesting autumnal flavours and textures. Organic, line-caught salmon is expensive but it is definitely worth it. Today we have access to a large, exciting range of beetroot varieties, ranging from ruby red to yellow and white. My best beetroot experience was a huge root – about half a kilo. Was it French, Italian or English? I don't remember, but it was just divine. The beetroot can be cooked ahead and the salad prepared up to a few hours in advance.
Put the beetroot (try Candy, Bull's Blood and Golden) into a large saucepan, add enough cold water to cover and bring to the boil. Reduce the heat and simmer for about 1 hour until tender. Drain and leave to cool slightly, then peel. Cut the beetroot into even-sized wedges and toss in a bowl with the remaining salad ingredients. Taste and adjust the seasoning if necessary.
To make the dressing, in a bowl, mix all the ingredients together until evenly combined. Taste and adjust the seasoning if necessary.
To serve, divide the beetroot salad among individual bowls. Break the salmon into generous flakes and scatter on top. Spoon the horseradish crème fraîche over and garnish with dill.
Taken from 'Kitchen Secrets' by Raymond Blanc (Bloomsbury, £16.99).
Join our new commenting forum
Join thought-provoking conversations, follow other Independent readers and see their replies