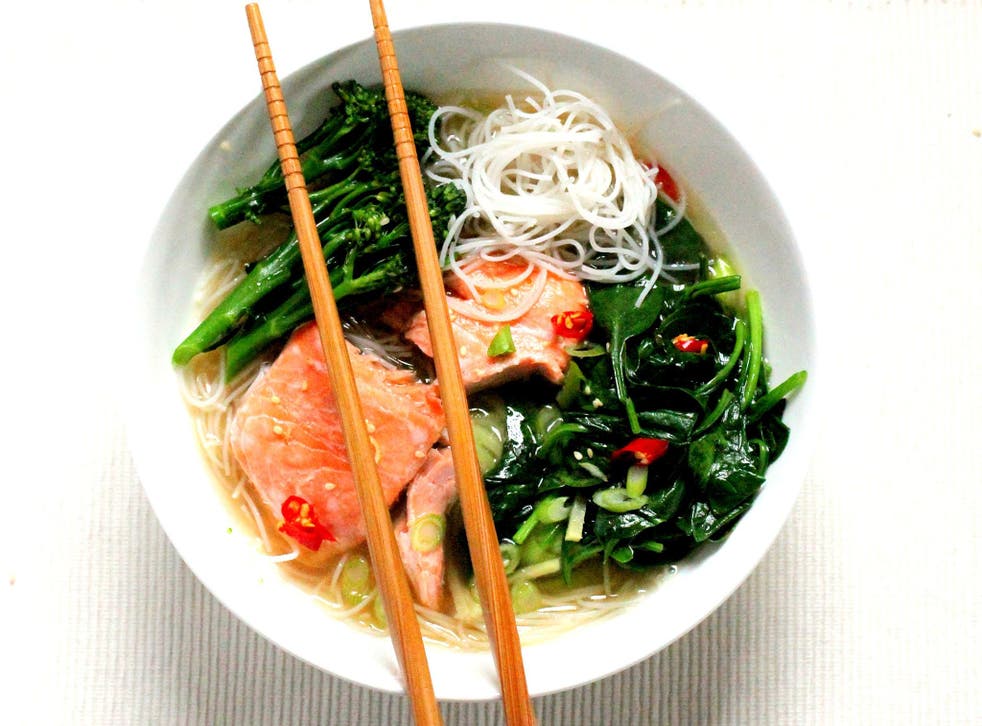 How to make spinach, salmon and miso broth
Spinach, salmon and miso broth
This Japanese-inspired broth celebrates sweet Japanese spinach (komatsuna) leaves, while the miso and ginger give it a healthy zing. We swear by it as a pick me up!
Serves 2
1 salmon fillet, skinned and cut into 2-inch pieces
½ tray of freshly cut Living Salads Komatsuna (Japanese spinach) – available in major retailers
knob of butter
1 pack cooked white rice noodles 
1 clove garlic, finely chopped
small piece of fresh ginger, grated or finely chopped 
1tsp white miso paste 
½ pint water 
​1tsp bouillon stock powder
Prepare the garlic and ginger and set aside.
Cut the spinach leaves and saute gently with the butter and garlic until just cooked. Set aside.
In a separate pan, bring the water to a slow simmer and add the salmon.
Add the ginger, miso and stock powder and stir gently, cover for 3-5 minutes while the salmon cooks through.
Lastly add the komatsuna spinach and rice noodles to heat through.
Serve with some freshly chopped coriander and freshly cut baby spinach leaves.
For more miso broth recipes, visit livingsalads.co.uk
Join our new commenting forum
Join thought-provoking conversations, follow other Independent readers and see their replies