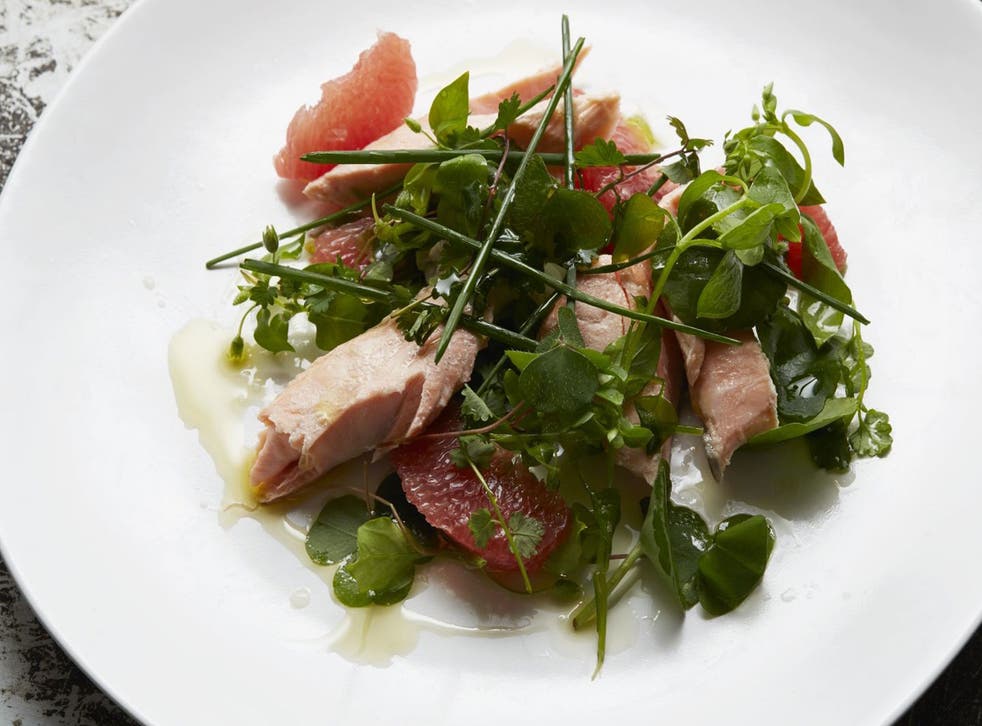 Mark Hix recipe: Salmon salad with pink grapefruit
This is a nice refreshing salad to serve as a dinner-party starter or a light main course.
However, you don't have to use salmon – prawns or even crab would also be a good match.
450-550g good-quality salmon fillet skinned and boned
1tbsp chopped parsley
1tbsp chopped chervil
1tbsp chopped chives
Salt and freshly ground black pepper
120g small salad leaves
For the dressing
2tbsp juice from the grapefruit
1tsp Dijon mustard
4tbsp rapeseed oil
Peel the pink grapefruit and, over a bowl, segment them by cutting between the membranes with a small serrated knife, then squeeze the juice from the remains of the grapefruit into the bowl. Sieve out the pith and the pips from the juice. Whisk the rapeseed oil and mustard into the grapefruit juice and season.
Next, mix the herbs together and put them on to a plate. Season the salmon fillets with salt and pepper and coat them in the herbs.
Heat the oil, preferably in a non-stick frying pan, and cook the salmon for about 3 minutes on each side, keeping it slightly pink in the middle. Remove from the pan and put to one side.
Arrange the salad leaves on plates with the grapefruit and spoon over the dressing. Finally, break the salmon fillets into 5 or 6 pieces and arrange on the salad.
Join our new commenting forum
Join thought-provoking conversations, follow other Independent readers and see their replies