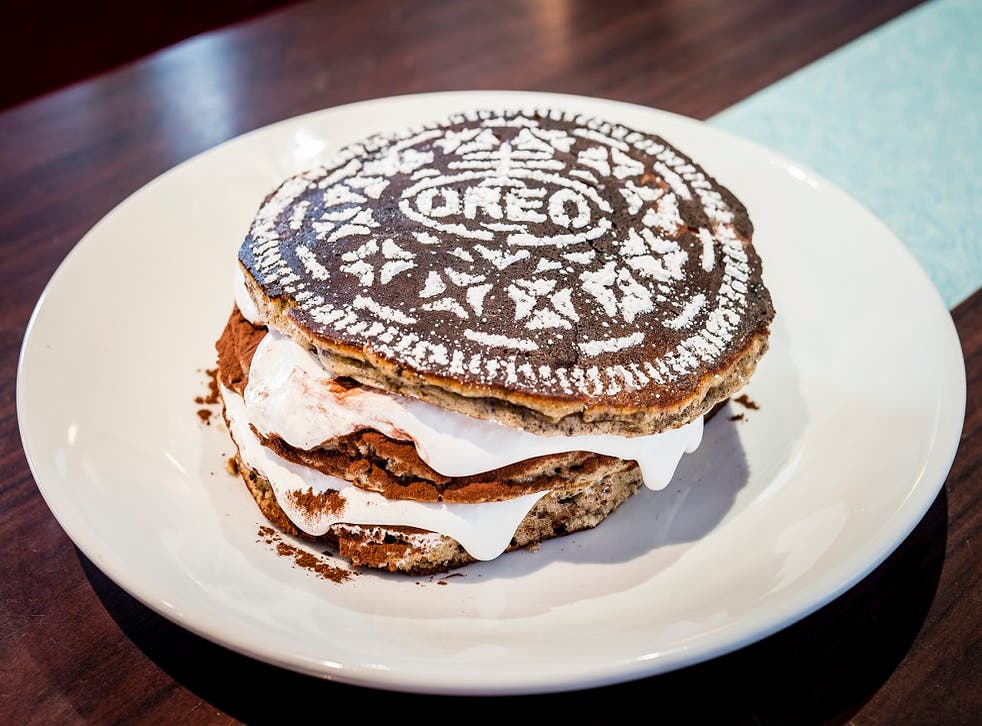 American pancake recipe: How to make Oreo pancakes with marshmallow fluff
Break a few Oreos on top if you've managed not to eat them all
If you're looking to deviate from the usual maple syrup, sugar and lemon combo this Pancake Day, consider this monstrous tower of American-style pancakes made with crushed Oreos and vanilla and topped with marshmallow fluff.
This recipe comes courtesy of The Diner in London (which will be serving them today if you're feeling lazy) and is like eating a giant sandwich of caramelised euphoria and sin.
Serves 4
For the pancake batter:
Buttermilk (600g)
Medium eggs (x8)
Unsalted butter (125g)
Vanilla extract (11Ž2 tsp.)
Plain flour (600g)
Corn flour (100g)
Baking powder (30g)
Granulated sugar (125g)
Oreo cookies (150g)
Unsalted butter for frying (100g)
For serving:
Marshmallow fluff (25g)
Maple Syrup/Chocolate sauce (100ml)
Method:
1. Melt the butter and combine with buttermilk, eggs and vanilla extract.
2. Combine the plain flour, corn flour, baking powder and granulated sugar. Blitz the Oreo cookies in a food processor till fine crumbs and add to the dry mix.
3. Whisk the buttermilk, eggs and vanilla extract together with dry ingredients. Continue mixing for 2-3 minutes.
4. Grease a large hot frying pan with butter and add dollops of pancake mix, keeping them separate. Allow to cook for 3 minutes on each side. They should puff up in the pan.
5. Stack cooked pancakes on a plate, add a dollop of marshmallow fluff, break a few Oreos on top (if you have any left over) and drizzle with maple syrup or chocolate sauce depending on your taste.
6. For those who really want to get in the spirit cut yourself out an Oreo stencil and dust with icing sugar for a perfect finish.
In pictures: Pancake recipe ideas

Show all 10
Join our new commenting forum
Join thought-provoking conversations, follow other Independent readers and see their replies