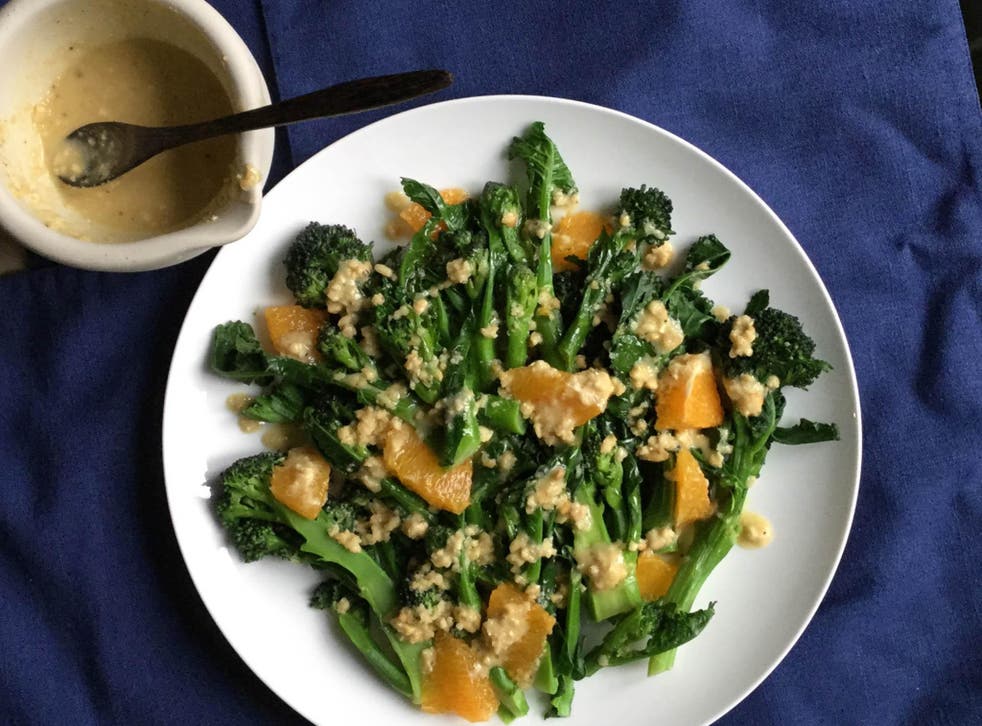 Purple sprouting broccoli with orange and cashews, recipe
The arrival of spring vegetables on the dinner table seems a long way away as the frost starts to bite. But, in purple sprouting broccoli, the perfect remedy for a stale palate can be found
It's been a bit lean on the vegetable front recently. It's the time of year when even the most stalwart soul is tiring of cabbages and root vegetables and craves something new. But let's be honest – the first proper spring vegetables won't grace the shops for a long time.
Isn't it thoughtful then, of purple sprouting broccoli to come to the rescue? It's got colour and crunch and it doesn't hurt that it's packed with lots of good things for you. For instance, who knew that it was so high in Vitamin C? Pair it with oranges and you've got a sailor's dream dish.
It can have a woody stem so trim the end and slice thicker pieces in half lengthwise. You could always give the outer stalk a trim with a vegetable peeler too if you like. It's lovely steamed, stir-fried or blanched and loves being roasted in a very hot oven.
As for partners, you're spoiled for choice. Try it with an anchovy spiked, lemony vinaigrette. Or toss it with toasted bread crumbs and a bit of parmesan, feta or goat's cheese. It's absolutely gorgeous served with sausage in pasta. And I would never say no to an invitation to dip spears into a garlicky aioli.
Purple sprouting broccoli may not be a harbinger of spring, for that we'll await the arrival of rhubarb and asparagus. Think of it more like receiving a welcome postcard from an old friend – something that brings a smile to your face and reminds you that winter won't last forever.
Purple sprouting broccoli with orange and cashews
This couldn't be simpler to make and would be lovely served with a piece of steamed or grilled fish for a quick mid-week dinner.
Serves 2-3 as a side dish
1 bunch purple sprouting broccoli, about 250-300g
50g cashews, toasted
1 large orange
1 tbsp olive oil
Salt and pepper
Crush the cashews with a mortar and pestle or in the bowl of a small food processor. You're aiming for a crunchy paste. Stir in the olive oil. Cut the orange in half. Juice half of it – you should get about 3 tablespoons of liquid. Add this to the cashew mixture. Taste and adjust the flavour with salt and pepper. You want this to have a nice acidic sharpness to it.
Remove the peel and pitch from the other half and segment the orange sections. Set those aside. If you need more juice for the cashew mixture, squeeze the orange membranes to release a bit of additional liquid.
Bring a pot of water to the boil, salt the water and add the purple sprouting broccoli. Blanch for a minute or two, just until you can insert a knife into the stem. Alternatively, you could steam the broccoli. Regardless, you want to retain the crunch.
Drain the broccoli, place on a serving dish and toss with a dash of olive oil and sprinkle of salt. Drizzle the cashew orange sauce and garnish with the orange segments.
Join our new commenting forum
Join thought-provoking conversations, follow other Independent readers and see their replies