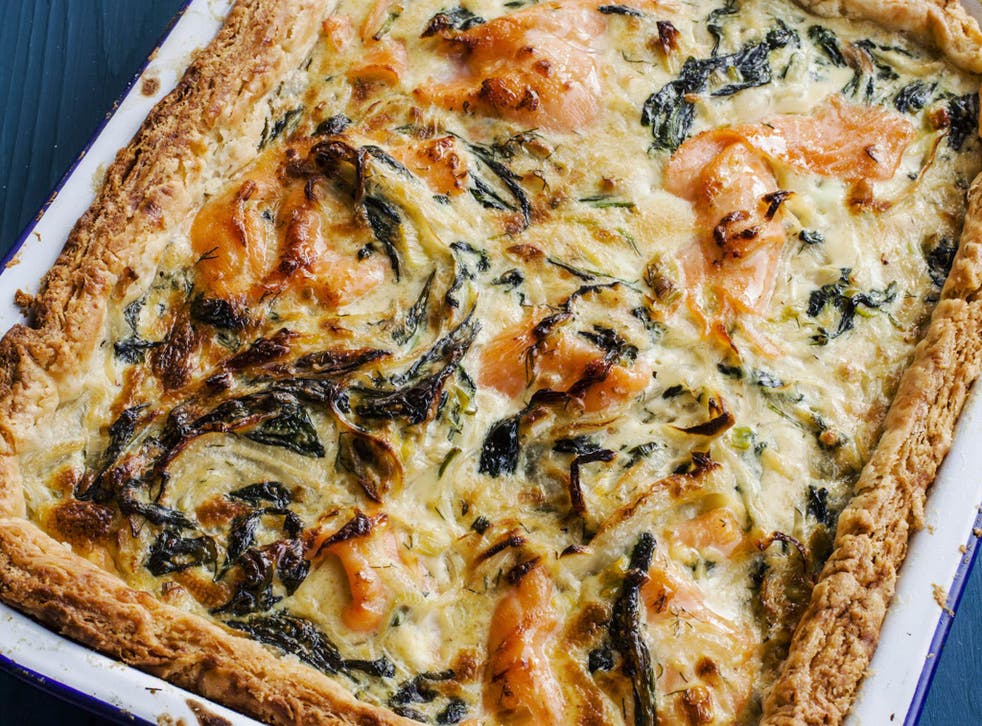 How to make smoked salmon and spinach tart
This has all good stuff – salmon, cream, dill – in light, flaky pastry. It serves 10, so that's a whole dinner party catered for
Smoked salmon and spinach tart
Serves 10
For the honey and mustard dressing
50g Dijon mustard
50g clear honey
5 sprigs of dill, finely chopped
For the tart
3 tbsp olive oil
400g onions, sliced
1 small garlic clove, crushed
1 bunch of spring onions, chopped
200g baby spinach, washed and drained, but not dried
1 large bunch of rocket
1 small bunch of dill, roughly chopped
200ml double cream
½ tsp white pepper
½ tsp fine sea salt
¼ tsp freshly grated nutmeg
½ tsp Dijon mustard
3 eggs, beaten
1 packet readymade flaky pastry 
Flour, for dusting
300g smoked salmon
Make the dressing by whisking together all the ingredients. Set to one side. Heat the olive oil in a pan over a medium heat. Fry the onions until translucent, stirring regularly – about 6–8 minutes – then add the crushed garlic. Cook for 2–3 minutes until the garlic is fragrant, but not coloured.
Add the spring onions and cook for 2 minutes until softened, then add the spinach (still damp from rinsing) and the rocket. Let them wilt and collapse in the pan before adding the dill and the cream. Simmer for 5 minutes until the mixture reduces and thickens slightly, then taste and season with white pepper, salt, nutmeg and mustard. Pour into a clean bowl and leave to cool, then chill.
When the mixture is cold, mix the beaten eggs into the greens and set aside. Meanwhile, lightly dust the worktop and rolling pin with flour and roll out the pastry to a rectangle roughly 30cm x 40cm. Use the pastry to line a baking dish about 25cm x 35cm, and 4 cm deep. To transfer the pastry sheet easily to the dish, roll it around onto your rolling pin, position it at the end of the baking dish and unroll the dough into the dish. Press the pastry into the base up the sides to form a rough tart case, then chill for an hour in the fridge or 30 minutes in the freezer.
Preheat the oven to 180C/gas mark 4 and put a baking sheet in the oven to heat up. Lay and fold the slices of smoked salmon in the chilled pastry case so that they don't sit flat. Imagine slicing the tart, and make sure that everyone will get a fair portion of fish. Pour the prepared filling into the case, so that the folds of smoked salmon are still peaking above the liquid.
Place on the hot baking sheet and bake for 35–40 minutes until the base is golden brown. Leave to cool slightly, slice, and serve warm with the honey and mustard dressing drizzled over and a salad on the side.
Variations: Smoked salmon has a very strong flavour when baked, so if you want something slightly milder, try flakes of hot-smoked salmon. Smoked trout or mackerel are also good alternatives.
Extracted from Gail's Artisan Bakery by Roy Levy with Gail Mejia. (Ebury Press, Hardback £20) Photography Haaraala Hamilton
Join our new commenting forum
Join thought-provoking conversations, follow other Independent readers and see their replies