'Simply' cookbook: Recipes from turmeric chicken kebabs to chorizo borek
In Sabrina Ghayour's fifth book the key is simplicity – making everyday meals with minimal fuss, but still with plenty of signature bold colours and flavours
Friday 04 September 2020 10:44 Comments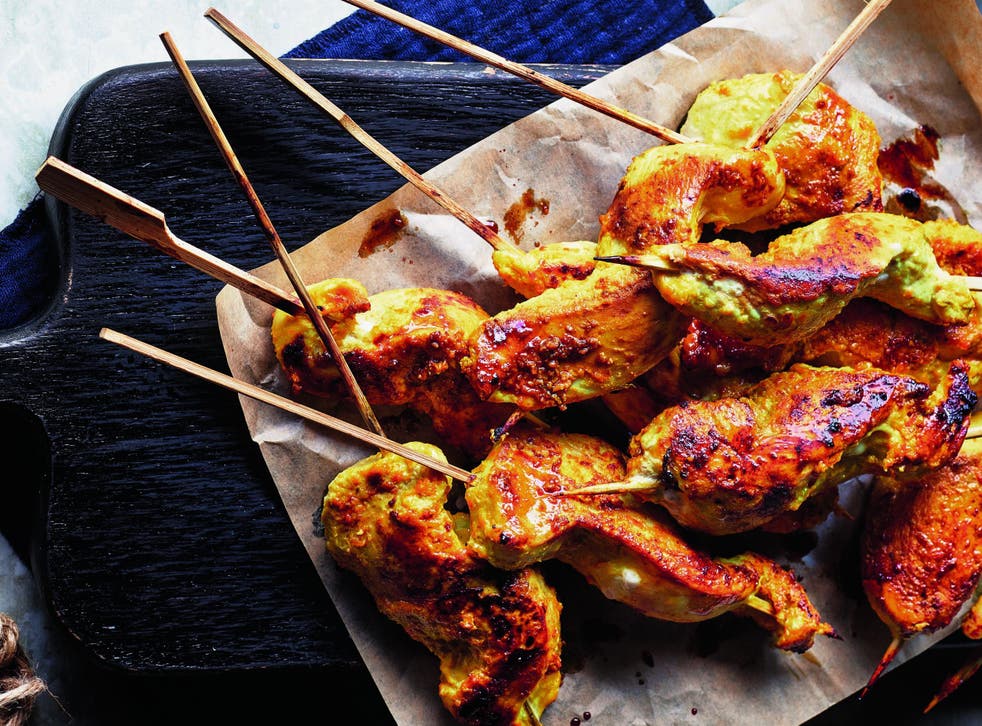 Turmeric chicken kebabs
Turmeric really is the key ingredient in this fragrant chicken marinade, which is paired with the vibrant citrus zing of lime and the sweet, rounded finish of honey. These kebabs can be cooked either on the hob, in the oven or on a barbecue and can be served with wraps, rice, fries or even just on their own.
Serves 4-6
4 boneless, skinless chicken breasts (about 650g total weight)
sweet chilli sauce, to serve
For the marinade
5cm piece of fresh turmeric, scrubbed and finely grated
1 tbsp garlic granules
finely grated zest and juice of 1 unwaxed lime
2 tbsps natural yoghurt
1 generous tbsp clear honey
1 tbsp olive oil
Maldon sea salt flakes and freshly
ground black pepper
Put all the ingredients for the marinade into a plastic food container and mix together. Cut each chicken breast lengthways into 3 equal long strips.
Add to the marinade in the food container and seal with the lid. Shake well to coat the chicken in the marinade. Leave to marinate in the refrigerator for 30 minutes-1 hour, or overnight if liked.
Thread each strip of marinated chicken on to small wooden or metal skewers. Cook in a griddle pan over a high heat for 3-4 minutes on each side or until nicely browned and cooked through.
Alternatively, preheat your oven to its highest setting (with fan if it has one). Line a large baking tray with baking paper. Lay the kebabs on the prepared baking tray and bake for 10-12 minutes or until cooked through. Serve immediately with sweet chilli sauce.
Red kidney bean and sweet potato stew with yoghurt and hot mint oil
The yoghurt in this vegetarian stew is a perfect, cooling contrast, and the hot mint oil – a very Persian addition we call nana daagh – finishes the dish incredibly well. You can serve this with rice or bread, and leftovers make an excellent brunch dish with poached eggs.
Serves 4-6
vegetable oil, for frying
1 large onion, diced
4 fat garlic cloves, thinly sliced
2 tsps cumin seeds
1 tsp ground cinnamon
1 tsp ground turmeric
1 tsp chilli flakes
690g (1 large jar) passata
500g sweet potato, peeled and cut into 1cm chunks
400g can red kidney beans, drained
1 small packet (about 30g) of flat leaf parsley, roughly chopped
1 tbsp dried mint
150g Greek yoghurt
Maldon sea salt flakes and freshly
ground black pepper
Place a large saucepan over a medium heat and pour in enough oil to coat the base of the pan. Add the onion and cook for a few minutes until it begins to turn translucent, then add the garlic, stirring to ensure it doesn't burn. Continue cooking until both have softened, without browning. Add the spices and coat the onion mixture in them, then cook, stirring, for a minute or so. Season generously with salt and with pepper to taste, then stir in the passata.
Reduce the heat to low and simmer gently, uncovered, for about 25 minutes. Stir the sweet potato into the stew and cook for a further 20 minutes or so until the sweet potato is tender, then add the beans and most of the parsley and heat through.
In photos: Street food across Asia

Show all 20
Place a separate pan over a medium heat, add the dried mint and 1 tbsp of vegetable oil and heat the mint for a few minutes, without letting it burn. Remove the pan from the heat.
Transfer the stew to bowls, add dollops of the yoghurt around the dish and scatter over the remaining parsley, then pour over the hot mint oil and serve immediately.
Chorizo, goats' cheese and cumin borek
Although not a traditional borek filling, this wonderful combination of smoky, spice chorizo and cumin-spiked, creamy goats' cheese is a winner. Chorizo really is such a fantastic ingredient and its capability to deliver bags of flavour to anything it comes into contact with always makes it a crowd pleaser and a refrigerator staple in my household.
Serves 4-6
2 x 200g cured (not cooking) chorizo sausages, skinned and cut into chunks
2 tsps cumin seeds, toasted
350g rindless soft goats' cheese
vegetable oil, for oiling
6 sheets of filo pastry (each about 48 x 25cm)
1 tbsp milk or water
beaten egg, to glaze
1 tsp nigella seeds
Preheat the oven to 200C (180C fan). Put the chunks of chorizo into a food processor and process until they are minced as finely as possible.
Transfer to a mixing bowl, add the cumin seeds and goats' cheese and mix together until evenly combined. Brush the base of a 24cm round ovenproof dish or cake tin with a little vegetable oil. Lay a pastry sheet lengthways in the dish or tin with the ends overhanging the sides, then lay another pastry sheet widthways in the same way. Divide the chorizo filling in half.
Add one half to the filo base and smooth it right to the edges to cover the base evenly. Fold another pastry sheet in half to create a double thickness and lay it over the filling, then repeat with a second pastry sheet to form a thick pastry layer.
Brush the pastry with the milk or water, then top with the remaining filling, pushing and patting it into place to evenly coat the pastry layer.
Fold the overhanging pastry into the centre, then gently crumple up the remaining 2 pastry sheets and arrange them on top. Brush all the exposed pastry and edges with beaten egg and sprinkle over the nigella seeds.
Bake for 25-30 minutes until deep golden brown. Serve immediately.
Simply: Easy Everyday Dishes by Sabrina Ghayour is published by Mitchell Beazley, £26.00,www.octopusbooks.co.uk. Photography: Kris Kirkham
Register for free to continue reading
Registration is a free and easy way to support our truly independent journalism
By registering, you will also enjoy limited access to Premium articles, exclusive newsletters, commenting, and virtual events with our leading journalists
Already have an account? sign in
Join our new commenting forum
Join thought-provoking conversations, follow other Independent readers and see their replies