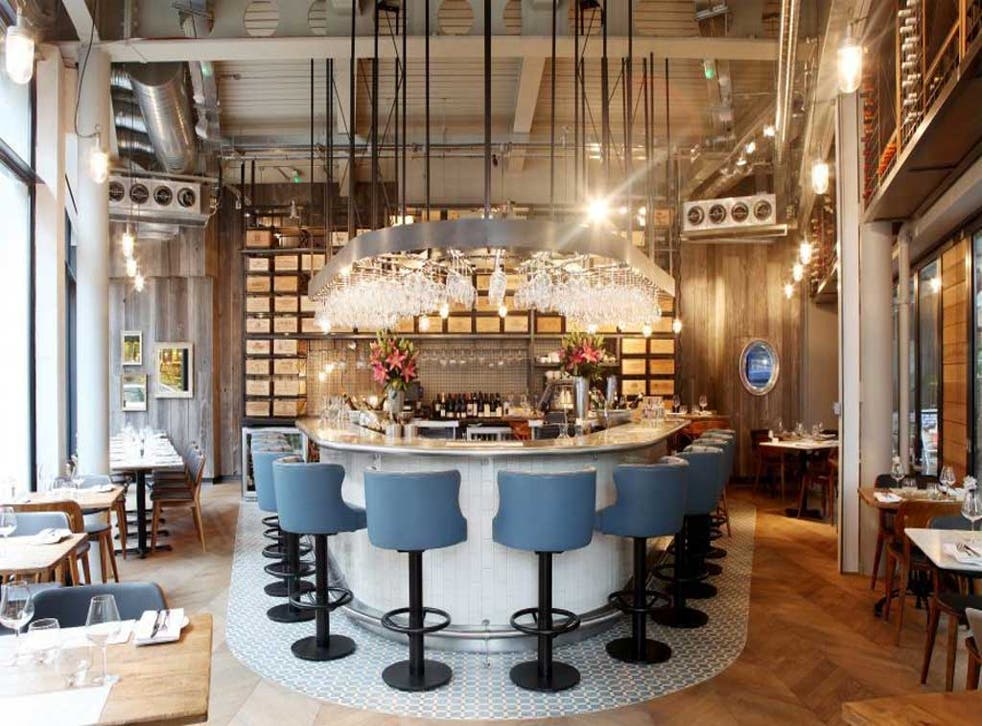 28° - 50°, 15-17 Marylebone Lane, London W1
Fine food, good wine, dazzling interior… It all adds up to 28°-50°
A few months ago your very fortunate correspondent raved about Ollie Dabbous, the young chef who has given his name to the most exciting opening in London this year. Dabbous is a former student of Raymond Blanc; so, too, is Agnar "Aggi" Sverrisson, an Icelandic chef starting to have a profound influence on the capital's food scene.
Sverrisson was head chef at Blanc's Le Manoir aux Quat'Saisons, worked at Gordon Ramsay's Petrus, then set up the Michelin-starred Texture, where Dabbous was head chef. Small world, London's restaurants, and the Sverrisson formula – Scandinavian ingredients cooked in a very modern way – is making a big impact, not least at 28°-50°.
This is the second restaurant named after the latitudes between which most of the world's wines are produced. The first is in Fetter Lane and, like this, was set up by Sverrisson and sommelier supreme Xavier Rousset. It is brazen to open wine bars in a recession, but then to a certain kind of upper-middle-class Londoner, the kind that comes to wine bars, the recession hasn't been so bad after all. That is one reason I expect this place to be a dazzling success.
Another is design. The interior is an isoscelean delight, with two of the sides essentially vast window panes that ensure summer evenings are deeply felt. There is a beautiful triangular bar in the centre, with an army of hanging wine glasses; and the back, the non-window side, is a cascade of wine cases that leaves you in no doubt about priorities here.
Somehow an illusion of extensive space is created in what is not a large restaurant. The tables are generously spaced, which provides privacy. My friend Dominic said that when he went to Dabbous, its major failing was the acoustics; being a high-ceilinged, full room, it was hard to hear what was coming from the other side of the table. You couldn't say the same about here.
Naturally, there are some thumpingly good wines, the sort that transport you to nurtured soils in hot foreign climes, and don't give you a hangover the next day. Some of it you might even consider affordable on a very special occasion. Peter, who I've come with, knows more than most sommeliers, and he says the 2010 Saint-Joseph (£45) is surprisingly good value for the centre of town.
The menu is short and Sverrissonism is more obvious in some places (Icelandic fish stew with béarnaise and rye bread, £14.50) than others. Each course – salads and soup, starters, mains, the grill, and desserts – boasts five options, and there are four sharing plates and cheeses, too.
The best of the first bunch is a delightful gazpacho (£5.95) with roast tomato, cucumber, sherry vinegar and cumin, poured over a smart little group of roast tomatoes, olives, and iceberg lettuce. The gazpacho is rich and acidic, and its accompaniment is good enough to suggest that there is a point to lettuce after all.
A foie-gras terrine (£7.50) comes with an exquisite rhubarb chutney and toast. Very thin ribbons of rhubarb are discernible in the chutney, and it manages to be savoury rather than sweet. The toast is a brown sourdough of perfect crispness.
From the grill you can have rib-eye (£16.75), sirloin (£16.50), onglet (£13.50), a burger (Scottish chuck steak, £11.50) or chicken spatchcock (£13.50). Peter chooses the latter, and if a bird is to be extinguished for the sake of a dinner, this proves it need not be in vain. The spatchcock is moist, tender and served pretty much naked on a large plate. The accompanying béarnaise is excellent, and the chips here (£2.95) – vast, boat-shaped creatures that I would guess are triple-cooked – are the best I've eaten.
My confit duck leg (£14.95) with baby carrots and pak choi comes off the bone with no hint of reluctance, the sauce is warm and rich, and the baby carrots are ideal, cooked but still with crunch.
The desserts, a chocolate tart with milk ice-cream and an almond-and-cherry cake with milk ice-cream and custard, are both £5.95 and delicious. That milk ice-cream looks, feels, smells and tastes of Iceland. In the great flowering of Scandinavian cuisine to which the past few years have been witness, Sverrisson and 28°-50° have a proud and prominent place.
8/10
SCORES: 1-3 STAY AT HOME AND COOK, 4 NEEDS HELP, 5 DOES THE JOB, 6 FLASHES OF PROMISE, 7 GOOD, 8 SPECIAL, CAN'T WAIT TO GO BACK, 9-10 AS GOOD AS IT GETS
28°-50°, 15-17 Marylebone Lane, London W1, tel: 020 7486 7922 Lunch and dinner daily. About £110 for two, including wine
Raise a glass to...
Calistoga Central
70 Rose Street, Edinburgh, tel: 01312 251 233
This New Town bistro offers clean-flavoured California-style cooking and an excellent, low-mark-up American wine list that makes it worth seeking out
Le Langhe
36 Peasholme Green, York, tel: 01904 622 584
A surprise in the heart of the city, this gorgeous deli with restaurant attached has delicious antipasti and pasta, plus scrumptious wines imported direct from Italy
Crooked Billet
2 Westbrook End, Newton Longville, tel: 01908 373 936
Incongruously sited on the edge of Milton Keynes, this attractive inn boasts a wine list that includes no fewer than 200 choices by the glass
Join our new commenting forum
Join thought-provoking conversations, follow other Independent readers and see their replies