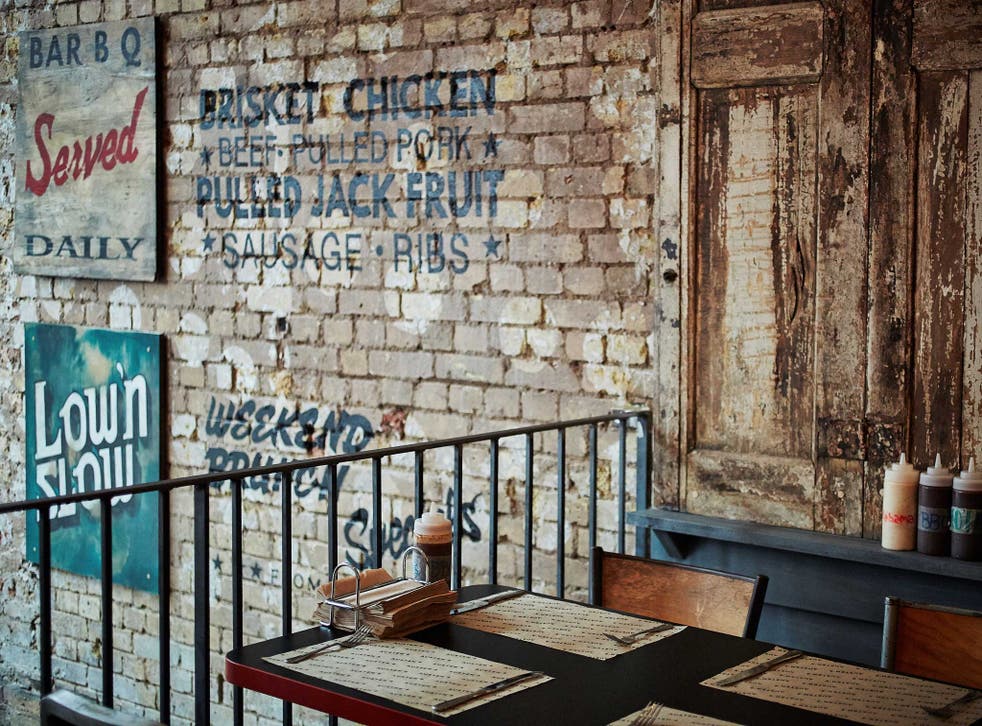 Austen's Smokehouse, restaurant review: Spend some quality time with slow-cooked meats
109, Chamberlayne Road, London, NW10 3NS. Tel 020 89643200
Where there's smoke there's… everyone. Smoke signals success and barbecue means business. Ever since Pitt Cue Co moved from a street food van and into a Soho premises with a permanent queue for the 'cue, restaurants around the country have been learning the ways of the smoker. And if you think it's about a grill, it's not (think slow and low, not scorched by fire).
One of the best chefs in this discipline is Neil Rankin, who has two Smokehouses – in Islington and Chiswick. When I heard one was opening in Kensal Rise, a perennially up-and-coming area of London not far from my home, I started salivating. Memories of a silken soft meaty rib slathered in potent sauce came to mind.
But the new place is not one of his. Austen's Smokehouse has its own bold claims: "You don't need no teef to eat our beef," it boasts, and "We smoke every day".
If there is an Austen, I don't see him or her at the launch, which is heaving with the affluent denizens of north-west London, lapping up bourbon-based cocktails and inhaling sliders and corn bread. Instead of a focus on the kitchen, there's DJ Yoda spinning tunes and taking the praise. This is his place – in partnership with Rob Claassen, who also runs local favourites Ostuni, The Salusbury and The Chamberlayne. It's not an unnatural pairing; good DJs have a sixth sense for how to build an atmosphere and keep things moving.
Austen's is tricked out like a dilapidated southern joint, as is the fashion. I bet there's an interior design company somewhere with "We distress every day" on their website.
But it works and, crucially for round here, there's plenty of space between the tables to tie up your horse. I mean park your buggy. When I revisit on a recent Sunday, the entire back row of tables is circled with Bugaboo wagons and there's no DJ; perky staff provide the atmosphere instead.
They talk us through the different sauces, which range from sweet'n'mild to swearily strong. I wish they'd also advised that the Meat Market Sampler (£25) was vast, as we order this as well as a Texas beef Q sandwich (£10) and two-bone St Louis spare ribs (£9), plus BBQ pit beans (£3.50), macaroni cheese (£4), vinegared slaw with jalapeno (£2) and onion rings (£4).
Nobody's willing to try the "veggie pulled pork", which is smoked, pulled jackfruit. I suppose I should have, in the spirit of my service to you. But, though it's been a staple meat replacement for a while now in the US (for all those vegan BBQ aficionados?), it just sounds nasty.
For the vegetarians, hand on heart, I'd advise against this one: the macaroni cheese is both super-oily and almost flavour-free, and the onion rings are 90 per cent crunch, 10 per cent too-mild onion. The beans, on the other hand, are gorgeous, but I detect quite a lot of porky juices in there.
They're right, in part, about the "teef". The pulled pork is extremely soft and hasn't been rushed, clearly. The ribs need lots of sauce to make them sing (the meat is all served in the dry Texan style, you add the gloop), but the meat barely stays on the bone long enough to be lifted to our lips; it slips off like silk sheets off Kimye's bed.
There are no plates here; food is served on round metal trays or in cardboard trays, with kitchen roll to wipe greasy fingers. Cardboard unfortunately reveals just how greasy the macaroni dish is – it arrives with dark stains already creeping up the sides.
But there's finesse in some of the details: the slaw is mouth-puckeringly tangy, and those beans are a deeply savoury lumpen soup (in a nice way). As well as the ribs, the brisket is soft as a sigh and with a skinny scarlet frame to each slice. The Southern man's spicy thighs (oo-er) are unremarkable bits of chicken, and Toulouse sausage? Totally unnecessary.
But that sandwich – tons of brisket, provolone, crisp onion, pickled chilli and lashings of sauce in a bumper-sized brioche bun – is the standout star. This, plus one of the beers created for Austen's by And Union brewers: I loved the citrus tang of "Summer"; you can also have an à-la-mode beer flight to try a variety.
It's not just the babies of Kensal Rise that leave Austen's with food-smeared faces. Once they tweak a few details, there's enough good, messy eats here to make it a local landmark.
7/10
Austen's Smokehouse, 109, Chamberlayne Road, London, NW10 3NS. Tel 020 89643200. £50 for two, with drinks
Four more things I've been eating this week
Rick Stein's Fish
The Falmouth outpost of the empire is, I can report, as good as the Padstow original. Deliciously fresh, crisp hake and chips.
Central Picturehouse
A screening of Jaws at this new West End cinema – great to see the fantastic interiors and, woah, Crosstown doughnuts as a snack.
Alt-afternoon tea
A cheese scone spread with M&S spreadable cheddar and pickled onion relish: sounds trashy, tastes sublime.
Black Flag brewery
At a beer tasting (so not my usual pastime), I fell in love with the Saison: a limited edition brew from a Cornish independent.
Join our new commenting forum
Join thought-provoking conversations, follow other Independent readers and see their replies