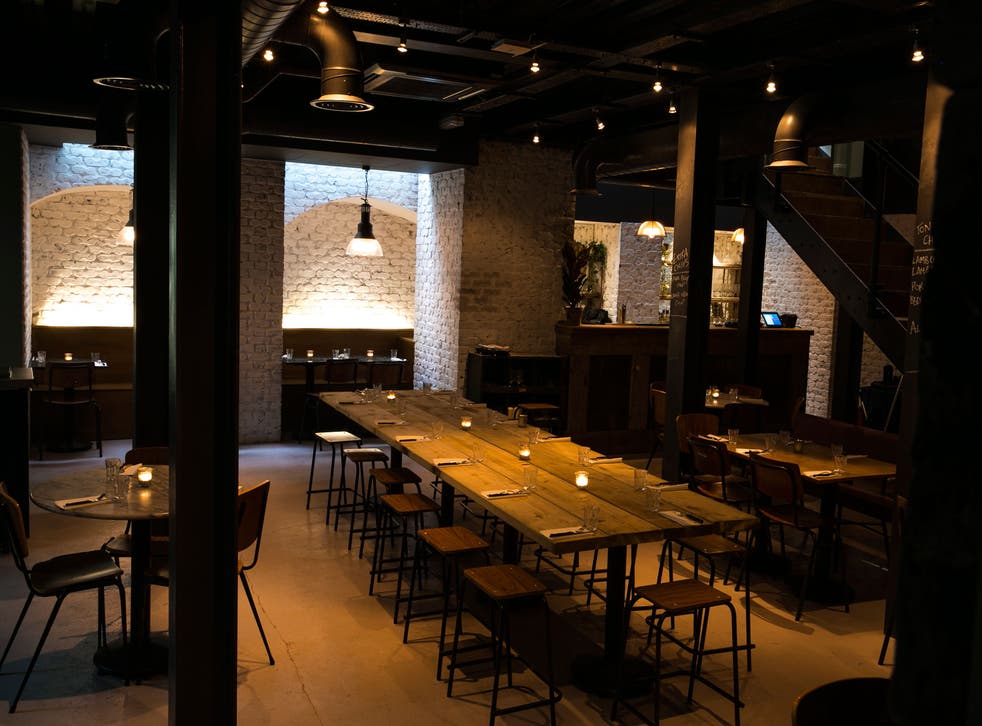 Blacklock, restaurant review: Good news if you're a fan of chops ... but so far only half the menu is available
4 Great Windmill Street, London W1, no reservations
Something flicked across my consciousness the other day about restaurant reviewers being out of touch with what most diners actually want to eat. It came back to mind last night when I had a desperate hankering for a pizza. And only a good pizza, from the pizzeria down the road, would do. For many of us, there are the occasions when we want to be challenged by food, and surprised – but more often, we know exactly what we want.
It's this yearning that will be the making – possibly – of new enterprise Blacklock, in London's Soho. For Blacklock serves only one thing: chops. Do not bother visiting if you do not eat meat, for there are no alternatives.
When you serve one thing, there's nowhere to hide. When I visit Blacklock (twice), two of the four items on the menu are off. I'll cut them some slack as it's very early days, but these disappearances do make life… tricky. There are supposed to be "skinny chops": lamb, pork, beef (£4 each) – but there are no beef chops available. Under the heading "big chops" is veal chop (coming soon). All this makes me purse my lips somewhat, and my companion Archie, lured from restaurant thunderdome King's Cross on the promise of a meatfest, is a bit miffed too.
We'll be having the pork and lamb, then.
We go "all in": pre-chop bites followed by a stack of chops on charcoal-grilled flatbread to share with a choice of side, for £20 per person. Our waiter, who is actually co-owner Gordon Ker, says he'll throw in some extras to make up for the lack of beef, and the plate that arrives is, truly, groaning with all manner of glistening meaty bits.
But that's after our bites. From a choice of three – cheese and pickle, filthy ham, egg and anchovy – we decide against the ham (funny, that). Two plates arrive with dinky discs of Scandi crispbread, topped either with dainty blobs of egg mayonnaise, three wisps of onion and a single curled anchovy fillet, or stinky-in-a-good-way blue cheese and lip-puckering pickled red cabbage and carrot. They are bites, not starters, and for a boisterous Soho crowd, they're just right, for they're the perfect accompaniment to Blacklock's other USP – "cocktails for a fiver". Over my two visits, I try three of the four on offer (it's a tough job, etc) and most beauteous and delicious is a nettle gimlet, served in a pretty little coupe glass.
There are also whole bottles of Old Fashioned and Aperol Negroni cocktails "for the table" at £45, and wine is on tap. Like I said, Ker, late of Hawksmoor, knows his crowd. And he might just be the perfect person to steer Blacklock through its patchy start; he is charming and effervescent (although he might have touched Archie's shoulder and called him mate once too often for a buttoned-up lunchtime meeting, we thought).
But back to those chops. There are lamb cutlets and T-bones, and pork belly chop and cutlets, which we attack with gusto. They're cooked on a charcoal grill with a "Blacklock" iron weighting them down to really get the sear going. This might result in the lamb in particular being a shade overcooked, but the flavours are terrific. Top of the chops? The lamb cutlet and the pork belly, of which Archie dolefully states, "We're just eating fat now, aren't we? Lovely, lovely fat."
So what happened to the beef? It's still off when I return. Gordon explains that the short rib they want to serve has to be marbled and aged well to withstand the grill, they burned through (quite literally) their Cornish butcher, Warren's, supplies in just a few days – and they don't want to serve substandard meat.
Hats off to him for not compromising. I'll come back because I love the breezy vibe, the brilliant music (dinner date Hugh and I break off from gnawing bones to do the Hustle) and the sides. Barbecued baby gems, heritage carrot and radish slaw, green sauce and 10-hour ash-roasted sweet potato are all terrific, far better than they might be. Then there's the sole pudding – cheesecake – brought to the table in a family dish from which you say "when".
If you can manage this, hats off to you, too. What I've saved till last is the best. That bit of flatbread under the chops? Goodness me, it's stunning – just the right side of burnt and oozing with meat juices. Next time I'll upend the platter and eat that first. Tweet me when the beef's back, Gordon…
7/10
Blacklock, 24 Great Windmill Street, London W1, no reservations, £60 for two, with drinks
Four more foodie notes from the past week
Rosewood hotel
A new Slow Food market at this lovely Holborn setting: Hansen & Lydersen smoked salmon, Arganic oil on everything…
Fashion Power Tea
Ridiculously good chocolate Coco Chanel and Vivienne Westwood patisserie at the W Hotel's special tea for the Design Museum show.
Sustainable Restaurant Awards
As you'd expect, delicious, ethical food, prepared by the team from The Pig hotel, which I now can't wait to visit.
Easter
Uh oh. Marks & Spencer has introduced hot cross bun cookies. Sound odd, taste delicious. As if we needed more sugar at Easter…
Join our new commenting forum
Join thought-provoking conversations, follow other Independent readers and see their replies