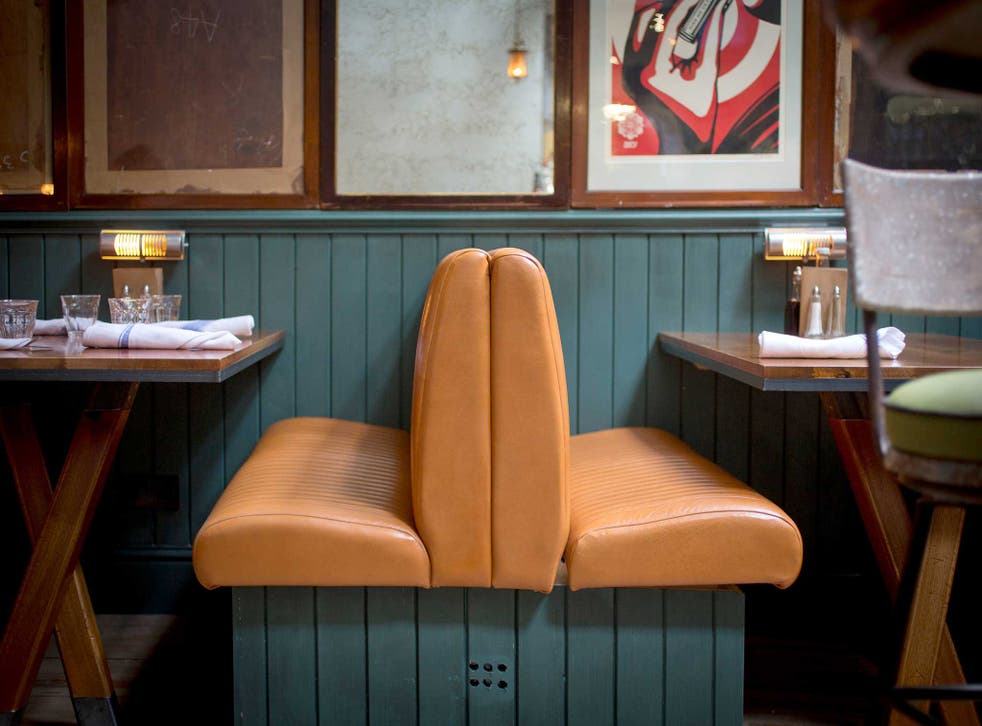 The Fish & Chip Shop, 189 Upper Street, Islington, London
Des McDonald's name is legendary in the food business – the legends in question being Midas and Croesus. When Nick Lander published The Art of the Restaurateur last year, McDonald was one of its stars. An Irish baker's son, he opened two restaurants in the City of London by the age of 22 and become executive chef of Caprice Holdings, founded by Chris Corbin and Jeremy King, the chaps who triumphantly revamped The Ivy, Scotts of Mayfair, Le Caprice and J Sheekey.
When the company was sold, McDonald became a worldwide setter-upper for the new boss Richard Caring, opening restaurants from Dubai to California – but he never opened a restaurant that was all his own work, so to speak, until now. McDonald could have chosen any genre. He could have opened a sushi bar, an omelettes-only eaterie, a Galway-Fiji fusion joint, and the foodies would have flocked to check it out. So what did he go for? A fish and chip shop.
One's heart sinks a little. We are, after all, in north London here, not Whitby or Penzance. We'll have fish'n'chips when we're on holiday, thanks, sitting on the quay, eating it out of wrapping paper, not as the climax of an evening out in the metropolis. Learning that the place claims its produce comes "From boat to our kitchen to your table" doesn't fill you with confidence either (where's this boat? The Serpentine? The Thames Estuary?) nor that it serves tea and cake, and fancy cocktails. It sounds like someone's trying to be several things at once.
How pleasing, then, to report that I liked the F&C Shop the minute I walked in. You find yourself in a long, friendly bar, leading to two utilitarian dining areas, grey tables, blue wood panels, 1940s furniture. The windows and partitions have lettering inscribed on the glass ('Fish Supper', 'Fisherman's Breakfast') in a nod to the Quality Chop House.
There's a hectic buzz, and some quality folk music playing (can it be "Fisherman's Blues" by the Waterboys?). It's very old-fashioned, but nicely so – we could have walked into a backstreet café in 1990s Brighton or 1970s Havana. Above our booth, a huge dirty ventilator shaft hung from the ceiling, and industrial lamps illuminate the back-room bar – very MeatLiquor. It's artfully designed, but feels authentic.
Cocktails at £8 were excellent, especially the Grapefruit Picador, which involves tequila and something called velvet falernum (the barman gave us the bottle to try – it's Barbadian syrup with an undertaste of cloves and apple pie) and was heavenly. From the recycled-brown-wrapping-paper menu (very Polpo), the asparagus crab salad was a happy marriage of flavours that thrummed with freshness.
I tried the 'London Particular' fritters, attracted by the Victorian phrase for a 'pea-souper' fog, and got four golden tubes of crushed peas with ham hock bits, deep-fried and served with rose-marie and mustard sauce. A nicely thought-out dish, light on the fritter, vibrant on the taste buds.
The menu offers comfort-food dishes, such as fish finger or smoked saveloy butties, hot salt beef with wallys (gherkins), fish pie and shrimp burgers, but my eye went greedily to the 'Grilling Today' section ( a nice variant on 'Frying Tonight'). I ordered the Cornish Mixed Fish with Jersey Royals and found myself battling through a kind of non-liquid bouillabaisse: a gigantic tranche of sea bream, soft and light as a pillow, a single scallop reeking of garlic and chilli, huge tiger prawns, a nicely al dente sea trout, a meaty monkfish tail; it was all pretty faultless, but too much for one human. Angie tried the breaded scampi and pronounced it light and lovely: "Something new to me," she said, "melt-in-the-mouth scampi…"
We ended with a Knickerbocker Glory in a tall sundae – fresh raspberries, pear, cream, nuts – and an Irish Cider Jelly in which brandy cream and lime sorbet cut through the gelatin sweetness. Both were intensely satisfying, ending a meal that was a classic old-style blow-out from the pages of Dandy or Beano.
The cooking (the chef is Lee Bull, former head chef at Le Caprice) isn't exactly adventurous but it's very high quality, full of forethought and care. The personnel were chatty, friendly and knowledgable. Even the coffee was terrific, sourced from a special roast café in Old Street. Mr McDonald's choice of a Victorian retro fish'n'chip joint was an eccentric one for a first casting, but he's reeled in an undoubted success.
Food ****
Ambience ****
Service ****
The Fish & Chip Shop, 189 Upper Street, Islington, London N1 (020-3227 0979). About £115 for two, with wine
Join our new commenting forum
Join thought-provoking conversations, follow other Independent readers and see their replies