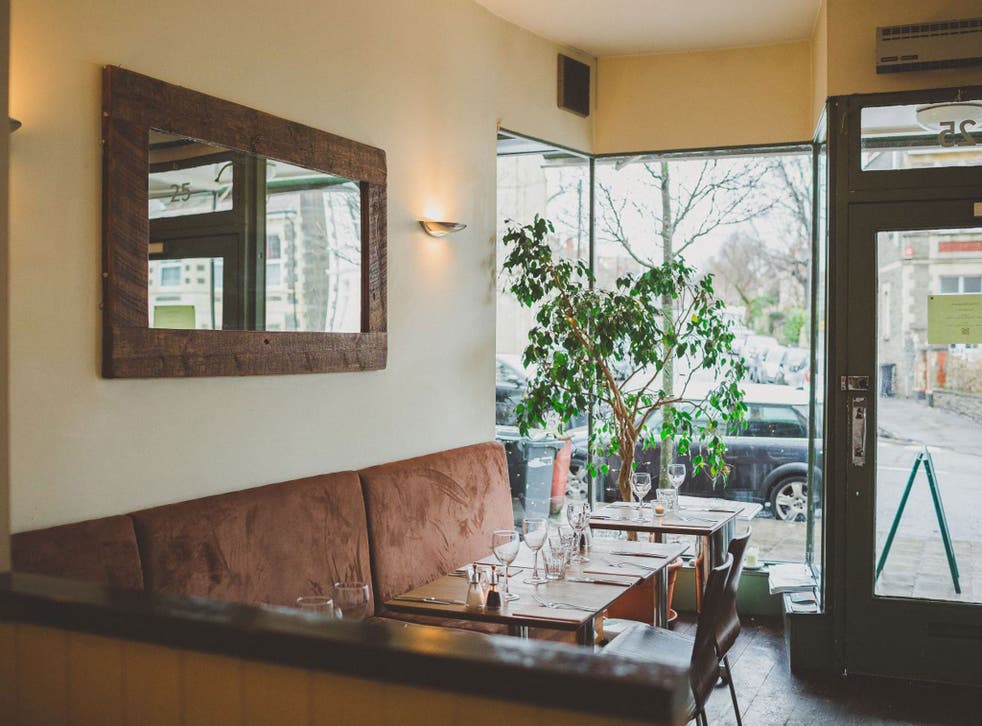 Greens, restaurant review: A discount-deal app leads to a gem of the Bristol food scene
5 Zetland Road, Bristol, Tel: 0117 924 6437
The other day I came across a brilliant app for foodies called Wriggle. It's basically a rolling list of discount deals in your local neighbourhood. So, if you're on your way to, say, Bristol, but you haven't been organised enough to look at how you might get a cheap pizza or two-for-one on cocktails, you bash your location into the app, dissect some options, and – boom! – before you know it there's a calzone, two mojitos and change from £20 in front of you on the banks of the Avon.
What I particularly like about it is the serendipity. It just so happens that I was on my way to Bristol and, having failed to book anywhere suitable for seven marauding ravers to enjoy lunch, I loaded up Wriggle. And though it didn't direct me to a specific deal available at Greens on Zetland Road, I did come across the restaurant there – which is just as well, because the lunch is smashing.
It's so cheap. I mean, bonkers cheap. There's a set lunch from Tuesday to Saturday with two courses for £10.95 and three for £14.95. Less than £15 for three courses! You struggle to get one for that money in the middle of London, our modern metropolis. This is sensational value, particularly given the level of food and service.
There are seven starters, six mains, three sides and three desserts, and not a dud among those we try. Of the starters, the gazpacho with basil, croutons and lemon oil has a slightly flaky texture which works just fine, and the drizzle of citrus over the top gives it a luxuriant, Mediterranean appearance. The chicken-liver parfait is fabulously smooth and indulgent, with perfectly toasted onion bread and gherkins: an exhilarating combination. Better still are two grilled sardines with chermoula (a North African pesto used as a marinade) and coriander. Sardines are delicate little beasts; these have been grilled to a glistening, rusty metallic finish without sucking the life out of the juicy flesh beneath.
All the mains we order are very pleasing. A rump-steak with Café de Paris butter (a spiced, herb-infused sauce), chips and coleslaw or salad is worth the £3 supplement. There's real attention to detail: the chips taste triple-cooked, even though they're not, and have just enough hot, puffy potato to sit in the middle of the spectrum between French fry and wedge. Roasted cod with fennel, butter beans, spinach and olive tapenade is magnificent. The more I eat seafood, the more I keep returning to cod, the prince of fish. Here it comes apart in silky flakes that go perfectly with the delicate fennel and pungent, salty tapenade. The butter beans, which become a paste on meeting fork or teeth, bind the whole thing together.
I also order a single skewer of grilled halloumi with apricot (it comes with Lebanese chopped salad as a main), just on the principle that halloumi must always be ordered. It has that salty, rubbery twang that is the hallmark of the best fried cheese, and I confess I could have had several more. Instead, from across the table, a forkful of hot-smoked salmon fishcake with sweet and sour cucumber, salad, watercress and dill mayonnaise makes its way to my very welcoming gob. And what a triumph it is: dill should be in mayo far more often, and the cucumber mixture, finely chopped with a splash of vinegar, reminds me of the finest Korean kimchi. That makes it ideal next to the crisp breadcrumbs of a good fishcake.
Of the desserts, chocolate mousse with brandy cherries and milk crumb – think of smashed-up Milky Way – and a very good sticky toffee pudding complete the best meal I've had in a few visits to this city. Helped, no doubt, by a cheap wine list: there's a stonking 2008 Rioja for £27.
My attendant chums, those marauding ravers – Keith, Joe, Ed, Pete, Doyle and Matt – are a highly articulate bunch, except when in each other's company. So if I tell you that they described the aforementioned courses variously as "absolutely banging", "sick", "rinsing", "bad boy", and so on, you might assume they hated it. In fact, each of us adored every mouthful. Hard not to: we had lovely food in a welcoming setting, at bargain-basement prices.
This is a jewel of Bristol's food scene, for which I'm very grateful to an app called Wriggle. And I commend both to the foodies of Britain.
8.5/10
25 Zetland Road, Bristol, Tel: 0117 924 6437, £55 for two, with drinks
Four more foodie notes from the past week
Paneer curry
I had this moreish, halloumi-like delight at Indian Veg, a cheap place in Islington I reviewed years ago. Terrific.
Vanilla Bean and maple syrup smoothie
Marks & Spencer does loads of delicious, healthy smoothies. This isn't one of them.
Sausage roll
Hot, greasy, fried food is my hangover cure, but I had a sub-par one in Upper Crust at Bristol station.
Metcalfe's Chilli Tweets
They're selling these corn crisps in the canteen at work, and I can't get enough of them. Low on calories, high on taste.
Join our new commenting forum
Join thought-provoking conversations, follow other Independent readers and see their replies