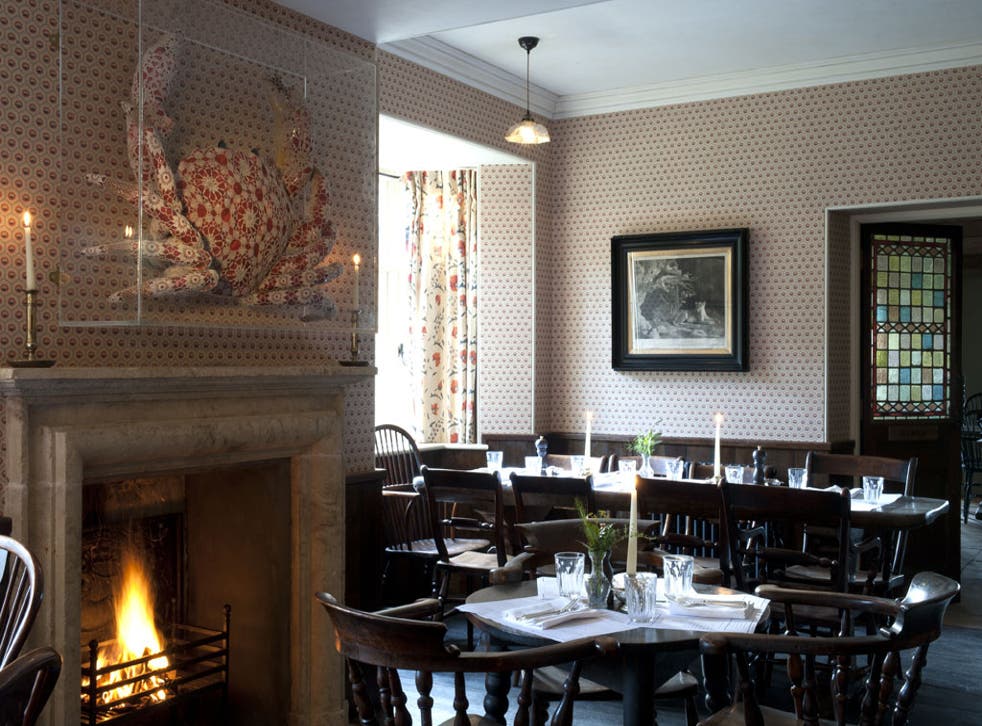 The Gunton Arms, Cromer Road, Thorpe Market, Norfolk
It's been 10 years since Mark Hix began writing his weekly food column for this magazine, an anniversary we'll be celebrating in next week's bumper food and drink-themed issue. Over the past decade, the quietly influential Mr Hix has changed the way we eat, though he'd be much too modest to make that claim for himself. Meanwhile his restaurants, with their clever mix of traditional comfort and contemporary art, have supplied the template for many a copycat dining room.
The Hix effect has now spread to the wilds of north Norfolk, with the installation of two Hix alumni – former head chef Stuart Tattersall and his partner, restaurant manager Simone Baker – in a very groovy country pub.
The Gunton Arms, which lies in acres of pristine Georgian deer park a few miles south of Cromer, is a labour of love for its owner, London art dealer Ivor Braka. The colourful Mr Braka has friends in high places, ranging from the Camerons to our own Mark Hix. Over the past 20 years he has poured some of the vast amounts he's earned selling Bacons and Freuds into restoring Gunton Park.
Last year he added the estate's run-down pub to his portfolio, and set about transforming it into a kind of rock'n'roll hunting lodge, filled with overspill pieces from his amazing collection of modern art. Turning to Mark Hix for help on the food side, he was introduced to Tattersall and Baker, and Mark promptly lost two key members of staff.
Clearly there are no hard feelings. Hix's influence is all over the menu, which bristles with so many of his signature dishes – deep-fried cod cheeks, Barnsley chop, apple jelly – it's like bumping into the chef getting out of a Range Rover in green wellies and a Barbour. It's a manly, meaty list, packed with the kind of laddish retro-fare Gregg Wallace goes in for at his much-maligned new restaurant; chicken Kiev, beef-and-ale pie, pollock fish fingers, bubble and squeak. The difference is that here, it's done superbly well.
Our lunch, eaten in the Elk Room, the larger of the pub's two dining rooms, was just terrific. Pert lamb sweetbreads in a complex, Marsala-sweet sauce; a generous platter of dressed Cromer crab, smaller and more toothsome than its south-coast rival, with a mustard-sharp mayonnaise; beef flank and ale pie, the meat meltingly tender under a golden dome of suet-rich pastry; a crisp patty of bubble and squeak; a delicate little herb and leaf salad, complete with that Hix trademark, the pea shoot.
Only a red-deer burger didn't quite hit the mark. Venison is just too lean to provide the proper, messy, juices-down-the chin burger experience. Served in the lightest of buns, this was a bit too posh, though the chunky fries had an authentic touch of the chip shop about them. The kitchen does dainty as well as hearty, judging from the finesse of our puds – a shot of mandarin jelly with a little kick of gin, and a silky buttermilk pudding with rhubarb.
The problem with so many food-led country pubs is that the ambition of the kitchen outstrips the capabilities of the floor staff. Not so here. Service is smart, smiley and well-informed. At one point we were bickering about how old the flagstoned Elk Room (named for the antlers that dominate one wall) might be. Were its wood-planked vaulted ceiling and open fireplace genuinely ancient or a Victorian recreation? We turned to our waiter to settle the dispute. "This room is about eight months old; it used to be a conservatory," he told us. This clever sleight of hand, it turns out, is the work of top designer Martin Brudnizki, creator of some of London's loveliest restaurants.
The Gunton Arms doesn't feel like some clever-clever pastiche, though; sure, there are eight designer bedrooms upstairs, but there's also a proper pub bit, smelling of beer and wood-smoke, with a pool table and dartboard. Even though the bar snacks do include venison sausage roll and the couple at the bar are discussing Tracey Emin's later works.
It's hard not to talk about art, when every wall is covered with amazing – and often quite startling – pieces. A bright pop-art depiction of copulating dinosaurs guards the loos, Tracey Emin neon signs stand over the doors, and a series of Paula Rego prints of women vomiting red wine into toilet bowls lines a corner of the dining room. In another corner, a large family group, containing several grey-permed old ladies, lunch under a painting which bears the words 'my family only fucked in one position...' then turns much more explicit. When the food is this good, you can turn a blind eye to anything.
Outside, herds of deer graze contentedly. The urge to run out shouting "Fenton!" soon passes. At the open fire in the dining room, Stuart Tattersall, burnished and beaming, grills steaks on a metal plate. If happy, well-kept animals make for good eating, it follows that happy chefs make for good cooking, and this chef looked very pleased with his rural transfer.
Of course, it does mean that he doesn't get to work with Mark Hix any more. But you can't have everything.
The Gunton Arms, Cromer Road, Thorpe Market, Norfolk (01263 832010)
Around £30 a head for three courses before wine and service
Food ****
Ambience ****
Service ****
Tipping policy: "No service charge. All tips go to the staff"
Side orders: Mark Hix protégés
Harvey Ayliffe at Rules
Ayliffe specialises in traditional British roasts and game dishes alongside fusion creations such as tandoori pheasant with red cabbage and apple at this London institution.
35 Maiden Lane, London WC2 (020-7836 5314)
James Golding at The Pig
He worked at Le Caprice under Hix – now Golding runs this restaurant in the New Forest which makes good use of foraged food.
Beaulieu Road, Brockenhurst, London (01590 622 354)
Roy Brett at Ondine
Roy Brett serves fresh, locally sourced seafood at this restaurant in the heart of Edinburgh.
2 George IV Road, Edinburgh (0131-226 1888)
Join our new commenting forum
Join thought-provoking conversations, follow other Independent readers and see their replies